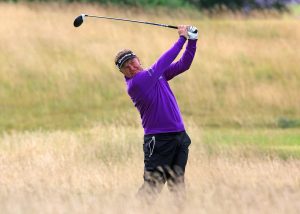 Just one shot separates Paul Broadhurst and Magnus P Atlevi as the pair moved clear of the chasing pack after the second round of the Scottish Senior Open.
The duo, who finished first and second on the European Senior Tour Order of Merit in 2016, both carded four under par rounds of 67 at Renaissance Club.
Broadhurst leads on nine under par, adding to his first round of 66, one stroke ahead of Atlevi as Chris Williams and Mike Harwood share third place on six under par.
Winner of this event in 2015 and victorious on Scottish soil at last year's Senior Open Championship Presented by Rolex, Broadhurst is pleased with his performance on the North Berwick links.
"I've played well in Scotland over the last few years, so it's nice to be back here," he said. "I seemed to have had the bad weather these last few weeks, but this morning was quite pleasant.
"I was getting frustrated around the turn; I missed a few chances early on so I had to be patient. I came good with birdies on 13 and 16, and then finished with a good iron shot on 18.
"I was pleased with how patient I stayed today. I could have lost my head around 11 and 12, but I stayed patient and reaped the rewards."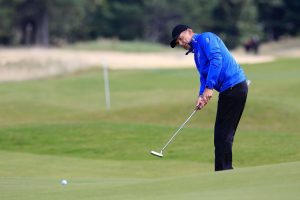 Atlevi, who is chasing his second Senior Tour title, was equally pleased with his patience in testing conditions.
"I made it to seven under par and I was thinking that double figures was within reach but then I made two bogeys on eight and nine and that really stopped my momentum.
"But I made a two putt on the 13th, the par five, for birdie and birdied 15 and 16. I was happy I came back from my mistakes, and I needed to, it was a good scoring day today.
"My head could have dropped but I'm lucky that didn't happen today. I could have been four shots behind, but things are still open."
After starting the day level par, South Africa's Williams equalled the course record to take a share of third place alongside Australia's Mike Harwood, who carded a two under par round of 69. In a tie for fifth place are Brendan McGovern and Mark Mouland, who also equalled the course record with a round of 65, on five under par.
Admission to the Scottish Senior Open is free of charge, with car parking charged at £5 per car with one occupant and £10 per car with two or more occupants. All proceeds go to Prostate Cancer UK.
Scores after round two:
133 P Broadhurst (Eng) 66 67,
134 M Atlevi (Swe) 67 67,
136 C Williams (RSA) 71 65, M Harwood (Aus) 67 69,
137 B McGovern (Irl) 70 67, M Mouland (Wal) 72 65,
138 B Lane (Eng) 69 69,
139 P Eales (Eng) 71 68, G Turner (Nzl) 71 68, D Gilford (Eng) 72 67,
140 P Fowler (Aus) 74 66, T Thelen (USA) 69 71, S Dodd (Wal) 72 68, B Longmuir (Sco) 74 66, T Wiratchant (Tha) 71 69, C Mason (Eng) 68 72,
141 C Monasterio (Arg) 73 68, M McNulty (Irl) 71 70, J Sandelin (Swe) 71 70, S Brown (Eng) 70 71,
142 G Rusnak (USA) 71 71, R Chapman (Eng) 72 70, S Luna (Esp) 77 65, S McAllister (Sco) 72 70, C Dennis (USA) 71 71, M Martin (Esp) 72 70, G Orr (Sco) 75 67, A Bossert (Sui) 73 69,
143 S Tinning (Den) 72 71, P Wesselingh (Eng) 69 74,
144 J Sallat (Fra) 72 72, P Linhart (Esp) 74 70, G Marks (Eng) 75 69, J Remesy (Fra) 72 72, R Drummond (Sco) 74 70,
145 M Mackenzie (Eng) 76 69, P O'Malley (Aus) 73 72, P Wilson (Eng) 79 66,
146 P Golding (Eng) 76 70, M Farry (Fra) 77 69, G Wolstenholme (Eng) 74 72,
147 A Oldcorn (Sco) 77 70, I Woosnam (Wal) 73 74, R Rafferty (Nir) 76 71,
148 B Conser (USA) 74 74, D Smyth (Irl) 74 74,
149 E Darcy (Irl) 79 70, C Rocca (Ita) 75 74, P Mitchell (Eng) 77 72, D Russell (Eng) 73 76,
150 P Walton (Irl) 73 77, S Torrance (Sco) 76 74, C Suneson (Esp) 72 78,
154 A Mednickson (Swe) 76 78