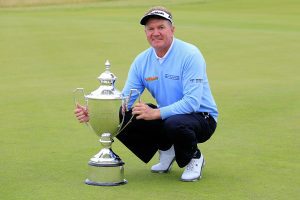 Paul Broadhurst secured the Scottish Senior Open title for a second time with a three-stroke victory at Renaissance Club.
The Englishman, who won this title on his European Senior Tour debut in 2015, carded rounds of 66-67-67 to finish three shots ahead of Australia's Mike Harwood.
Winner of the Senior Open Championship Presented by Rolex at Carnoustie last year, this is Broadhurst's third victory on Scottish soil in four events.
"I love links golf," said Broadhurst. "I've had some serious practice in the wind over the last few weeks at The Open and Senior Open. I've mastered the knock-down shot and that was key this week.
"I hit some really close irons into strong winds; that was the key to the win. It's great to win this event again; this trophy really means a lot to me"
Broadhurst birdied the first and third holes to open up a three-shot lead at the start of the day and then made the turn in 34, two under par. Two birdies on the back nine followed as he staved off challenges from Harwood, Magnus P Atlevi and Chris Williams.
"I played pretty solid," said Broadhurst. "I had a perfect start with my birdie on the first and Magnus making bogey. That put me three shots ahead and that was a nice cushion; but it's never enough, you always want to be five or six shots ahead.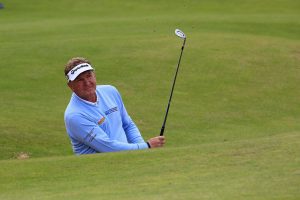 "There were a couple of hairy moments around the turn when the rain came down, I was a bit concerned with how much was going to come down and how it would affect my game.
"But I held it together and had a good saving par on 14 which gave me some breathing space. It's always nice walking up the last with a three-shot lead. It beats having one shot and then it play on your nerves. I enjoyed the way I played today."
After starting the day on level par, Scotland's Gary Orr set a new course record with a spectacular eight under par 63, giving him a share of third place with Barry Lane and Williams.
"It was a shame I was a long way back," said Orr. "If I had started nearer the lead, I could have posted a really strong total. I struggled the first day but played well in the last two rounds.
"I putted really well and knocked in a lot of nice putts and it was a nice way to finish with a birdie. I had my son on the bag and it has been great having him with me the last two weeks. He plays off ten but he's a good putter and really helped me read the greens."
Atlevi finished a shot further back on seven under par, with defending champion Paul Eales occupying seventh spot on six under.
Final scores:
200 P Broadhurst (Eng) 66 67 67,
203 M Harwood (Aus) 67 69 67,
205 B Lane (Eng) 69 69 67, C Williams (RSA) 71 65 69, G Orr (Sco) 75 67 63,
206 M Atlevi (Swe) 67 67 72,
207 P Eales (Eng) 71 68 68,
208 B McGovern (Irl) 70 67 71, T Thelen (USA) 69 71 68, M Mouland (Wal) 72 65 71,
209 S Dodd (Wal) 72 68 69, J Sandelin (Swe) 71 70 68, P Fowler (Aus) 74 66 69, D Gilford (Eng) 72 67 70, S Brown (Eng) 70 71 68,
210 S Tinning (Den) 72 71 67, C Mason (Eng) 68 72 70, G Turner (Nzl) 71 68 71, J Sallat (Fra) 72 72 66, R Chapman (Eng) 72 70 68, T Wiratchant (Tha) 71 69 70,
211 A Bossert (Sui) 73 69 69, M Martin (Esp) 72 70 69,
212 G Marks (Eng) 75 69 68, C Monasterio (Arg) 73 68 71,
213 J Remesy (Fra) 72 72 69, R Rafferty (Nir) 76 71 66, G Rusnak (USA) 71 71 71, S Luna (Esp) 77 65 71, M McNulty (Irl) 71 70 72,
214 G Wolstenholme (Eng) 74 72 68, P O'Malley (Aus) 73 72 69, A Oldcorn (Sco) 77 70 67, P Linhart (Esp) 74 70 70,
215 I Woosnam (Wal) 73 74 68, B Longmuir (Sco) 74 66 75,
216 R Drummond (Sco) 74 70 72, M Farry (Fra) 77 69 70, P Wesselingh (Eng) 69 74 73, B Conser (USA) 74 74 68, S McAllister (Sco) 72 70 74,
217 P Golding (Eng) 76 70 71,
218 C Dennis (USA) 71 71 76, M Mackenzie (Eng) 76 69 73,
220 S Torrance (Sco) 76 74 70, D Smyth (Irl) 74 74 72,
221 P Walton (Irl) 73 77 71, C Suneson (Esp) 72 78 71, P Mitchell (Eng) 77 72 72,
224 P Wilson (Eng) 79 66 79, A Mednickson (Swe) 76 78 70,
225 C Rocca (Ita) 75 74 76,
226 D Russell (Eng) 73 76 77, E Darcy (Irl) 79 70 77,