Alamgir Kabir started playing golf at a latter stage of his life. An out-an-out sportsman all through his life, the former air force officer only took up golf at the late 40s, and that too after a lot of deliberation. But once he started liking the game, he employed his full focus on it and now he enjoys this game more than any other pursuit. This year he represented Bangladesh as one of the three amateur golfers in the BMW Cup Golf in Dubai, which he says was the best experience of his golfing life.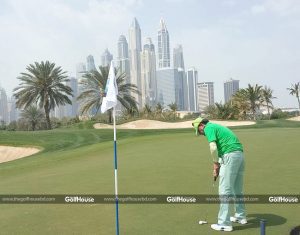 Q: You used to play other sports while golf came at a very late stage in your life. How did this transition happen?
A: Basically I'm a good sportsman. I was lucky to be in cadet college where I played football, cricket, hockey, volleyball, sprint – all those events. With age and other things, I later played and squash. It was only in 2008 and I was around 48 years old that I started to play golf. I was already retired from the air force back then. I used to go to the Army Golf Club and played for three-four years and I started getting really good.
Q: You were not all that interested initially, but later became very active and dedicated as a golfer. How did this happen?
A: I was a bit hesitant, I felt a bit shy and shaky in the beginning. But Group captain Abu Zafar gave me encouragement. After a few days, I felt I can play. In 2009, I became a member of KGC and started going every day. I found it interesting and participated in all the tournaments. My initial aim was to play good golf, not to win awards or anything. But suddenly I did a hole-in-one on the par-three 12th hole in 2011 or 2012. In the next two years I shot a few albatrosses. Those things gave me huge encouragement. Eventually I became a reputed golfer at the club.
Q: You won in your category in the BMW Golf Cup in 2016 and went to Dubai to represent the country this year. That must have been a great experience.
A: The tournament was held at the internationally renowned Emirates Golf Club. It was probably the best experience of my golfing career. We were flown by the Emirates, were given BMW cars for our transport and were accommodated at a 5-star-plus hotel facing the sea. It was a good meet of 120 golfers from 40 countries. We were busy attending different parties and exhibitions and programs. Everything was complementary. Thanks to BMW Bangladesh, I would not have been there but for them.
Q: What was your observation there regarding golfing facilities and other things?
A: To be honest, the facilities are tremendous but those are very expensive as well. We play at a very cheap price here. We are too much dependant on caddies, but there were no caddies in Dubai so we had to play on our own. The weather condition here is very stable, but in Dubai different seasons come with different weather patterns and challenges. Then you have those artificial challenges as well like huge sand stretch or bunkers. We don't get those challenges in our golf courses.
Q: You are playing golf regularly at the age of 58. Do you think age is no barrier to playing golf?
A: First of all, you have to be fit to play golf or any sport for that matter. Mentally you have to be sound, but physical fitness is of paramount importance. Playing 18 holes under different weather conditions is no joke. I'm pretty fit for my age. In fact I won the prize for the longest drive in the Aga Khan Trophy last year.
Q: What is your golfing routine?
A: I play five to six days a week. I try to sleep by 11:00pm and get up by 5:00am, and by 6:00am I make my tee off and by 8:00am I finish my game. We normally play nine holes, but on few holidays we play 18 holes. I have a group of friends with whom I usually play.
Q: Are you contributing yourself to develop the game?
A: I personally know some young golfers who used to be caddies. I try to bring them sponsors. I sometimes help them with money or golfing kits. I'm trying to promote the underprivileged golfers as much as I can.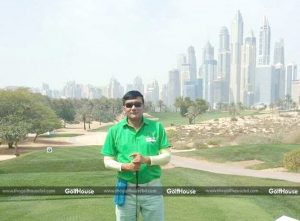 Q: What is your expectation about the future of Bangladesh golf?
A: Siddikur Rahman has shown us how a golfer from very humble background can go a long way, even as far as the Olympics. We need more Siddikurs, not one or two. We have golfers like Sajib and Jamal and they are doing well in domestic circuit, but not at the international stage. Maybe they need more psychological assistance. We need at least ten players at the international circuit every year. We have to decentralize the game as well.
Q: Do you have any plans to sponsor golf tournaments in near future?
A: My company is sponsoring a tournament at the Shaheen Golf Club for the last three years. Since I was an air force officer, they contact me and I'm doing my best to oblige.
Q: TheGolfHouse has turned three recently. What is your impression of the magazine?
A: I love this magazine. When I see the colorful pictures, the golf tips and articles, it feels good. But I think it needs more circulation. The magazine should go to all golf clubs and all defence establishments. The magazine should also be available at cadet colleges.