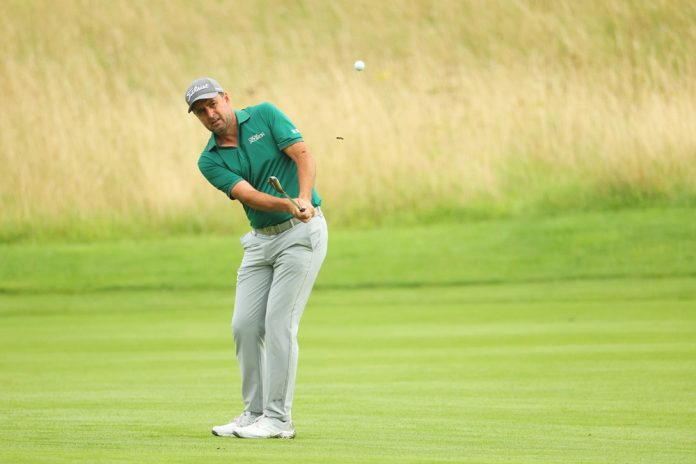 Round One Report
Richard Bland returned to European Tour action for the first time in over three weeks and picked up from where he left off as the Englishman took the first round lead in the Cazoo Classic at London Golf Club.
Having earned an emotional first European Tour victory in May's Betfred British Masters, which came in his 478th start and at the age of 48, Bland has been riding a wave of positivity since, claiming top fives at the Made in HimmerLand presented by FREJA and the Dubai Duty Free Irish Open.
His last appearance came at the The Open in Royal St George's, where he hit the first tee shot of the Championship on Thursday morning, so the Southampton native returned to Kent this week brimming with optimism.
A seven under 65 continued his momentum on home soil as he earned a one-stroke lead over English compatriots Dale Whitnell and Jordan Smith, as well as American duo Sihwan Kim and Sean Crocker.
Bernd Wiesberger, who is chasing a big run of results in the next four weeks as he targets a late push into the qualification places for Pádraig Harrington's European Ryder Cup team, opened with a four under par 68 to share ninth position.
Player Quotes
Richard Bland: "Pretty much all of it was good today, I just felt like it was a continuation from where I left off before my break. I was driving the ball great, hitting some nice iron shots in and I didn't really hole that much to be honest.
"To be fair I probably had three or four that looked like they were going to in and touched the edge but didn't go in. I felt like that score was the worst it was going to be which is very nice feeling after three weeks away.
"To start any tournament with three straight birdies – I hit a lovely nine iron into ten, had a nice putt downhill, a lovely soft cut five iron into about five feet at 11 and two good shots on 12, left the chip hanging over the edge – it was almost a case of it was too easy.
"But I just kept going, go through the same swing thoughts that I'm doing and it's nice to look up at the ball and it's going the direction you expect it to be going."
Dale Whitnell: "It was pretty good, I had a bad tee shot on the second and made a bogey early on but it was a pretty productive last 16 holes with seven birdies and no bogeys which is nice.
"It was quite funny, on the range this morning I wasn't expecting any rain today so that threw me a bit, but I had some good company today with a couple of boys with me who are pretty local to the area like me, so it was nice.
"Obviously it's nice playing in the UK, it's where I'm comfortable I guess and I'm fortunate to stay at home this week, so it's nice to sleep in my own bed. Home comforts are great and the game feels in great shape."
Jordan Smith: "I'm very pleased, it wasn't easy out there. He breeze got up this afternoon and I was really happy with the way I played. It was very chilled out there with the two guys because I know them pretty well, so it was fun.
"You've just got to look at the positives from Northern Ireland, you've got to think that you could have had that Sunday round on the first day and finished off strongly. It's just one of those things where it doesn't go your way on Sunday I think.
"Everyone has a below par round and mine just happened to be on the Sunday which is unfortunate but that's golf for you. The game is great the last couple of weeks and we need to get ourselves in that position again and see what happens."
Sihwan Kim: "It's been good, I just putted really well today. I had some bad tee shots but recovered pretty well and after a break on number one, I was able to recoup and make some birdies out there.
"It's a nice course, a little soft but I just had to control the spin a little bit and the greens got a little bumpy so I had no expectation with the putting.
"I just got my tee shots under control a little bit and my putting has been really good the last few weeks so I'm hoping that'll keep going."
Round One Scores:
65 R BLAND (ENG),
66 J SMITH (ENG), S CROCKER (USA), D WHITNELL (ENG), S KIM (USA),
67 L BJERREGAARD (DEN), J STALTER (FRA), N LEMKE (SWE),
68 D DRYSDALE (SCO), M FORD (ENG), M KORHONEN (FIN), J CATLIN (USA), B WIESBERGER (AUT), M KIEFFER (GER), C HILL (SCO), M KINHULT (SWE), M ANTCLIFF (AUS), D YOUNG (SCO), N KEARNEY (IRL),
69 C SORDET (FRA), L GAGLI (ITA), R ROCK (ENG), G FDEZ-CASTA?O (ESP), P PETERSON (USA), D VAN TONDER (RSA), W BESSELING (NED), T TREE (ENG), J HANSEN (DEN), R ENOCH (WAL), D COUPLAND (ENG),
70 M WARREN (SCO), A CHESTERS (ENG), C SHINKWIN (ENG), A LEVY (FRA), J MORRISON (ENG), A KARLSSON (SWE), V PEREZ (FRA), J CALDWELL (NIR), M SOUTHGATE (ENG), D VAN DRIEL (NED), J WALTERS (RSA), S SHARMA (IND), R RAMSAY (SCO), M CORT (ENG), B HENSON (USA), S YONGCHAROENCHAI (THA), M SIEM (GER), B EVANS (ENG), R SCIOT-SIEGRIST (FRA), A COCKERILL (CAN),
71 J KASKE (FIN), E PEPPERELL (ENG), J CAMPILLO (ESP), M KAWAMURA (JPN), C SHARVIN (NIR), M BALDWIN (ENG), P WARING (ENG), G PORTEOUS (ENG), K SAMOOJA (FIN), L CANTER (ENG), R H?JGAARD (DEN), R FOX (NZL), S BROWN (ENG),
72 J THOMSON (ENG), D LAW (SCO), J WRISDALE (ENG), S GARCIA RODRIGUEZ (ESP), A QUIROS (ESP), B HEBERT (FRA), J DONALDSON (WAL), J GEARY (NZL), P ERIKSSON (SWE), Y CHANG (KOR), M PAVON (FRA), D LAWSON (AUS), B EASTON (RSA), S GALLACHER (SCO), S V?LIM?KI (FIN), S TILEY (ENG), R MCGOWAN (ENG), V NORRMAN (SWE), B POKE (DEN), N H?JGAARD (DEN), O WILSON (ENG),
73 L VAN MEIJEL (NED), D HORSEY (ENG), D HOWELL (ENG), D PERRIER (FRA), G BHULLAR (IND), C PIGEM (ESP), C HANNA (USA), R HARRIS (ENG), L DE JAGER (RSA), L ROBINSON (ENG), J WINTHER (DEN), M JORDAN (ENG), P ANGLES (ESP), E CUARTERO BLANCO (ESP), B DREDGE (WAL), E WALKER (SCO),
74 D DIXON (ENG), T KOIVISTO (USA), J SURI (USA), A SULLIVAN (ENG), T OLESEN (DEN), A PLANT (ENG), K REITAN (NOR), L SLATTERY (ENG), M SCHNEIDER (GER), A SADDIER (FRA), R SANTOS (POR), B MACPHERSON (AUS), A CA?IZARES (ESP), P FIGUEIREDO (POR),
75 W ORMSBY (AUS), J MCLEOD (AUS), C PAISLEY (ENG), S CHAWRASIA (IND), T THURLOWAY (ENG), O FARR (WAL), J SENIOR (ENG), L SHEPHERD (AM) (ENG), B STONE (RSA), D HILLIER (NZL), P NYHOLM (SWE), G STAL (FRA),
76 W NIENABER (RSA), D GAVINS (ENG), S HEND (AUS), R FISHER (ENG), J SANDBORG (SWE), S KAPUR (IND), A PENDARIES (FRA), A SANDHU (IND),
77 O FISHER (ENG), R MCEVOY (ENG), C WOOD (ENG), H LI (CHN),
78 A ZEMMER (ITA), G GREEN (MAS),
80 T GANDY (IMN),
81 H PORTEOUS (RSA),
83 J COPE (AM) (ENG),