The Dutchman followed an opening 64 with a 65 at Club de Campo Villa de Madrid to get to 13 under and he will face the biggest day of his career in the final group on day three.
Besseling was a European Challenge Tour graduate in 2008 and came through the Qualifying School in 2011 but never managed to finish in the top 100 on the Race to Dubai until last season when he secured three top threes.
A tie for fourth at the Austrian Golf Open is his best finish so far this season and he will now go in search of a first European Tour victory.
Rahm carded a 67 as he looks for a third consecutive win at his home open and, with the weekend entirely sold out, the leading duo will take a bumper crowd round with them in the Spanish sun.
Home favourite Adri Arnaus and England's Ross McGowan were at 11 under, a shot clear of another Spaniard in Rafa Cabrera Bello and Scotland's Grant Forrest.
Player Quotes
Wil Besseling: "A great 65. I really enjoyed it out there again. Started off not quite as well as I would have wished, it was a lot cooler this morning compared to yesterday afternoon, so the ball flew a bit shorter and it played a bit different the first couple of holes. I holed some nice putts the first couple holes to get me going and then it warmed up nicely on the back nine.
"The last couple of seasons have been really good. I did struggle before that, so it is good to be out here performing well and making putts, and being on top of the leaderboard after 36 holes, hopefully it will stay that way come Sunday.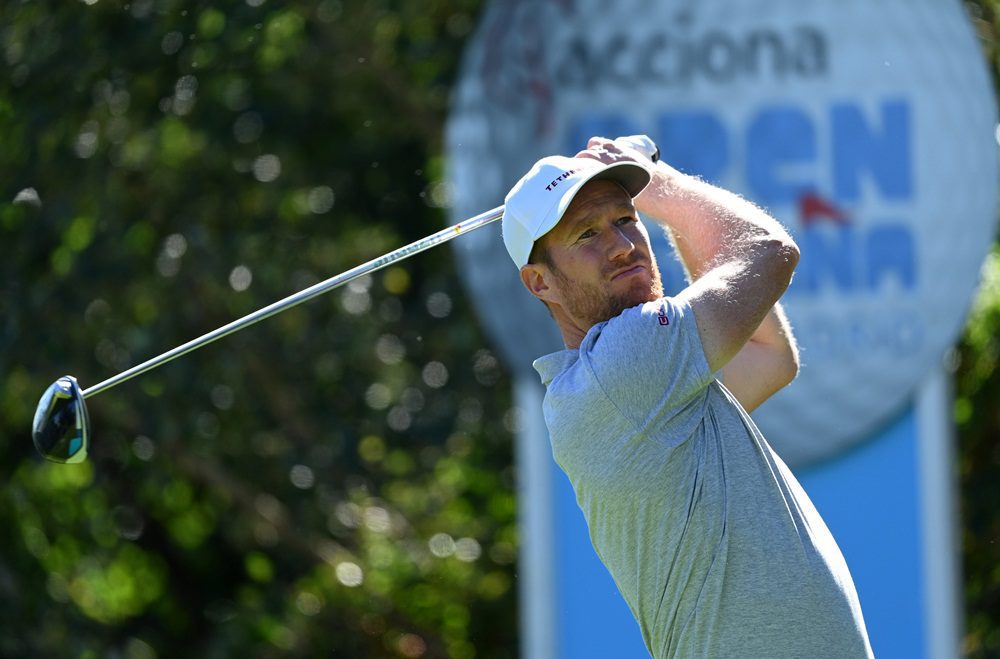 "But it is good to be here and that is the first step you need to make. I made some big changes, my caddie is a big support, obviously the family and home and my sponsors that always believed in me, and a new coach that really got me going.
"So finding the right people around me has really helped and gives me a good feeling and support. You still need to hit the ball and get the practice hours in, but we do it all together, and the last couple of years has been really good."
Jon Rahm: "It was the whole plan basically (to birdie 18). I told Adam when we were standing on the tee knowing where the pin was, I want nothing to do with the right side. I aimed just over the scoreboard, there are two white signs, so if I hit it good, I would get close to the green and have an easy chip, and if I missed it left I know taking line of sight I would be taking 50 yards from a perfect angle.
"So I aimed there but made a really bad swing. I was trying to hit it so hard but was able to take the relief, and kind of learned from my final shot two years ago on that hole, I know it releases a bit more than you think and hitting it to three feet was a bonus I would have taken anything inside ten to 15 feet as I was looking for a chance to make birdie, so hitting it to almost tap in was a real bonus.
"The biggest difference is the greens. When you get some traffic, they're not firm enough yet to where they are going to be as good in the afternoon, so yesterday morning the greens were perfect and we were making a few more putts, today in the afternoon it gets a little bumpy, it just happens.
"On that front nine I thought I hit a couple of really good putts that didn't roll as true, or simply I just misread them, but everything is getting a little bit firmer and on a golf course like this, when things get firmer you need to be that much more precise and the difference of being in the fairway and not in the fairway can be quite big to control the ball into the green.
"So that is why you didn't see ten under today because of the firmness of the course. As it gets firmer, it is going to be a more demanding golf course obviously, more challenging and a much more fun golf course to play.
Round Two Scores
129 W BESSELING (NED) 64 65,
130 J RAHM (ESP) 63 67,
131 A ARNAUS (ESP) 67 64, R MCGOWAN (ENG) 61 70, S SHARMA (IND) 67 64,
132 G FORREST (SCO) 65 67, R CABRERA BELLO (ESP) 67 65, J GUERRIER (FRA) 66 66,
133 M JORDAN (ENG) 68 65, P LARRAZ?BAL (ESP) 67 66, M WARREN (SCO) 66 67,
134 J LAGERGREN (SWE) 65 69, D DRYSDALE (SCO) 64 70, J SENIOR (ENG) 67 67, L BJERREGAARD (DEN) 66 68, J JANEWATTANANOND (THA) 67 67, S TARRIO (ESP) 66 68, J HANSEN (DEN) 68 66, J DONALDSON (WAL) 64 70, S JAMIESON (SCO) 66 68,
135 V DUBUISSON (FRA) 67 68, A COCKERILL (CAN) 66 69, D PUIG (AM) (ESP) 68 67, M KORHONEN (FIN) 69 66, S GARCIA RODRIGUEZ (ESP) 62 73, F ZANOTTI (PAR) 69 66,
136 J MURPHY (IRL) 68 68, M LEE (AUS) 67 69, G FDEZ-CASTA?O (ESP) 68 68, D HORSEY (ENG) 66 70, D FICHARDT (RSA) 70 66, A LEVY (FRA) 72 64, M LORENZO-VERA (FRA) 67 69, W NIENABER (RSA) 71 65, R FOX (NZL) 65 71, C SYME (SCO) 67 69, S BROWN (ENG) 68 68, J GONNET (FRA) 68 68,
137 R PARATORE (ITA) 67 70, J CAMPILLO (ESP) 67 70, R BLAND (ENG) 69 68, A CHESTERS (ENG) 71 66, A MERONK (POL) 69 68, N LEMKE (SWE) 68 69, J SMITH (ENG) 66 71, E MOLINARI (ITA) 67 70, T AIKEN (RSA) 69 68, D COUPLAND (ENG) 68 69, A SULLIVAN (ENG) 67 70, D GAVINS (ENG) 69 68, B WIESBERGER (AUT) 70 67, M ARMITAGE (ENG) 69 68, J PASTOR (ESP) 71 66,
138 D VAN DRIEL (NED) 67 71, R RAMSAY (SCO) 69 69, A OTAEGUI (ESP) 68 70, C HILL (SCO) 70 68, G COETZEE (RSA) 69 69, A JOHNSTON (ENG) 70 68, G STORM (ENG) 71 67, N BERTASIO (ITA) 67 71, S KJELDSEN (DEN) 69 69, A QUIROS (ESP) 71 67, F LAPORTA (ITA) 67 71, R SCIOT-SIEGRIST (FRA) 65 73,
139 J WALTERS (RSA) 71 68, N H?JGAARD (DEN) 73 66, L GAGLI (ITA) 70 69, D LAW (SCO) 70 69, K SAMOOJA (FIN) 67 72, H LI (CHN) 68 71, Z LOMBARD (RSA) 72 67, R FISHER (ENG) 69 70, O FARR (WAL) 72 67, A WU (CHN) 66 73, C PAISLEY (ENG) 70 69, L DONALD (ENG) 69 70, A ROZNER (FRA) 67 72, M KIEFFER (GER) 71 68, J SCRIVENER (AUS) 71 68,
140 J WINTHER (DEN) 72 68, J STALTER (FRA) 70 70, D WHITNELL (ENG) 69 71, G GREEN (MAS) 70 70, R LANGASQUE (FRA) 66 74, E PEPPERELL (ENG) 70 70, M PAVON (FRA) 68 72, T PULKKANEN (FIN) 69 71, J MORRISON (ENG) 72 68, A CA?IZARES (ESP) 69 71,
141 S V?LIM?KI (FIN) 70 71, R JACQUELIN (FRA) 69 72, J CALDWELL (NIR) 73 68, O WILSON (ENG) 73 68,
142 M KAWAMURA (JPN) 71 71, J HARDING (RSA) 75 67, S DEL VAL (ESP) 71 71, N ELVIRA (ESP) 70 72, J CATLIN (USA) 70 72, G PORTEOUS (ENG) 70 72, B HEBERT (FRA) 73 69, S CROCKER (USA) 70 72, S HEND (AUS) 73 69, M SCHMID (GER) 69 73, S KIM (USA) 70 72, H PORTEOUS (RSA) 71 71,
143 R ROUSSEL (FRA) 70 73, R SANTOS (POR) 70 73, M SOUTHGATE (ENG) 75 68, G MIGLIOZZI (ITA) 74 69, K BROBERG (SWE) 73 70, J SURI (USA) 73 70, J MOSCATEL (AM) (ESP) 71 72,
144 O FISHER (ENG) 72 72, S SODERBERG (SWE) 72 72, V PEREZ (FRA) 71 73, R KARLBERG (SWE) 72 72, D VAN TONDER (RSA) 71 73, G BHULLAR (IND) 75 69,
145 C SHARVIN (NIR) 75 70, P ANGLES (ESP) 75 70, R MCEVOY (ENG) 74 71,
146 M KINHULT (SWE) 74 72, E DE LA RIVA (ESP) 74 72, T OLESEN (DEN) 70 76,
147 C SANCHEZ MOLINA (ESP) 73 74, M ANTCLIFF (AUS) 74 73, D HOWELL (ENG) 74 73,
148 A PAVAN (ITA) 77 71,
151 A BUENDIA (ESP) 77 74,
152 G BRIXI (CZE) 74 78,