Former Ryder Cup player Barry Lane secured his sixth European Senior Tour title as he carded a final round five under par 67 to win the Willow Senior Golf Classic by five strokes.
The Englishman, who represented Europe at The 1993 Ryder Cup, fired the lowest round in Senior Tour history on Saturday, a 12 under par 60, taking a four stroke lead over Gary Orr into the final round.
In addition to the lowest round in Senior Tour history, Lane's 22 under par total is also the lowest 54-hole score to par – the lowest since 2010.
"I think I've shot 20-odd under par before," said Lane. "But that was in four rounds. I'm 57 and I nearly shot my age yesterday, which is quite difficult to do.
"It was tough going out today. You have a four-shot lead and know that everyone is gunning for you; but it was only Gary who was within four shots, so it was for me to lose really."
Lane made the turn one under par, just three strokes ahead of Orr who then reduced the deficit to just two shots with a birdie on the 13th.
A birdie on the 15th hole kick-started Lane's round as he went on to birdie the 16th and then eagled the par five 17th hole, giving him a four stroke lead on the 18th tee.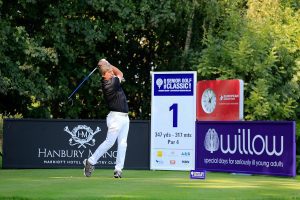 "At all the tournaments I've won, I've led going into the final round, so I knew what to do," said Lane. "I gave myself a bit of a pep talk this morning. I thought if I could get to 22 under then Gary would have to shoot 63 just to tie.
"The birdie on 15 was crucial. I hit a great shot to the green and Gary went first, rolling one in for birdie. I knew I had to get mine in to stay two ahead.
"It was nice walking up the 18th with such a lead. I had 113 yards to the flag but hit a horrendous hook with a wedge to the left of the green. I lost focus a little bit, but recovered and it's fantastic to win again."
Orr finished with a 17 under par total, two strokes ahead of former John Jacobs Trophy winner Paul Wesselingh, who topped the Senior Tour Order of Merit in 2013.
Roger Chapman, double Senior Major Champion in 2012, finished fourth on 13 under par with Peter Fowler, Chris Williams and Thaworn Wiratchant sharing fifth on 11 under.
Final scores:
194 B Lane (Eng) 67 60 67,
199 G Orr (Sco) 66 65 68,
201 P Wesselingh (Eng) 67 68 66,
203 R Chapman (Eng) 69 66 68,
205 C Williams (RSA) 69 67 69, T Wiratchant (Tha) 68 67 70, P Fowler (Aus) 66 67 72,
206 M Farry (Fra) 68 69 69, M Harwood (Aus) 68 68 70,
207 T Thelen (USA) 72 70 65, G Turner (Nzl) 72 66 69, J Sandelin (Swe) 68 68 71,
208 C Dennis (USA) 69 69 70,
209 S Brown (Eng) 72 68 69, C Monasterio (Arg) 72 68 69, C Mason (Eng) 70 70 69, G Brand Jnr (Sco) 70 69 70, M James (Eng) 69 70 70, L Zhang (Chn) 69 70 70, M Atlevi (Swe) 65 70 74,
210 S Dodd (Wal) 71 71 68, M Mouland (Wal) 72 69 69,
211 G Wolstenholme (Eng) 72 71 68, S Luna (Esp) 74 68 69, P O'Malley (Aus) 71 70 70, B McGovern (Irl) 73 67 71, J Remesy (Fra) 69 69 73, A Oldcorn (Sco) 66 69 76,
212 P Eales (Eng) 73 72 67, P Golding (Eng) 70 72 70, P Walton (Irl) 72 68 72,
214 A Bossert (Sui) 70 75 69, P Linhart (Esp) 72 71 71, B Conser (USA) 71 72 71, D Smyth (Irl) 71 71 72, D Gilford (Eng) 68 72 74,
215 C Suneson (Esp) 70 75 70, J Rivero (Esp) 73 71 71,
216 R Rafferty (Nir) 74 73 69, G Rusnak (USA) 70 73 73, M Martin (Esp) 71 71 74,
217 S Tinning (Den) 75 71 71, A Sherborne (Eng) 71 71 75,
218 R Drummond (Sco) 72 72 74,
221 A Mednickson (Swe) 74 74 73, G Brand (Eng) 76 70 75,
222 N Job (Eng) 73 74 75,
223 C Rocca (Ita) 77 71 75,
224 P Wilson (Eng) 72 72 80,
225 D Russell (Eng) 71 76 78,
230 M Mackenzie (Eng) 78 75 77,
231 A Forsbrand (Swe) 76 75 80,
233 M Squire (Eng) 78 79 76,
234 J Sallat (Fra) 78 78 78