When it comes to rules of golf, Brig Gen (retd) Abidur Reza Khan is amongst the few in Bangladesh who deserves special mention.  A dedicated golfer who, besides playing regularly, enjoys being associated with rules and organizing/ officiating tournaments both local and international.  A long time Tournament Committee Chairman of KGC, Brig Abid has taken additional responsibilities of Tournament Director of BGF and also as Director Rules at BGA.  He gives enough time to his assigned responsibilities and takes pain to make the game of golf more popular and enjoyable in Bangladesh.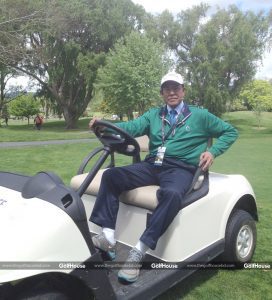 Q: Tell us about your golfing journey, especially your work as a Rules Official.
A:  My coming to golf was no accident.  I was a sports lover from early days.  I used to play all types of games including Boxing and Rugby and was awarded college colour in four disciplines – Football, Hockey, Boxing and Athletics.  After joining Army, it became difficult to carry on with hard games like football, hockey etc, so I picked up tennis and at a later stage, sometime around 1999, I became a member in KGC and started playing golf.  My thanks to Lt Gen (retd) Hasan Mashhud Chowdhury, awc, psc Former CAS, Bangladesh Army  who helped me to become a member here.
I never thought I would ever pick up this game, let alone developing a liking for it.  I used to consider it a share waste of time on the ground.  However, to my utter surprise, things started to change and I soon got addicted to this game of golf, to the extent that I used to play 27 holes or even 36 holes on some days.  I shall remain grateful to Brig Gen (retd) Masud Ali Khan, psc and Lt Col (retd) Iqbal Shafi for bringing me into this game.  My initial focus was nothing beyond learning the game and playing well.
I later came to know that this game of golf, which I was already enjoying, could be much more interesting if I followed the Rules of Golf.  So I got hold of a Rules Book and started reading.  I found it interesting, informative and easy to grasp.  Mr. Zulfiquar Rahman (Rana), who was the only level-3 qualified rules official noticed my interest and encouraged me to take the test.  Usually there are three levels of tests – level-1, level-2 and level-3.  The opportunity came in the year 2014.  KGC got two vacancies for level-3  exam from R&A, St Andrews, Scotland which were availed by Lt Col (retd) Md Abdul Bari and myself.  We were under tremendous pressure since we were proceeding directly for level-3 exam skipping level -1 & level-2.  Fortunately both of us successfully passed the exam.  After having qualified as rules official, we regularly worked as referees in all tournaments including 3 Asian tours and 3 PGTI events, which were held in Bangladesh.  We (Lt Col Bari and myself) got an invitation to attend "Tech the Teachers" Seminar in Singapore early this year, where we got a good opportunity to highlight Golfing activities in Bangladesh and interact with other golfing nations including the R&A officials.  They were very impressed with our performance and profile as rules officials and on behalf of Asia-Pacific Golf Confederation, The R&A and the Masters Tournament I was invited to assist in the conduct of the  Asia Pacific Amateur Championship – 2017, as a championship Referee. The championship was held at Royal Wellington Golf Club, New Zealand from 24 to 29 October 2017.  This was the first time a Rules Official from Bangladesh got an invitation to work as referee in an International Tournament.  It helped me gain experience and confidence which will be very useful in conducting future tournaments. We hope to get more invitations for working as Rules Officials in international tournaments in coming years.  If I have achieved anything over these years, it was only possible all due to intimate support by BGF and KGC.
Q:  Any message to the golfers.
A:  Very simple message – learn the basic rules of golf, follow the etiquettes and enjoy the game.
Q:  Your suggestion to those willing to be rules officials.
A:  Study the rules book seriously and progress gradually though different stages.  One should take level-1 and level-2 exams before proceeding for level-3.
Q:  Do you have a word for TheGolfHouse?
A: TheGolfHouse is the only Magazine that is covering news and activities relating to golf.  It is progressing steadily and successfully in promoting golf in Bangladesh.  I appreciate their initiative and professionalism and pray that the magazine attains international standard through quality journalism