Badal Hossain of Savar Golf Club won the title of Novoair BPGA Cup 2017, his first title since turning professional, at the Kurmitolla Golf Club in Dhaka on May 3.
The veteran golfer, who has been in the professional circuit for quite a long time, had dominating the BPGA circuit for the last one year but failed to break his duck. He had gone into tiebreaker quite a few times but eventually lost on all occasions.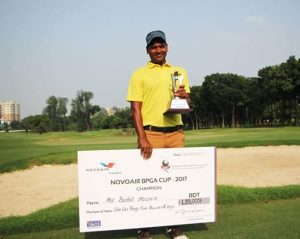 Badal, under pressure of winning his first BPGA title, finished with a score of five-under-par, tied for the elad with Dulal. Both finished the first round of tie with par scores, but in the following round Badal made an excellent tee shot and calm before finishing with a birdie. As Dulal could only play par, Badal got his long-deserved title. Zamal Hossain Mollah finished in third position.
Later on May 4, honorable state minister, Ministry of Youth and Sports, Biren Shikder MP handed over prizes to the winners. With the patronage of NOVOAIR, Bangladesh Professional Golfers Association (BPGA) organised the four-day tournament.
Managing Director of NOVOAIR, Mofizur Rahman, Director of NOVOAIR, Major Iqbal Kobir (Retd), Asif Ibrahim, President of BPGA, Brigadier General GM Quamrul Islam (Retd), Secretary General of BPGA, BPGA and Kurmitola Golf Club high officials with other eminent personalities were present in the concluding event.
About 90 golfers participated in this tournament. 80 professional and 10 amateur golfers also participated in this event.