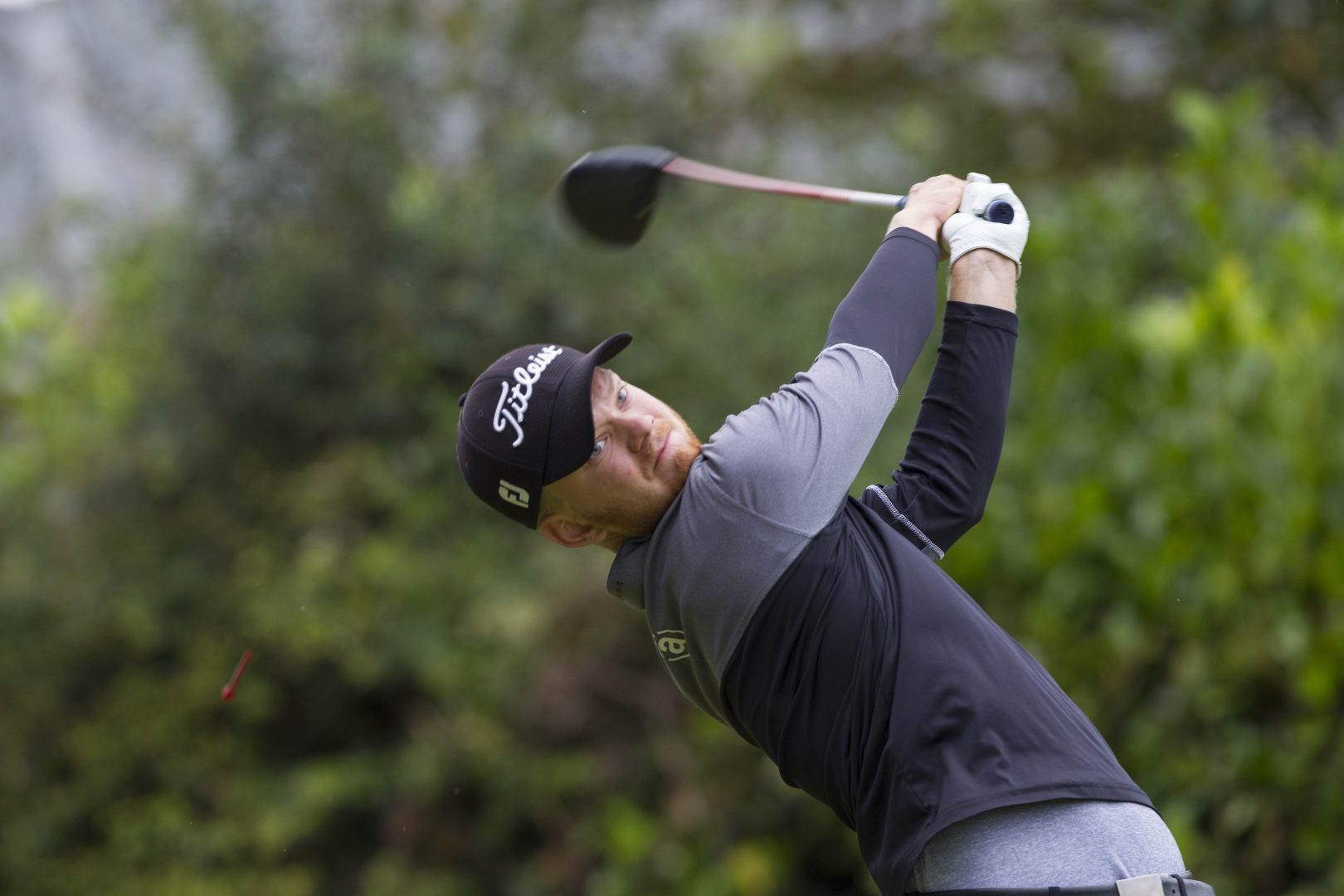 Jarand Ekeland Arnoy's outstanding round of 63 allowed him to open up a four-shot lead at the halfway stage of the Challenge de España as he looks to put a series of recent near misses behind him.
The Norwegian finished second on each of his last outings, sharing runner-up position in Ireland the European Challenge Tour two weeks ago following a second place on the Nordic Golf League, but a bogey-free 18 holes on Day Two at Izki Golf gives him a big advantage going into the weekend.
With Challenge Tour status already guaranteed for next year, the pressure is off for Arnoy at what can often be a stressful period in the season, a factor he is using to his advantage underneath the Spanish sunshine.
"I've been playing quite well the last couple of weeks," said the 20 year old. "Finishing second in Ireland secured my Challenge Tour card for next year so I'm playing with a lot less on my shoulders and just enjoying myself out there.
"The aim is to go one better this weekend – two second places in a row shows my game is good right now but the idea is to increase this lead tomorrow.
"I've struggled when I've tried to protect my position and I've struggled when I've had to be aggressive because you always have in the back of your mind that you've got to perform well every week.
"Now I can just look forward to next year without too much pressure on me compared to some of the others – of course I want to be top 45 and play Grand Final, or even top 15, but I know I can play here next year so that will be fun.
"I'm playing well so I'm just going to try to keep increasing my lead in the next two days and then we will see what happens."
Arnoy's closest rival on the leaderboard is England's Ben Evans whose 66 took him to ten under par, one shot ahead of Dutchman Wil Besseling and Matteo Delpodio of Italy.
Overnight leader Kalle Samooja is one of four players sharing fifth place on eight under par, with David Borda the leading Spaniard on home soil one shot further back.
Borda was one of eight Spaniards to make the cut, which fell at two under par, with Adri Arnaus arguably the most impressive, the 21 year old amateur surviving until the weekend in only his second Challenge Tour appearance.
Scores after Round Two:
130 J Arnoy (Nor) 67 63,
134 B Evans (Eng) 68 66,
135 W Besseling (Ned) 70 65, M Delpodio (Ita) 67 68,
136 C Sharvin (Nir) 67 69, E Van Rooyen (RSA) 66 70, K Samooja (Fin) 64 72, B Paolini (USA) 70 66,
137 D Borda (Esp) 69 68, C Aronsen (Nor) 69 68, P Mejow (Ger) 69 68, C Sordet (Fra) 69 68, T Murray (Eng) 68 69, R Davies (Wal) 68 69, M Kinhult (Swe) 70 67,
138 J Sarasti (Esp) 73 65, N Cullen (Aus) 69 69, R Sciot-Siegrist (Fra) 71 67, V Perez (Fra) 67 71, V Riu (Fra) 69 69, J Rutherford (Eng) 70 68, J Lando Casanova (Fra) 68 70, J McDonald (Sco) 68 70, M Schwab (Aut) 70 68,
139 M Hoey (Nir) 67 72, M Orrin (Eng) 70 69, R Finch (Eng) 69 70, B Hellgren (Swe) 69 70, M Baldwin (Eng) 70 69, S Tarrio Ben (Esp) 70 69, G Forrest (Sco) 68 71, T Pulkkanen (Fin) 68 71, F Laporta (Ita) 71 68, P Martin Benavides (Esp) 71 68, S Fernandez (Esp) 72 67, G Boyd (Eng) 67 72, O Farr (Wal) 71 68,
140 P Oriol (Esp) 69 71, J Sjöholm (Swe) 71 69, E Ferguson (Sco) 69 71, S Gregory (Eng) 69 71, C Mivis (Bel) 73 67, J Kunzenbacher (Ger) 70 70, J Senior (Eng) 69 71, G Hurley (Irl) 70 70, C Ford (Eng) 69 71,
141 J Winther (Den) 69 72, D Dixon (Eng) 69 72, R Dinwiddie (Eng) 72 69, N Von Dellingshausen (Ger) 69 72, R Hjelm (Den) 69 72, M Lafeber (Ned) 68 73, A Wennstam (Swe) 73 68, N Geyger (Chi) 70 71, E Dubois (Fra) 69 72, J Dantorp (Swe) 72 69, S Tiley (Eng) 72 69, G Porteous (Eng) 67 74, A Arnaus (am) (Esp) 71 70,
142 A Velasco (Esp) 73 69, M Trappel (Aut) 70 72, O Wilson (Eng) 72 70, D Law (Sco) 71 71, M Lundberg (Swe) 68 74, M Nixon (Eng) 74 68, R Enoch (Wal) 69 73, L Robinson (Eng) 70 72, P Valasek (Svk) 73 69, J Van Der Vaart (Ned) 71 71, C Braeunig (Ger) 71 71, M Ovesen (Den) 71 71, E Goya (Arg) 73 69,
143 K Johannessen (Nor) 66 77, M Haastrup (Den) 73 70, R Evans (Eng) 71 72, C Del Moral (Esp) 70 73, R Echenique (Arg) 71 72, R McEvoy (Eng) 71 72, R Kakko (Fin) 73 70, J McLeary (Sco) 69 74,
144 T Linard (Fra) 72 72, M Schneider (Ger) 73 71, D Fox (Aus) 75 69, D Berna Manzanares (Esp) 71 73, S Henry (Sco) 74 70, J Sainz (Esp) 73 71, J Hansen (Den) 69 75, B Easton (RSA) 75 69, P Howard (Eng) 72 72, B Poke (Den) 72 72, C Balmaseda (Esp) 74 70,
145 P Maddy (Eng) 74 71, A Tadini (Ita) 70 75, N Johansson (Swe) 73 72, M Tullo (Chi) 76 69, P Tarver-Jones (Eng) 71 74, M Ford (Eng) 73 72, J Lara (Esp) 68 77, S Hutsby (Eng) 70 75, C Selfridge (Nir) 74 71, M Dobias (Sui) 73 72, K Eriksson (Swe) 71 74, O Stark (Swe) 71 74,
146 M Fenasse (Fra) 75 71, B Virto (Esp) 74 72, E Cuartero Blanco (Esp) 75 71, R Santos (Por) 67 79,
147 M Wiegele (Aut) 76 71, J Garcia Pinto (Esp) 72 75, E Larrañaga (Esp) 77 70, N Grau Tomas (Esp) 71 76, R McGee (Irl) 74 73,
148 N Ravano (Ita) 74 74, M Lampert (Ger) 76 72, F Maccario (Ita) 76 72, E Lipparelli (Ita) 70 78,
149 L Vacarisas (Esp) 75 74, B Rusch (Sui) 75 74, A Aguilera (am) (Esp) 74 75,
150 P Roos (Fin) 76 74, T Ferrer (Esp) 78 72, N Lindstrom (Swe) 75 75, J Girrbach (Sui) 76 74, J Cafourek (Cze) 71 79, A Turner (Eng) 73 77, M Galiano Aguilar (Esp) 75 75,
152 J Allan (Eng) 78 74,
154 M Galdos (Esp) 78 76,
158 D Suchan (Cze) 83 75,
** J Heath (Eng) 70 WD, A Saddier (Fra) 74 WD, D Van Driel (Ned) 73 RT