Bangladesh Golf Federation (BGF) was established in 1998 but is still crawling in the golf sector. Throughout these years, the country has found many professional golf players, but only one or two players could reach the international level. Although golf is not our local game, BGF is trying to build top-class players. Becoming a professional golfer is not a piece of cake, especially when it is not a local game.
Enough dedication and perseverance are highly essential to become a professional golf player. If you are looking for guideline to become a professional golf player in Bangladesh, read on to get familiar.
Understand the Golf Game
While we understand the most local or popular games easily, golf is different from these. Playing golf is tricky. Therefore, you will need to understand the broker hitting the club. As  a newbie or a parent who wants to teach golf to their child, you can search on Google You Tube about understanding golf. After you get acquainted with it, you may proceed to the next step.
Unlike other countries, Bangladesh's perspective is different in a golf game. So , the first thing would be taking training courses.
Golf Training Course in Bangladesh
Bangladesh Golf Academy offers tuition courses for all types of golfers regardless of the experience. So , beginners , junior golfers, and regular players can get into the tuition according to their needs.
Following are some of the tuition offered by the Bangladesh Golf Academy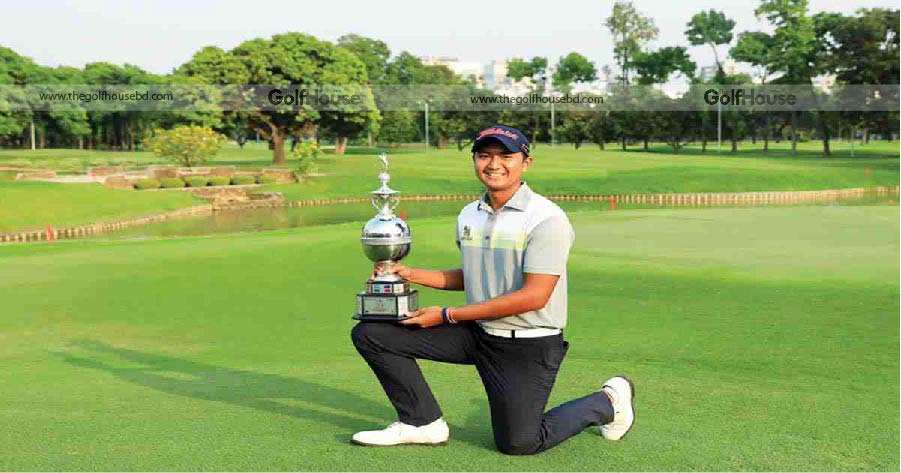 Basic Golf Foundation tuition
This will get you the overall idea about golf and provide the basic knowledge you need to get in the course. Besides, you can understand more about golf and its rules, which will ultimately enhance your knowledge of golf.
Intermediate Golf Tuition
The intermediate lesson will provide a detailed introduction to the game, which will cover the basic shots and techniques. This training is great for beginners as well as experienced golfers. However, the tuition may take 2-3 days to complete.
Advance Golf Training
Advanced tuition offers more intense understanding and techniques that can make you a professional golfer in Bangladesh. Advance tuition will definitely make you ready to start regular practice on the golf course. Skill development course.
If you are an amateur golfer and lack proper skills, this tuition course will help you a sharpen your skills. However, this lesson is beneficial for both new golfers and experienced golfers. Newbies can learn the skill while professionals can hone the skills.
Golf mental skill development workshop
Like physical skills, golfers need good golf mental skills, which require consistency and effort. So , the golf mental skill development workshop will boost  your  visualization and vision about your overall career and golf.
Junior Golf Lesson
This is only for the kids. Hence , if you are a parent and want your kid to play golf, the junior golf course will come in handy. Although there is no age limit to start golf, it id always recommended to start golf from a very young age.
2 hours putting course
Putting is an important part of any golf game. As a new golfer, you may not have any practical experience in putting. The two-hour training course on putting will surely develop your putting skill. However, the professional player can also take this putting lesson to shape up their putting shot.
Yearly Course for under Privileged Children Golfers
It is a free golf training course for under-privilege children golfers. Since it is not a regular activity , it held once a year if there are any underprivileged children on the ground.
Yearly Golf Coaching for Junior Golfers
Bangladesh Golf Federation usually arranges a yearly golf coaching program for the junior golfers, which may charge less than the regular coaching lessons. These training courses will kick off one's golf career. However, regular practice is a key element to the pathway of a professional golfer.
Tips you may follow
Since golf needs tremendous patience and dedication, you can follow some tips to stay motivated.
-Start playing at child age or teenaged.
-Take golf lessons, which we have mentioned already.
– Practice consistently by making a routine.
-Become master on some skills such as full swing, putting, chip, bunker, etc.
-Put your best effort to master a skill.
– Practice with a golfing partner.
-Join the golf club. Bangladesh has 13 affiliated golf clubs all over the country, and can join the nearest one.
How  to become a professional golf player?
Now that you have practiced enough and have all knowledge about golf, you are ready to hit the competition. However, you will not be eligible to compete at the pro level right away. Before starting a pro career, you will have to go through some amateur  tournaments, which will surely give you a competitive advantage.
After playing in some amateur tournaments, you are ready to enlist in professional golf. Although  you may not invited initially, you will need to keep patience until you get a call from any professional tournaments.
Conclusion
Golf is an elite class game, but it is fun once you get familiar with all the terms. Therefore, the guideline we have mentioned here will provide a ray to make yourself ready to become a professional golf player. However, it is a lengthy process, and that is why many people lost interest during the time.
Whoever can keep their dedication along with endurance as  a top priority, they will surely land on a good career. So, practice , focus, and dedication, the combination o fthes three will lesd someone to become a professional golfer.