Bangladesh Golf Federation (BGF) is the apex body for regulation and promoting golf in the country. While ensuring professionals and amateurs get a good system to flourish in the game, the federation also has an eyeon nurturing future golfers. The Junior Division was set up to make sure the flow of golfers is sustained and future golfers get a good platform to learn the game in a proper manner.
The Adjutant General of Bangladesh Army, Major General S M Matiur Rahman, afwc, psc is the President of Army Golf Club and President of the Junior Division of BGF. At the same time among his many other responsibilities he is acting as the Vice-Chairman of Trust Bank Ltd. Within his glorious military career he Commanded 55 Infantry Division, 46 Independent Infantry Brigade, acted as the Director of CTIB,DGFI and ADG, RAB Forces. A passionate and keen golfer Major General SM Matiur Rahman, afwc, psc was the President of Jessore Golf & Country Club in the year 2013-2016.
The Golf House editor Nazrul Hosen Ayon spoke exclusively with him to learn about the plans and activities of the Junior Division.
Q. Golf is growing in Bangladesh and Bangladesh Golf Federation (BGF) has been the primary source for nurturing golf. Isn't that so?
Ans:  At this moment BGF is the onlyactive platform to promote golf at all tiers of golfers in Bangladesh. Under the umbrella of BGF, we have 13 Golf Clubsin the country.The Chief of Army Staff, Bangladesh Army and also the President of BGF at the same time is very keen to promote golf. In order to do so, necessary guideline and instructions are being provided by BGF time to time.
Q. After the first Asian Tour took place, golf got a new speed. What do you think should be done now to take the game a step further?
Ans: You've rightly said that there has been a new excitement in golf since Asian Tour events took place. After the Asian Tour general interest towards golfing has increased and many corporate houses and also individuals havecome forward to sponsor our professional golfers. So, I can see a very good future of golf in the coming year.
Q.How does junior golf in 2017 look like and what can we expect in 2018?
Ans:  2017 was a great year for junior golfers. We sent as many as 35 golfers abroad to play golf at regional and international golf clubs. Some of them brought laurels for the country. In 2018, we have training programs for junior golfers at home and abroad. We havethe plan to send a good number of golfers to participate in international tournament so that Bangladesh get a good exposure.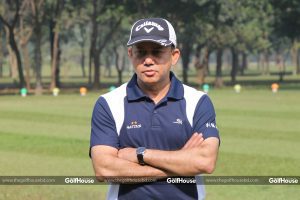 Q. There is a concern that junior division of BGF is slowing down. What would you say to this claim?
Ans:  This is not a fair statement. I think junior golfers have enough opportunities. They are getting training from Bangladesh Golf Academy (BGA). As I was the President of Jessore Golf & Country Club, I know it very well that BGF providesa lot of opportunities for young golfers. Things done by BGF and club activities are quite encouraging in fact.
Q. What is the future plan of BGF regarding building golf base in Bangladesh?
Ans:  I can say that BGF is doing a lot for the golf clubs. It is supporting the clubs by sending technical team as and when asked by the clubs and also coordinatinginter club golf tournaments. I think, in the coming days golf will flourish under the guidance of BGF.
Q. Golf is the only sport which is not played at school level. Do you have any plan to introduce golf to schools?
Ans: We have limited number of golf clubs in the country and most of these are cantonment based. As the President of Junior Division and being the Chairmanof BGA, I am trying to get some affluent people so that they can support their school going children to play golf. Besides, we are also providing training to the under privileged school going children with the support of R&A (Royal & Ancient Club) Club of Scotland. And it is very encouraging that day by day the school going children are coming to learn golf. I hope this is going to be the second popular game in our country after Cricket.
Q. Caddies are playing a big role in golf in that they become leading golfers in the country. Any plan regarding caddies?
Ans: In our country, most famous golfer Mr Siddiqur Rahman was a ball boy. Besides, a good number of professional golfers in our countrywere either caddies or ball boys. As such every year we organize a capsule training program for caddies & ball boys to bring out the potential golfers and then trainthem at BGA. In near future, we may find many more golfers like Siddiqur Rahman who will bring name & fame for our country.
 Q.What should be done to boost the game across the country?
Ans: All the clubs of our country should engage in moregolfing activities and invite good sponsors to promote golf. If we all work together, I believe the game can go a long way.
Q. Say something about the current activities of Bangladesh Golf Academy?
Ans: Since the inception of Bangladesh Golf Academy in June 2015 it is offering lot of opportunities for beginners to learn golf and to develop skill for the regular golfers as well as professionals. At this moment BGA is running two different types of courses. One for underprivileged childrenwhich is a five year long golf training course and financially supported by R&A (The Royal and Ancient Golf Club, Scotland). At present we have 26 boys & girls undergoing various level of trainingat the academy.Besides, we have asix year Perspective Training Plan for children from affluent background. The six year perspective plan has been introduced in 2017. Hopefully we will be able to produce few good golfers at the end of 2023 provided we have the training equipment as per plan. The Ministry of Youth & Sports of Bangladesh Government has principally agreed to provide necessary equipment for the BGA.
Q. Ledbetter Golf Academy is the first private golf academy in the country. They have recently started a two year kids school. What is your view about it?
Ans: This is the first private indoor Golf Academy established at Kurmitola Golf Club in 2017 with the personal initiative of keen golfer, Mr Momin-ud-Dowlah. It is a technology based golf academy with special focus on kids golfing. The regular golfers may also be benefited from this academy provided they have certified teaching professionals. However, it's a good sign for golf that the private entrepreneurs are encouraging the young generation to learn Golf.
Q.TheGolfHouse is promoting a tagline that golf will be the second biggest sport in Bangladesh by 2025. How do you see this?
Ans: I agree with TheGolfHouse. We are coming up very fastin a strong way. If we look back about last ten years, nobody knew Bangladesh but currently we are well known in the international golf arena.We have twopromising sports now;Cricket has already given us a lot, now it's the turn for golf.
Q.Do you think that the government should play an active role to promote this sport?
Ans: Yes, I think so. If our government supports to promote golf like cricket, it will not take much time to give us a good result. We are in touch with the Ministry of Youth and Sports to support Bangladesh Golf Academy with some training equipment. The Ministry in principle agreed to provide the equipment and to get some foreign teaching professional.Hopefully golf will get a new dimension in near future if backed by the government.
Q.What sort of role should media play?
Ans: Media can play a remarkable role in promoting Golf in Bangladesh. Even few years back, Golf was not that popular.It is our media that has drawn the attention of sports loving people of Bangladesh and young generation towardsgolf. If media regularly gives a good coverage of various golf tournaments both print & electronic, the young generation will be interested and encouraged in golfing.