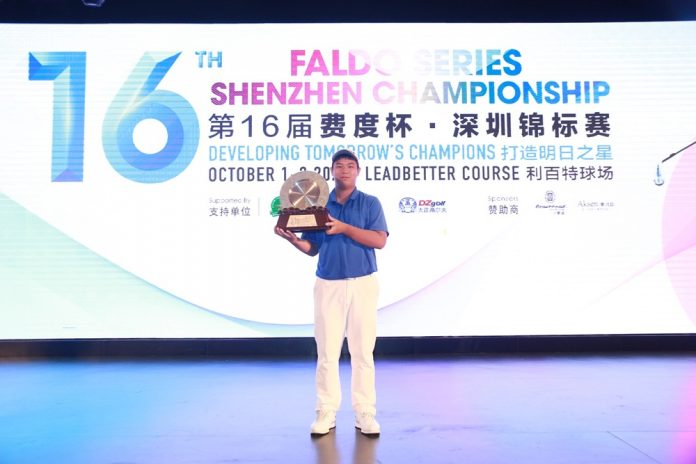 An assured bogey-free closing four-under-par 67 over the Leadbetter Course at Mission Hills Dongguan set the seal on a victory that will see the 15-year-old move closer to breaking into the top-30 in the China Golf Association's junior rankings and the leading 1,000 in The R&A World Amateur Golf Ranking.
Added to earlier returns of 66 and 70, Zhang's three-day aggregate of 10-under-par 203 gave him a five-stroke winning margin from fellow Under-16 participant Huang Zijie.
Winner of numerous junior events in the southern China province of Guangdong, it was the second significant success for Zhang at Mission Hills having captured the overall boys' title at last year's Mission Hills Jack Nicklaus Championship.
Prior to his Faldo Series Shenzhen Championship win, Zhang had continued to impress in 2021 with top-five finishes in the National Junior Championship, Zhang Lianwei Cup International Junior Invitational and the first leg of the HSBC National Junior Champions.
Huang proved a worthy opponent, claiming the opening-day lead with a 65, the best return of the tournament. On day two he battled back from a triple-bogey seven on the first hole to post a one-over 72 to trail Zhang by just one stroke heading into the final day.
In the concluding round it was a four-hole stretch commencing at the par-four fifth that turned the tide decisively in favour of Zhang.
Having extended his advantage at the top of the leaderboard to two with a birdie at the fifth, Zhang pulled clear when his rival dropped shots at the long sixth and par-four eighth. With Zhang continuing to churn out pars there was no way back for Huang, who could take comfort from being the only player apart from Zhang to better par over 54 holes.
Thanks to his latest triumph, Zhang can now look forward to a trip to Vietnam's Laguna Golf Lăng Cô for the 15th Faldo Series Asia Grand Final, to be hosted by Sir Nick Faldo in 2022.
Keeping him company there will be four other age-group winners from the Mission Hills qualifier – Macau's Martin Liu Yi-jie (Boys' Under-18 winner); Alger Chen (Boys' Under-16); Angel Lee (Girls' Under-21) and Chelsea Yu (Girls' Under-16).
Six-time Major champion Sir Nick, Founder of the Faldo Series, said: "Congratulations to the winners and all those who took part. After the challenges of the past 18 months, I'm delighted to see the resumption of Faldo Series Asia tournaments. My thanks to Mission Hills for making it possible to welcome back the Faldo Series Shenzhen Championship to the schedule."
The 2020-21 Faldo Series Asia season is supported by The R&A and endorsed by the Asian Tour and the Asia-Pacific Golf Confederation.
As well as a series of qualifiers in Thailand, events are planned in Australia, Bangladesh, India, Indonesia, Japan, Malaysia, Nepal, the Philippines, Singapore, Thailand and Vietnam over the next few months, subject to prevailing conditions and circumstances.
National finals in Chinese-Taipei, Hong Kong and Pakistan have already taken place this year.
Recognised as the only global amateur series for boys and girls, the Faldo Series was established in 1996, expanding to Asia in 2006.
Today, 40 Faldo Series tournaments take place in 30-plus countries worldwide, touching more than 4,000 golfers each year. Past champions include Tseng Ya-ni and Rory McIlroy, both multiple Major winners, while recent LPGA Tour winners include Thidapa Suwannapura (2010 Faldo Series Asia Grand Final Girls' champion) and Nasa Hataoka (2016 Faldo Series Asia Grand Final Girls' champion).
Faldo Series Shenzhen Championship, leading final scores
Boys' Under-18:
224 – Martin Liu Yi-jie (72-78-74)
227 – Aurora Yuan Zishan (71-78-78)
234 – Jiang Yuxian (72-82-80)
240 – Jerry Chen Junda (79-80-81)
Boys' Under-16:
203 – Zhang Zhenxian (66-70-67)
208 – Huang Zijie (65-72-71)
219 – Yang Huajian (75-74-70)
222 – Huang Yu-teng (70-75-77)
Boys' Under-13:
241 – Alger Chen (80-80-81); Lim Zhiqi (80-77-84)
246 – Sun Haohua (82-86-78); Huang Jiaqi (76-86-84)
Girls' Under-21:
288 – Angel Lee (95-99-94)
Girls' Under-16:
257 – Chelsea Yu (82-88-87)
263 – Rose Huang (85-93-85); Apple Zhao (83-89-91)
265 – Liao Manfei (88-87-90)