While TheGolfHouse magazine brings stories and interviews of promising professional and amateur golfers, it also keeps its focus on those who play a pivotal role for grooming the golfing talents by teaching them the basics of the game. Mohammad Chan Mia is one such person. He has been with Dhaka golf long before the Kurmitola Golf Club was shifted to its current location. He has seen the change of the game and the establishment and played a role in that change. Here he talks about the past and present of golf and his teaching ideologies.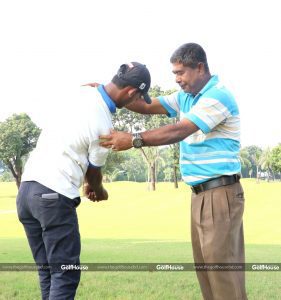 Q: Let's start from a very early stage. What brought you to golf?
A: I was very small when I was brought to the golf club by my Pakistani boss. It was in 1957. I worked as a ball boy for him. He taught me how to play. Then I worked with an American and others as well.
Q: How was the golf course then?
A: In those times, the golf course was almost a paddy field. There were buildings too. The club was a small tin-shed house. Most of the golfers were foreigners.
Q: You are a teaching pro now. You've mentored many a golfer. How did you get to this point?
A: In 1978, my boss told me to go abroad to play. I went to Delhi with a friend from Kolkata. There I played in a tournament. Then I made a long six-month tour in India in 1987. I played in Indian circuit for a few years. But it was a bit difficult for me to stay away from my family for that long even though the pay there was better. However, thankfully the club got me into payroll with a job of teaching in 1995. So I mentored till 2008. Since then I've been teaching golfers in private.
Q: You teach pros as well as new members. What do you teach them specifically?
A: I try focus on the body movement and swing, the grammar and technique of these things. I give them lessons and observe them for a week, then again I work on their techniques and see what improvements they have made. The basic of golf is to have your hands, legs, grip, head, and eyes in right position for the swing. When you're a kid, it's easier to teach these things because children's movements are flexible. It's hard for the older people.
Q: Compare the golfing scenario when you played here with the present day.
A: Our golf and golf course has improved tremendously. There used to be paddy fields, there was hardly any greens in those days. There have been a lot of changes made to the golf course and the club since.
Q: You've had an open heart surgery, but you're still working. And you would probably be playing too. How do you manage that?
A: I'm not playing at the moment, but hope I can start playing again in three months' time. However, I still teach. I come here at around 6:30am and teach up to 10:00am. Then I come at around 3:00pm again. If the members call me, I teach them.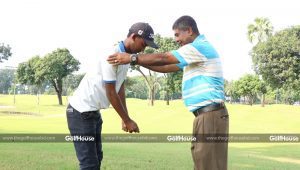 Q: You are working with the national team as well. How are they doing?
A: When the national team was here, I taught them. But now they have moved to the Army Golf Club, so the teachers have changed. However, whenever they come here I give them tips.
Q: What would you say about the professionals of today?
A: There are a lot of constraints for the pros, most of whom come from needy families. They can't do well due to a lack of sponsorship. Only a handful of golfers get the privilege, that, too, a very small amount. So they need more sponsorship to flourish.
Q: We want golf to be the second biggest sport in Bangladesh by 2025. Do you think it is achievable?
A: If sponsors come forward, this game can even surpass cricket. Cricket is a team game, but this is an individual game. There is more scope for bringing glory through this game.