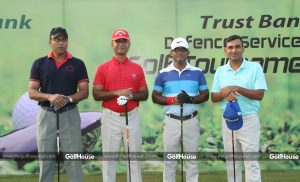 Brig Gen Md Mohiuddin Siddique won the title of Trust Bank Defense Services Cup Golf Tournament 2017 which was held at Kurmitola Golf Club from 5-6 October 2017.
Col Abdul Hannan Sharif (retd) grabbed the senior event title and Fatema Matiur won the Ladies' event title.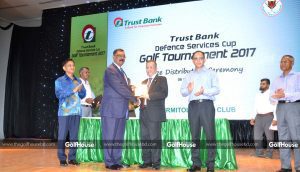 The Quarter Master General of Bangladesh Army Lt. Gen. Anwar Hossain distributed prizes among the winners as the chief guest of the concluding ceremony. Besides the other participant members of the tournament, vice president of Kurmitola Golf Club Mejor General Abdullah Hel Baki, the adjutant general of Bangladesh Army and vice president of Trust Bank Mejor General S. M. Motiur Rahman, club captain Brigadier General Kazi Shamsul Islam, chairman of tournament committee Brig. Gen. Abidur Reza Khan (Retd), Club CEO Brig Gen Mohd Obaidul Haque (Retd), General Manager of golf operation Lt. Co. Md. Abdul Bari (Retd), and Managing Director and CEO of Trust Bank Mr. Ishtiaque Ahmed Chowdhury, high officials of the club with their families were present on the occasion.