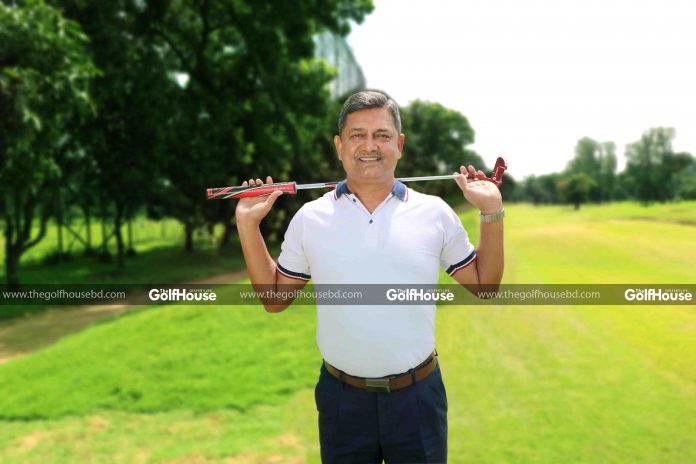 Major General Sheikh Monirul Islam (retd) served in the Bangladesh Army for more than three decades. In addition to commanding two Infantry Divisions, he held highest position in National Security Intelligence (NSI), Special Security Force (SSF) and the government think-tank – Bangladesh Institution of International and Strategic Studies (BIISS). Now, he is in a different sector altogether, viz. Mobile Financial Services. Currently, he is serving as the Chief External and Corporate Affairs Officer of bKash Limited. A former ardent basketball and tennis player, Major General Monir took up golf in later part of his career and has grown passion for the game ever since. In this interview with TheGolfHouse he shares his golfing experiences, current profession and the connections between golf and corporate life.
Tell us briefly about the early stages of your golfing engagements.
Prior to picking up golf, I used to play tennis a lot. However, when I understood that I was aging and playing intense tennis may cause some injuries, I decided to turn to a slow pace game. My introduction to golf took place at the Bhatiary Golf and Country Club (BGCC) in Chittagong in the year 2000. As I got involved in the game more and more, I realised that golf is a lovely game and I needed to develop my skills and learn the rules to perform well. During that time, BGCC used to host lots of tournaments. I participated in few of the tournaments and was lucky to grab my first golf trophy securing the 'nearest-to-pin'. Surprisingly, in the next tournament, I won 'nearest to pin' trophy again. I thought, it was going to be a hat trick; but it never happened. Yet, for obvious reasons, I had grown a sense of purpose for the game and kept on playing golf. Once I was posted at Dhaka, I became a member of Kurmitola Golf Club (KGC). I am also a member of Army Golf Club (AGC) and I have membership with Bagura Golf Club and Cumilla Golf Club, since I was GOC of both the formations.
As you said that you use to play tennis a lot; were you interested in other sports as well?
When I was a junior officer, I used to play basketball very regularly. I played basketball for my unit as well as the formation team and was one-time captain of the Army Basketball Team. I remember the excitement the Army team had in winning the Inter Services Basketball trophy back from the Navy, under my captaincy, which the Navy team won in the previous year.
How do you manage time for golf despite your busy schedule?
A: It is true that I remain busy being into a corporate service as my second career. To make time for golf, one has to take out two to three hours of a day. Keeping the constraint of time in mind, I generally play golf in the early morning. Having played a round of 9 holes, I use the club facilities to prepare myself to proceed to my office which is very near to KGC.
Which are your favourite golfing destinations?
I have been lucky enough to play at BGCC, KGC, AGC, Savar, Cumilla, Bagura, Ghatail and Jessore Golf Club. So, I have played in almost all the golf courses in the country. Among the ones overseas, I have played in India, Pakistan, Thailand, Vietnam, Japan, Bangkok, Singapore, Bahrain, Bhutan, Japan and USA. I am quite fortunate to have played golf in so many places. Among all the golf courses, Sentosa Golf Club in Singapore is the one, I liked most.
……………………………………………………………………………………………………………….
……………………………………………………………………………………………………………….
Have you passed golf on to your next generation?
Yes, my family members do play golf. My younger son Mahzuz participated in different tournaments in junior category and won a few trophies. My elder son Usamah only won nearest-to-pin trophy once as he got very limited opportunity due his educational engagements abroad. My wife Rubab enjoys night golfing once in a while.
What is it about golf that attracts you most?
Playing golf is like constantly challenging your own standard. You have a handicap and you try to improve the standard of your game to reduce that. As an amateur, you make mistakes and come back the next day to fix it to avoid making the same mistake again. So, the eagerness to improve the level of the game drives the golfers back to the course day after day.
Your worst nightmare on a golf course?
There were many occasions when I played a fantastic field game, but while on the green, I kept on making three-putts and missed out on the winning board. If I have to talk about nightmare, I would say that in the club championship final of 2018, I was leading by 3 till Hole 15. With a twist of poor performance, I lost all three consecutive holes to go for a tie break and eventually lost the match to be the Runner-up. The championship looked so near, yet my probable loss of concentration in the last few holes made it to remain far off from my hands.
With more number of golf courses that have come up, there is an obvious influx of golfers. People initially used to take golf as an expensive and time-consuming game. But, people are finding that making time for golf does not only give health benefits, but also allows their mind an open space to reflect upon many things.
Your most memorable experience in golf?
When I started playing golf, I didn't have golf kits of my own. So, I used to borrow kits from fellow golfers to play in tournaments. I wondered, if I could win a trophy without having my own golf kit, it would be something very especial. Actually, I won the first nearest-to-pin trophy using somebody else's golf kits. Many years later, winning the Aga Khan Gold Cup was probably the most memorable experience for me.
 You are also a member of the Tiger Golf Club. Say something about this club.
Tiger Golf Club is more of a virtual club having membership of cross-sectional golfers from different countries, embassies and professions. It is an excellent platform that helps building rapport and friendship among its members. It has created a fraternity of its own, allowing the members to compete and improve their skills of golfing through occasional tournaments organised both at home and abroad.
Does golf help business and corporate life?
To some extent, yes. My current profession is quite different, which relates to the financial sector in general and Mobile Financial Services (MFS) in particular. As I come across fellow golfers from different profession, I get an opportunity to narrate the success story of my company – bKash Limited. The sharing of knowledge help them to clearly understand the products and services of bKash, currently the largest MFS provider in the world.
bKash is a reputed business model. Kindly explain to us the mechanism of the service that bKash provides.
bKash started its journey in 2011, primarily to provide limited banking services to the unbanked population in Bangladesh. During the period of its commencement, only 16 percent of the adult population had bank accounts. Today, the same number is almost 50 percent. The major factor in driving this growth has been MFS or mobile banking which is easy to be accessed by most people. Our customers are basically the people of the lower segment of the pyramid – the blue collar workers, the rickshaw pullers, and the farmers – the common people who do not have bank accounts. bKash allows its customers to open an electronic wallet or account against a simplified Know-Your-Customer (KYC) form and a verifiable ID (preferably NID) as supporting document. The financial services offered by bKash are regulated by Bangladesh Bank and Anti Money Laundering compliance issues are monitored by Bangladesh Financial Intelligence Unit (BFIU).
When you have a bKash wallet, you need to have deposit in it to transact money according to your needs. So, there has to be some way to inject money into your bKash wallet. Hence, bKash has a wide-spread network of 200,000-plus agents all over Bangladesh. One can find an agent within a walking distance whether he/she is in urban or rural area to carryout 'Cash In' (deposit) and/or Cash Out (withdrawal). The most important thing is to create several use cases for the people to take advantage of MFS meaningfully in their daily life. At present, bKash has introduced its payment gateway, so that with bKash wallet, one can receive salary, do shopping, pay bills, pay for ridesharing, etc. Besides, bKash has bank integration with 7 scheduled banks. One can access the integrated banks through bKash App and pull money from their own bank account to bKash account.
Moreover, Bangladeshi diaspora living abroad can now send inward foreign remittance to their near and dear ones which gets directly and instantly disbursed to recipient's bKash wallet via a scheduled bank. Very recently, bKash has launched e-KYC based registration of personal account. It is a major breakthrough for instantaneous and paperless registration of customers with the application of cutting-edge technology. You would be happy to know that bKash has the largest deployment of QR code all across the country for easy scanning and real-time settlement of payment.
Do you think the golf clubs should facilitate mobile banking services to the club members?
bKash opened booth at RAOWA Club for the retired officers and their family members to open account. During Eid and other festivals, there are cashback offers from bKash which is of interest to many. Likewise, if our fellow golfers need to open bKash account easily at the club premises; that arrangement can very well be done. Besides, all the restaurants can open bKash merchant account and receive payments from customers with bKash account. Golfers may even pay their caddies as most caddies now have bKash account.
Does bKash have any plan to sponsor golfers or to invest in club activities?
We do have plans to sponsor sports. Obviously, the most favoured sport in Bangladesh is cricket. Our intention is to get attached with cricket first. I have spoken to our management regarding golf and golfers and they have given assurance of their consideration.
At the age of 61, you are playing golf regularly. Do you have any message to elderly people who are not into golf?
Age is not a factor in golf. Golf course is designed on scaled down distances for different age-group. I still play in the open category, though I am a senior player as per my age. While playing in Thailand, I was accompanied by a 72-year-old Japanese golfer. I saw him playing at his own pace. He was not hitting hard; he was not making too many pars but he wasn't making double bogeys either. One has to have the intention of playing and adjusting golf strokes depending on the kind of athletic person he/she is. If people want to hold on to their physical ability as they grow senior in age, playing golf is a very good option.
TheGolfHouse is promoting a tagline that golf will be the second biggest sport in Bangladesh by 2025. How realistic do you think is the target?
With more number of golf courses that have come up, there is an obvious influx of golfers. People initially used to take golf as an expensive and time-consuming game. But, people are finding that making time for golf does not only give health benefits, but also allows their mind an open space to reflect upon many things. Of course, there are other benefits including socialisation and business discussion opportunities. And, if someone can become a professional golfer, he/she can really earn good amount of prize money to make a good living. We have high calibre professional golfer like 'Siddikur', who is an idol to the younger generation. If the younger generation can dedicate themselves to the game of golf, there is no reason for them not to make a name for themselves. I am not sure what percentage of people will join golf, but if we get some portion of your estimated number, it would be a great achievement.
Do you think that the government should give more attention to golf?
A: I would answer in affirmative. Everything that possibly can achieve success, need some sort of government patronage. As long as the government has the goal and intent, any sporting event can be directed to international standard with the sponsorship and support of the private sector. I think we are poised to go in the right direction. However, it's not only government patronage and corporate sponsorship that would bring success in any sport. Achievements and glory fall primarily as onus on the players themselves who have to be highly dedicated to perform well. I think there is lack of dedication among many of our golfers. They need to spend the time during training more meaningfully, make habit to consume best possible diet and be able to apply the skill with sound frame of mind to contest at par with the international players at the world-stage. If all these demanding and complex things could be applied properly by a player or a group of players, we shall definitely have more 'Siddikur'.
Last but not the least, give us your opinion and suggestion regarding TheGolfHouse magazine which has been promoting golf and tourism since 2015.
I have seen many of the issues of this magazine, which warrant appreciation for high-quality printing and layout. The getup and regularity of the publication is something very commendable. Such publications are necessary to capture the events and promote positive vibe of golf, which in effect generates lots of interest among the players. When the achievements of the players are covered in a quality magazine, they feel a definite sense of pride. I am sure TheGolfHouse is promoting that aspect very successfully. You definitely deserve immense credit and congratulation from my side.