Shomrat Shikder held his nerve to secure a nail-biting sudden-death play-off victory in the fourth edition of the Faldo Series Bangladesh Championship.
Displaying admirable calm in the heat of battle, Shikder made a birdie at the first extra hole to defeat Shahab Uddin in the ninth leg of the 2017-18 Faldo Series Asia season at Kurmitola Golf Club.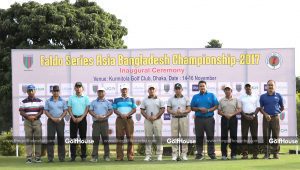 In so doing he followed in the footsteps of Mohd Rasel and Mohd Akber Hossain, who dominated the tournament since its inception in 2014 but are now no longer eligible to take part in junior events.
Behind only Rasel and Hossain among Bangladeshis on The R&A's World Amateur Golf Ranking, Shikder's success put an exclamation mark on a year of promise that saw him finish runner-up in the Bangladesh Open Amateur Championship and make the cut in the Asian Tour's Bashundhara Bangladesh Open.
His focus now, however, will switch to the 12th Faldo Series Asia Grand Final, to be hosted by Sir Nick Faldo at Laguna Lăng Cô in Danang, Central Vietnam, in March, 2018.
Also lining up for Bangladesh there will be age group winners Mohd Nabi Hossain (Boys' Under-18), Mohd Rezaul Karim (Boys' Under-16) and Liza Akhter (Girls' Under-21).
Apart from the Boys' Under-18 segment in which Hossain swept to a seven-stroke win, there were dramatic climaxes to all other categories.
With the Kurmitola Golf Club having recovered from the torrential rain that forced the postponement of the Faldo Series Bangladesh Championship three weeks ago, some of the country's most promising young players served up thrilling fare.
Four strokes clear at the top of the leaderboard after 36 holes in both the Boys' Under-21 and overall standings, Shikder seemed set for a stress-free final round stroll when he extended his advantage to six shots with 14 holes remaining.
But Shahab Uddin fought back tenaciously, covering the next 13 holes in one-under while Shikder was four-over for the same stretch. When Shahab Uddin made birdie to Shikder's par at the last hole the duo ended the tournament locked together on eight-over 224. Returning to the par-four 18th for the play-off, the roles were reversed and it was Shikder who prevailed with a timely birdie.
In a topsy-turvy contest in the Boys' Under-16 division, Karim was named winner on a countback after finishing the regulation 54 holes level with Mohd Rubel Miah on 245.
Entering the final round, Miah and Karim trailed pace-setting Mohd Atik Hasan by three and six shots respectively. With an out-of-sorts Hasan struggling to a 92 – 18 strokes worse than his opening round – it was left to Miah and Karim to slug it out.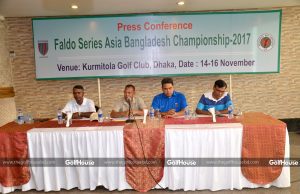 Enjoying a seven-shot cushion with nine holes remaining, Miah appeared in control. However, he faltered on the back nine with four double-bogeys en route to an 85. Karim, meanwhile, parred five of the last six holes to sign for an 82 that saw him squeeze through.
In the Girls' Under-21 division, Sonya Akhter led by four shots from Liza Akhter and by eight from Zakia Sultana after two rounds.
But Sultana came charging out of the blocks on day three and was four-under through five. She went on to record a 69, the best round of the week. It gave her a 54-hole total of 230 – one ahead of Sonya Akhter who closed with a 79 and one behind Liza Akhter who parred her last 10 holes to sign for a 73.
Senior Vice President of Bangladesh Golf Federation (BGF) and Vice president of Kurmitola Golf club  Major General AKM Abdullah Hel Baki distributed the prizes among the winners as the chief guest of the closing ceremony.
Besides the other participants, the secretary general of Bangladesh Golf Federation Brig. General Kazi Shamsul Islam, tournament director Brig. Gen. Abidur Reza Khan (Retd), federation joint secretary and CEO of KGC Brig Gen Mohd Obaidul Haque (Retd), Co-ordinator of Bangladesh Golf Federation Lt. Co. Md. Abdul Bari (Retd) and other there.
The tournament was inaugurated by the President Junior Division Golf and the adjutant general of Bangladesh Army Mejor General S. M. Motiur Rahman.
The 2017-18 Faldo Series Asia season is supported by The R&A and endorsed by the Asian Tour and the Asia Pacific Golf Confederation. The International Junior Golf Academy is a partner of the Faldo Series.
As well as two events in China, India and Thailand, championships are being staged in Australia, Bangladesh, Cambodia, Chinese-Taipei, Hong Kong, Indonesia, Japan, Korea, Malaysia, Nepal, New Zealand, Pakistan, the Philippines, Singapore and Vietnam.
Recognised as the only global amateur series for boys and girls, the Faldo Series was established in 1996, expanding to Asia in 2006.
Faldo Series Bangladesh Championship, leading final scores:
Boys' Under-21:
214 – Mohd Akbar Hossain (73-67-74)
222 – Mohammad Farhad (76-73-73)
225 – Mohd Shafique (76-72-77)
Boys' Under-18:
222 – Afnan Mahmud Chowdhury (72-73-77)
236 – Md Liton Mondal (76-78-78), 236 – Snk Md Shahabuddin (80-78-78)
Boys' Under-16:
234 – Ahnaf Saadman (84-77-73)
235 – Md Nabi Hossain (73-85-77)
237 – Md Jahangir Alom (84-77-76)
Girls' Under-21:
216 – Sonya Akhtar (74-72-70)
225 – Liza Akhtar (75-76-74)
226 – Nasima Akhter (77-77-72)