Here is a recap of the final round of the British Open, played at Royal Birkdale in Southport, England:
WINNER: This was really a surreal finish, here's the best we can do to normalize it…
Jordan Spieth battled Matt Kuchar, the elements and himself Sunday and overcame them all to win The 146th Open Championship at Royal Birkdale.
Spieth, who turns 24 in four days, captured his third major championship at 12 under. He and Kuchar were tied at eight under after 12 holes.
Then No. 13 proved to be both unlucky and miraculous for the eventual winner. Spieth launched a disastrous tee shot on that soared way, way right over a nearby hill.
It ended with Spieth taking a drop on the driving range.
Somehow, Spieth got his third shot just short of the green.
JUST MISSED: We're glad Kuchar is so jovial, because this is a tough one to take. The 39-year-old had to feel so good when Spieth was searching for a drop at No. 13 for what felt like three hours. Kuchar did indeed take a one-shot lead after that hole, but it could've been more. And he played 1 under golf after that, but, unbelievably, it wasn't even close to enough. Kuchar bogeyed 18 to settle for a 1-under 69, a 9-under 271 and second place by three shots. A great week for Kuch, who can still win a major one day.
SHOT OF THE DAY: Uhh… where do we start here?
You could put so many on this list for Spieth. We'll go with this bomb he made for eagle at 15. It earned Spieth the outright lead, which he never relinquished.
QUOTABLE: "This is a dream come true for me." – Jordan Spieth
SHORT SHOTS: Haotong Li shoots a 63 – the 32nd in major championship history – to post solo third at 6 under. He started the day T-29 and for about 10 minutes appeared to h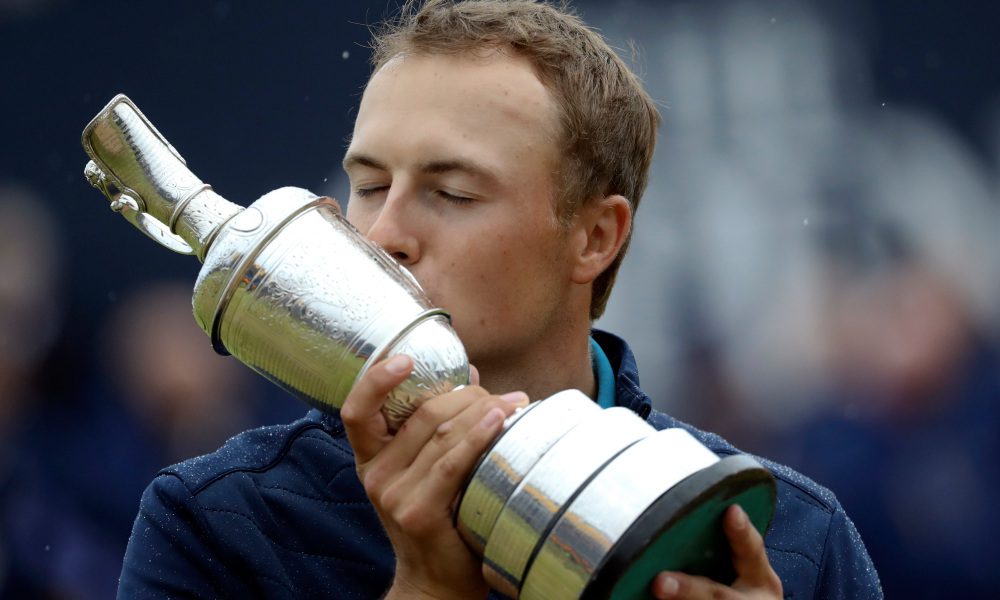 ave a chance at a playoff. … Rory McIlroy eagles 17 to close out a 3-under 67. He finishes T-4 at 5 under. Not what he wanted but remarkable considering he was 5 over through six holes in this tournament. … Matthew Southgate, a cancer survivor, jumps 23 spots to a tie for sixth at 4 under thanks to a 65. … Brooks Koepka finishes in a tie for sixth, too, after a 1-over 71. … Henrik Stenson closes in 70 to post in a tie for 11th at 3 under in his title defense. … Ian Poulter finishes a strong week in a tie for 14th at 2 under. … Aaron Baddeley closes in 64 to rocket to a tie for 27th. … Rickie Fowler (T-22, even par), Jason Day (T-27, 1 over) and Dustin Johnson (T-54, 4 over) all finish well out of contention. … Alfie Plant, the low amateur, finishes T-62 at 6 over.