Bangladesh's premier golfer Siddikur Rahman made a fabulous finish to the Porsche European Open in Hamburg on July 30, ending the two-million-euro event tied for third as England's Jordan Smith took the title, beating last year's champion Alexander Levy of France in play-off.
The 32-year-old Bangladeshi golfer signed off on a great week of golf with a flawless 68, aggregating 11-under-par (277) as Smith took the title at 13-under-par (275). Levy settled for second place while Johan Edfors of Sweden took a share of the third position alongside Siddikur.
This is the second-best finish in the European Tour for Bangladesh's two-time Asian Tour winner, who had gone agonisingly close to breaking his European duck in Mauritius last year, only to blow his chances over the last two holes to eventually finish second.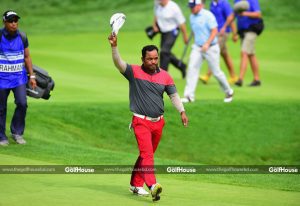 "It was a really great day. I didn't expect this today, but I'm very fortunate; my hitting was good. My putting was really, really good on all four days. So I'm really happy," Siddikur told Europeantour.com at the end of the fourth round.
The 32-year-old golfer was in a sticky situation with a wayward tee-shot and second shot on the par-5 18th hole. But a great fourth shot and a superlative putt made sure he ended the day bogey-free. Siddikur said he was not too worried and that he kept cheering himself up. "I kept talking to myself: no problem, I need just one good shot or one good putt. The putt was really memorable, it was wonderful."
The Bangladeshi golfer started the fourth round at the Green Eagle Golf Course in 10th position, five shots off the pace, as he returned a card of 73 following two excellent opening rounds (70, 66). The ground he lost in the third round, Siddikur made up early in the fourth round as he raced to joint lead with three birdies on the front nine followed by another on the twelfth hole. Both Levy and Smith dropped bogeys as it into a three-horse race at the top.
On many a previous occasion, Siddikur had buckled under expectations of being at the top of the leaderboard in such a big event. But he seemed to have finally bucked that trend as he brought to the fore all his experience yesterday. He didn't drop a single shot over the 18 holes — one of only three players to go bogey-free in the final round. But then again, the ace golfer failed to take the fight to the wire as he went for pars in the remaining six holes, leaving the battle firmly between Jordan and Levy.
A top-three finish in Hamburg gave a big boost the career of Siddikur, who had been struggling with a recurring back pain and a slight lack of form of late. It also earned him paycheque of 112,600 euros while lifting his world rankings 112 positions from 394th.