Shakhawat Shohel of Bangladesh is in line for his career breakthrough after carding a five-under-par 67 to grab at the lead at the RM225,000 (approximately US$58,000) PGM Northport Championship on Friday.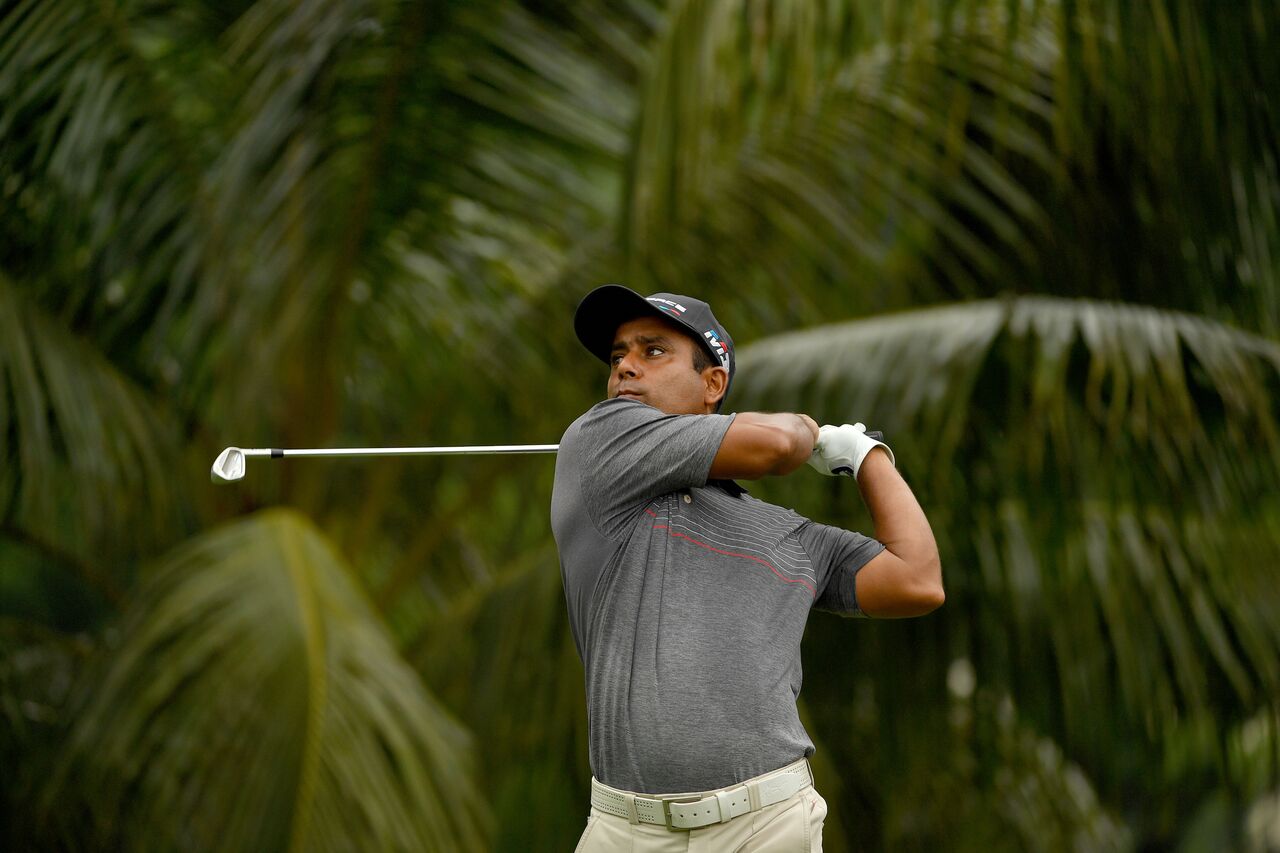 Photo: Asian Tour
The 33-year-old had a near flawless round that was highlighted by six birdies. His only blemish was a bogey at the par-four seventh. Shakhawat ended Friday on a 10-under-par 206 total for a two-shot lead at the Glenmarie Golf and Country Club.
Scott Barr of Australia shot 65, the lowest score of the day, to share second place along with Malaysian amateur Ervin Chang (67) and Chanat Sakulpolphaisan of Thailand (71).
Shakhawat, who is gunning for his first Asian Development Tour title, attributed his good round to his accurate drives and good putting.
"I putted very well today. I also had a few good drives which boosted my confidence. In particular, I was able to take advantage of the par-fives as I birdied three out of four of them," explained Shakhawat.
He also took advantage of the rain, which disrupted his round towards the end of the day.
"I played 16 holes before the rain came. I quite like the rain though, as it softened the greens and the ball was able to spin on it a little more. I managed a sink a birdie on the 18th," he added.
Chang was playing better as the days went by. He would be the second amateur, after compatriot Gavin Green, to win an ADT title.
"My good round was due to my good course management. I was able to recover well from bad positions and I was able to put aside the pressure and stress of the tournament," he said.
He added: "I played in a few ADT tournaments already and I loved the environment and the chance to play with the professionals. I'm in a great position, but there are still 18 holes to play. I'll do my best and if I do win it, it'll be a bonus for me."
Official World Golf Ranking (OWGR) points are offered on all ADT events with the winner earning a total of six OWGR points while the top-six players and ties earn points on a sliding scale.
The leading seven players on the ADT Order of Merit at the end of the season will earn playing rights on the premier Asian Tour for the 2019 season.
Leading round three scores
206 – Shakhawat SOHEL (BAN) 71 68 67
208 – Ervin CHANG (A) (MAS) 75 66 67, Scott BARR (AUS) 72 71 65, Chanat SAKULPOLPHAISAN (THA) 71 66 71
209 – R. Nachimuthu (MAS) 72 70 67, Josh SALAH (USA) 70 69 70, Sukree OTHMAN (MAS) 68 69 72
210 – CHOO Tze Huang (SGP) 71 71 68, Varanyu RATTANAPHIBOONKIJ (THA) 69 70 71, Tawit POLTHAI (THA) 68 71 71, Naoki SEKITO (JPN) 72 71 67, Daeng Abdul Rahman (MAS) 72 66 72
211 – Kemarol BAHARIN (MAS) 69 73 69, Shariffuddin ARIFFIN (MAS) 71 70 70, Erwan VIEILLEDENT (FRA) 68 72 71, Janne KASKE (FIN) 68 72 71, Mathiam KEYSER (RSA) 69 68 74
213 – S. Siva Chandhran (MAS) 71 71 71, Panuwat MUENLEK (THA) 69 71 73, KOH Deng Shan (SGP) 71 68 74, Ratchapol JANTAVARA (THA) 74 70 69, Lee SONG (KOR) 74 68 71
214 – Annop TANGKAMOLPRASERT (THA) 69 75 70, Pisitchai THIPPONG (THA) 71 71 72
215 – Galven Kendall GREEN (A) (MAS) 72 74 69, Sam GILLIS (USA) 78 67 70, Joshua HO (A) (SGP) 72 72 71, KHOR Kheng Hwai (MAS) 71 72 72
216 – Takanari IWAMA (JPN) 76 70 70, Cody O'TOOLE (USA) 69 76 71, M. Sasidaran (MAS) 73 74 69, Jesse SCHUTTE (USA) 71 72 73, Supakrit RATTANAKAMPHOL (THA) 77 71 68