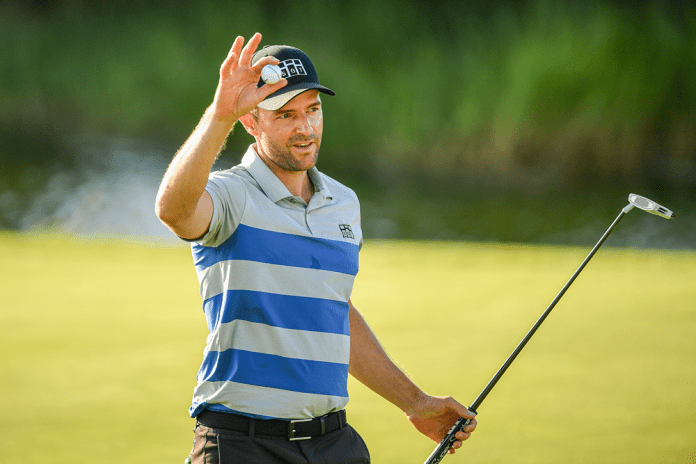 The German added a bogey-free seven under par round of 65 to his overnight total to reach 17 under par, three shots ahead of Spain's Alejandro del Rey who is second on 14 under, with Sweden's Jens Dantorp two shots further back in third after eagling the last on day three at Royal Óbidos Spa and Golf Resort.
Schneider, who has plied his trade on the European Tour for much of the year after finishing in the top five on the 2020 Road to Mallorca Rankings, will look to convert a 54-hole Challenge Tour lead for the third time and move into the top 20 on this year's Rankings after losing out in a play-off at last week's Hopps Open de Provence.
"I feel good about my game," he said. "I felt good last week but I didn't expect anything this week. I just wanted to try and bring the same game this week and see what comes out.
"I do feel comfortable, that's for sure. My game is good, a few little mistakes but I always managed to save par.
"The game was actually just a little bit less strong than yesterday but the putter went hot and it helped me to push to seven under.
"Over the first two days, my long game was really on fire. I was so close to the pin all the time, but my putting stroke, I barely made anything. If you're putting well, it really pushes your forward mentally and on the leaderboard."
The two-time Challenge Tour winner made an important par save on the final hole to keep the bogeys off the card for the second day in succession and will look to continue that momentum into tomorrow's final round.
"That par save was important on the last," he said. "I laid up because it was a shabby lie on the fairway, a long distance to carry the water so I thought I'd lay up and give myself a good pitch because my pitching has been good today as well, and then I blew it over the green and I thought 'Oh, Schneider, you're so stupid, man!'. I managed to make par so, overall, it was good."
Third placed Dantorp's playing partner Ewen Ferguson, of Scotland, also eagled the last to post a two under par round of 70 and move into a tie for fourth place alongside France's Frederic Lacroix on 11 under par, while first round leader Daan Huizing and New Zealand's Daniel Hillier share sixth place on ten under par.
Scores after round three:
199 M SCHNEIDER (GER) 68 66 65,
202 A DEL REY (ESP) 72 64 66,
204 J DANTORP (SWE) 71 64 69,
205 F LACROIX (FRA) 68 71 66, E FERGUSON (SCO) 66 69 70,
206 D HUIZING (NED) 63 75 68, D HILLIER (NZL) 69 66 71,
207 U COUSSAUD (FRA) 71 69 67, K JOHANNESSEN (NOR) 67 66 74,
208 B HELLGREN (SWE) 69 70 69, B WINDRED (AUS) 73 65 70,
209 A GARCIA-HEREDIA (ESP) 69 70 70, D FOOS (GER) 72 67 70, T CLEMENTS (ENG) 7069 70, N KIMSEY (ENG) 69 69 71, M HOEY (NIR) 71 67 71, R GOUVEIA (POR) 72 66 71,
210 P FIGUEIREDO (POR) 70 72 68, N M?LLER (DEN) 68 73 69, J DE BRUYN (GER) 70 70 70, L DE JAGER (RSA) 72 68 70, J KENNEGARD (SWE) 70 69 71, P ERIKSSON (SWE) 71 68 71, L NEMECZ (AUT) 67 71 72, H DU PLESSIS (RSA) 68 68 74,
211 J FAHRBRING (SWE) 69 74 68, M SIMONSEN (DEN) 66 74 71, J KRUYSWIJK (RSA) 68 71 72, J BRUN (FRA) 70 68 73, N REGNER (AUT) 70 65 76,
212 B EASTON (RSA) 71 72 69, A KNAPPE (GER) 72 71 69, D BORDA (ESP) 72 70 70, J WRISDALE (ENG) 74 68 70, H LONG (GER) 68 73 71, N KRISTENSEN (DEN) 68 72 72, C BLOMSTRAND (SWE) 69 68 75,
213 S FERNANDEZ (ESP) 74 69 70, M HELLIGKILDE (DEN) 71 72 70, M ROTTLUFF (GER) 74 69 70, J SVENSSON (SWE) 70 72 71, A KARLSSON (SWE) 73 69 71,
214 E WALKER (SCO) 72 71 71, M ELVIRA (ESP) 71 72 71, M BALDWIN (ENG) 74 69 71, K ULENAERS (BEL) 72 70 72, C ROSS (SCO) 70 71 73, B RUSCH (SUI) 67 72 75, A JOHN (GER) 73 66 75,
215 L SCALISE (ITA) 71 72 72, J GEARY (NZL) 69 74 72, P EDBERG (SWE) 70 73 72, J RITCHIE (RSA) 72 71 72, M GASPAR (POR) 70 73 72, D PERRIER (FRA) 72 70 73, D RAVETTO (FRA) 69 73 73,
216 M FENASSE (FRA) 70 73 73,
217 J FREIBURGHAUS (SUI) 71 72 74, R PETERSSON (SWE) 73 70 74, B NEIL (SCO) 71 72 74, H MAGNUS (ISL) 70 72 75, A HIDALGO (ESP) 72 68 77,
219 D PAPADATOS (AUS) 75 68 76,
220 C MIVIS (BEL) 71 71 78,
**
144 M LINDBERG (SWE) 73 71, E BERTHEUSSEN (NOR) 71 73, G KRISTJANSSON (ISL) 70 74, S MANLEY (WAL) 72 72, J K?LBING (GER) 71 73, C WORSDALL (ENG) 70 74,
145 M LAMPERT (GER) 73 72, T BALTL (AUT) 72 73, A PLANT (ENG) 68 77, H LEON (CHI) 75 70, L ROBINSON (ENG) 71 74, M MANASSERO (ITA) 73 72, R KAKKO (FIN) 72 73, J THOMSON (ENG) 76 69, G BOURDY (FRA) 69 76, J SANDBORG (SWE) 71 74,
146 L VACARISAS (ESP) 72 74, T GANDY (IMN) 73 73, F MACCARIO (ITA) 71 75, A ZEMMER (ITA) 71 75, V ALVES (AM) (POR) 72 74,
147 J LANDO CASANOVA (FRA) 74 73, T GOUVEIA (POR) 75 72, D LAWSON (AUS) 76 71, G STAL (FRA) 72 75, T BESSA (POR) 71 76, A WILSON (ENG) 74 73, D BOOTE (WAL) 71 76, S FERREIRA (POR) 74 73, L RENOLDS (CAN) 73 74, J BLAAUW (RSA) 74 73, J GIRAO (AM) (POR) 73 74,
148 L LIPOLD (AUT) 72 76, J GIRRBACH (SUI) 73 75, J LONG (ENG) 77 71, M WIEGELE (AUT) 75 73, R VAN WEST (NED) 74 74, I CANTERO GUTIERREZ (ESP) 75 73, E DI NITTO (ITA) 74 74,
149 F MORY (FRA) 72 77, G TADIOTTO (BEL) 70 79, T KOIVISTO (USA) 77 72, A KLUIBENSCH?DL (AUT) 79 70, H ARKENAU (GER) 70 79,
150 G BRIXI (CZE) 77 73, V PASTOR (ESP) 77 73, H SANTOS (POR) 76 74, J KO (FRA) 77 73, H STUREHED (SWE) 79 71, M HAMMER (GER) 75 75, M LUNDBERG (SWE) 75 75, T CRUZ (POR) 73 77,
151 P ALMEIDA (POR) 75 76, E CUARTERO BLANCO (ESP) 73 78, B MOORE (ENG) 72 79, O FARRELL (ENG) 74 77, K KOIVU (FIN) 75 76, R DE SOUSA (SUI) 74 77,
152 E LIPPARELLI (ITA) 75 77,
154 T SANTOS SILVA (POR) 76 78,
156 P LENCART (POR) 77 79,
157 L NORTHWOOD (ENG) 75 82,
161 C SAHLSTROM (SWE) 79 82,
162 F BERGAMASCHI (ITA) 74 88,
167 A ABREU (POR) 84 83,