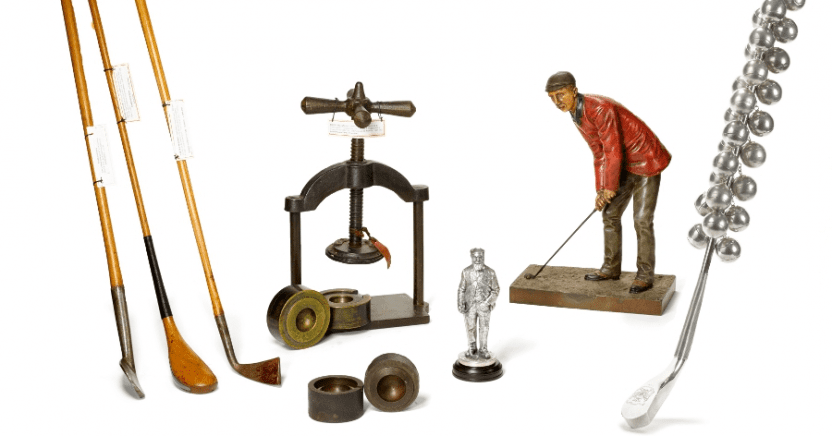 One of the world's finest private collections of early golf clubs is to be offered for sale by Bonhams in Los Angeles on March 29.
The Roberto Family Trust Golf Collection comprises more than 130 clubs that span the history of club making, from spur irons of the 17th century to spoons and clubs of the late 19th century.
The collection is estimated to be worth up to $1m, although competing bidders could take the final sale figure much higher.
Will Roberto, curator of the collection, started collecting golf memorabilia in the 1960s, and over the past 50 years has gradually refined the collection to concentrate on his passion for early golf clubs, which have been gathered from trips to Scotland and England, as well as in America.
One of the oldest and rarest items from the collection is a left-handed light spur toe iron, which dates back to 1690. Estimated at $75,000-100,000, it is one of only eight such clubs known to exist, most of which are in institutional collections. Missing a shaft, now replaced, the toe iron lay overlooked in a box of tools for 50 years.
Other important clubs include a Bowmaker's long nose play club circa 1750-1780, which has been valued at $40,000-60,000; while the Duke of Atholl's Heavy Iron, which is dated around 1780, is expected to fetch up to ¢25,000. This blacksmith-made club has an exceptionally large face and imposing hosel, and the original sheepskin grip is inscribed in ink, 'Heavy iron'. The club was owned by John Murray, 4th Duke of Atholl, whose family seat was at Blair Castle in Scotland.
Bonhams Golf Specialist, Kevin McGimpsey said: "The Roberto Family Trust's outstanding collection ranks among the top five in the world. It represents a lifetime of enthusiasm and provides an unrivalled opportunity to acquire pieces of great historical significance and rarity."
Will Roberto said: "Putting together this collection has been a wonderful, absorbing hobby which has given me decades of pleasure. The time has now come for a new generation of collectors to enjoy these fascinating objects."
For more details visit, www.bonhams.com or email info.us@bonhams.com