Thai veteran star Prayad Marksaeng brilliantly launched his quest for an unprecedented third Queen's Cup title with a solid six-under-par 65 matched by rookie Chanat Sakulpolphaisan, Filipino Angelo Que and India's Rashid Khan in the first round of the Queen's Cup on Thursday.
The ageless Prayad, who won his 10th Asian Tour win eight days before his 51st birthday at the SMBC Singapore Open in January, soared with an eagle on the 12th hole along with five other birdies at the par-71 Santiburi Samui Country Club.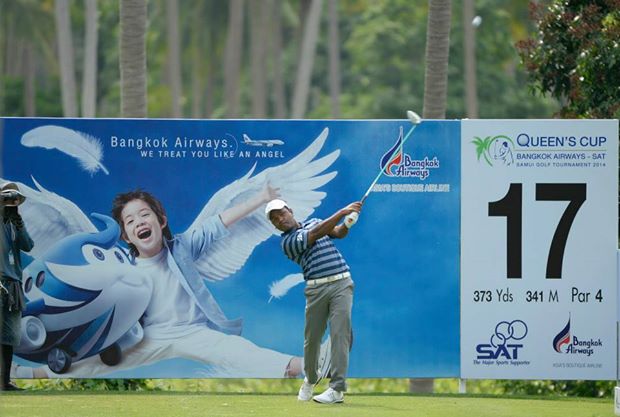 Countryman Chanat was equally impressive, with the 26-year-old shooting eight birdies against two bogeys while the effervescent Que nailed six birdies over his last seven holes to give himself a chance for a fourth career victory. The 38-year-old Que did not play a practice round after arriving on the holiday isle on Wednesday night.
Like Chanat, the slender Khan also posted eight birdies, including four in a row on his homeward nine, as he chases a third Asian Tour title in the US$500,000 tournament backed by Bangkok Airways and Sports Authority of Thailand.
Japan's Daisuke Kataoka, Malaysia's Nicholas Fung and Chinese Taipei's Hung Chien-yao shared fifth place on 66 while India's S.S.P. Chawrasia, who is second on the Order of Merit, is amongst those bunched on 67.
Title holder Scott Hend of Australia fought to a 71 in what is the 10th leg of the 2017 Asian Tour season.
Bangladesh golfer Siddikur Rahman shared 12th slot in the USD 500,000 Queen's Cup after the 1st round at Santiburi Samui Country Club ground in Thailand on Thursday.Siddikur carded 3-under-par 68 and stayed three shots behind the leader Chanat Sakulpolphaisan of Thailand.The two times Asian Tour winner Siddikur traded a worse double bogey in the 7th hole after a birdie in the 5th hole of the first 9, but bounced back with five birdies against a bogey in the last 9.Siddikur shared the 12th slot with 11 other golfer.