Rafiqul Islam and Mrs. Nahid Islam is a golf couple. They have been enjoying the game together for the last 14 years. With their children studying abroad, this couple finds golf as the most rewarding way of enjoying their leisure. It doesn't mean though that they take this game only as leisurely
activity, rather they are quite good at it, with both having won a number of trophies. And the best thing is: they
complement each other to improve their own golfing skills.
Q: Mrs. Islam, how did you feel when your husband first brought you to the golf course?
A: Well I was very keen to follow the game from the beginning. I used to come with him to watch the game. I felt I should not be sitting idle at home; rather I should also learn and try to enjoy the game.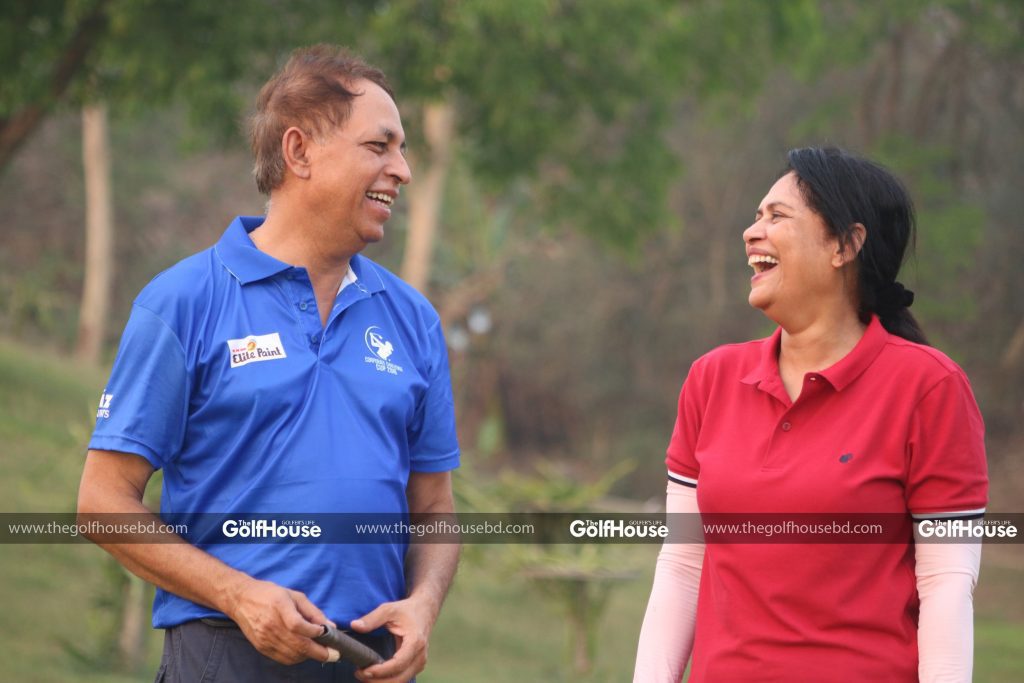 Q: Mr. Islam, when did you pick up the game?
A: I started in 2003. It was not all of a sudden. I used to watch the game on TV earlier and I thought it was a nice game and I should try it out. So I became a member and started playing. Once I started, I found it more and more interesting, so at one stage I got addicted to it. It is such an intelligent game and so addictive that I couldn't leave it. Initially my wife used to say, why do you spend so much time with golf? I told her why don't you come and find out yourself? And that's how she came to golf.
……………………………………………………………………………………………………………….
……………………………………………………………………………………………………………….
Q: So getting her to the golf club was a trick?
A: It was probably a trick initially. I thought if she is convinced to learn the game she will spend some quality time at the golf course and might stop nagging with my golfing habit. Eventually she came along, learned the game and got herself addicted to it.
Q: How was the initial challenge for you Mrs. Islam?
A: Hitting a perfect shot was the initial challenge but then the coach and the caddies gave their best to teach me. It will be an injustice if I don't mention the name of Late Mrs Caroline Bower, the then lady golf captain who encouraged the new lady golfers and provided all the moral support. With their help I picked up the game. After about one month of coaching I had to undergo test with the golf Captain who then allowed us to play on course. That's how it all began for me.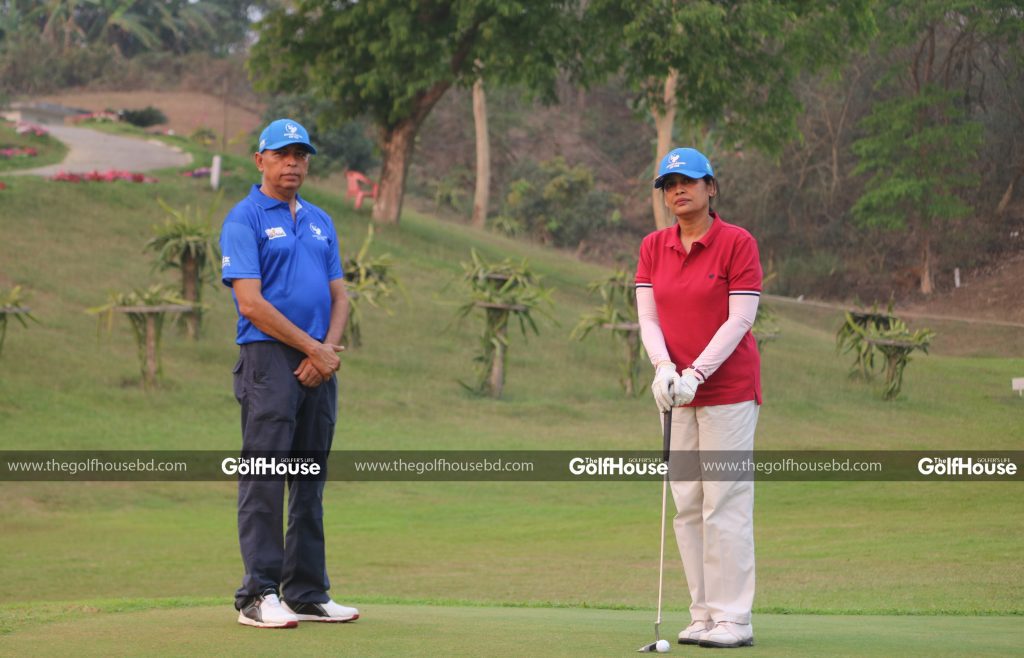 Q: How was the experience of getting the handicap?
A: Once you start playing on course, the score cards starts accumulating and a new player needs at least 30 score cards for their handicap to be calculated. The handicap committee would then check these scores, evaluate your standard and allocate a handicap. Once the committee gives you a handicap you are allowed to play in tournaments and be considered an amateur player. Getting the certification for amateur status was really exciting as that is what allowed me to participate the tournaments and placed me in the elite group of golfers.
Q: What is your golfing routine?
A: We come here almost every day as both of our sons live abroad. Both of them being on their own only thing we have to worry about is our lunch and dinner or perhaps any other work-related issues in the morning. In the afternoon, we have nothing much to do. So we come to the club, play a round of golf, meet friends. It has become a favorite pastime for us.
Q: Mrs. Islam, what challenges did you face while playing golf?
A: The challenge was when my sons were younger. One was at a boarding school in India and the other one was in junior school and stayed with us. So I had to prepare him for school, look after his necessities when he comes back. However, he also wanted me to play golf, so it worked out well. I got support from my whole family. If you don't get that support from the family, it is very tough for a woman to continue playing.
Q: Any memorable experience in golf?
A: Our golfing life is full of achievements and near misses. First trophy is definitely a memorable experience. Apart from this there are numerous memorable experiences. We used to travel a lot on golfing tour and made plenty of them in nearby countries like India, Thailand, Malaysia, Indonesia etc. Each and every tour with friends will remain as sweet and exciting memories throughout my life. A golfing trip brings the friends closer; bind them with a special bond never to be forgotten. Almost all the big tournaments had different memories. There was a tournament when I didn't know what the scores of the others were. At the end of the round, my marker came to me and said- you played a terrific game. Then I learnt that I won the tournament with a score of eight-under. It was pretty amazing. I won the event by a single shot.
Q: Do you have any message to couples who are not playing golf yet?
A: Our message would be to come to the golf club and start playing. You will get rid of a lot of worries and lead a very happy life. The women golfers should make some time for themselves for the game, to realize their worth. Spending time in a heavenly atmosphere makes you a better person. You have only one life; do not waste it by spending doing nothing. Play golf, spend some time in serene scenic atmosphere and save the memories to relish later.