Two-time Asian Tour winner Siddikur Rahman could lead Bangladesh team in next SA Games in Kathmandu after South Asia Olympic Council decided to allow the professional golfers in the meet, said an official on Sunday.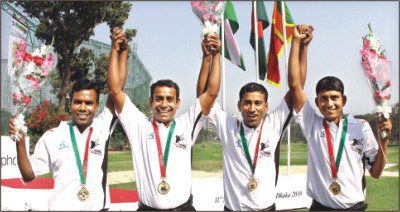 Photo: Bangladesh golfers (L to R) Jamal Hossain Mollah, Dulal Hossain, Sakhawat Hossain Sohel and Zakiruzzaman celebrate after winning the team event gold of the 11th South Asian Games at the Kurmitola Golf Course in 2010.
Golf was first included in the SA Games in Dhaka in 2010 but only the armature players were allowed to compete. Siddik watched from the stand as Bangladesh won both individual and team gold at the home turf.
The event was dropped in the 2016 edition in Guwahati and Shillong before Games organiser – South Asia Olympic Council decided to bring it back for the next edition in Kathmandu, scheduled from March 9-18, 2019.
A meeting of the South Asia Olympic Council in Kathmandu on July
21 decided that professional golfers also can represent their individual countries, said Bangladesh Olympic Association director
general Fakharuddin Haider.
'The committee meeting initially decided to make the professional golfers eligible for the upcoming SA Games. So we are hopeful with our professional golfers like Siddik, Jamal [Hossain Mollah] and [Shakhawat Hossain] Sohel,' he said.
Haider said Bangladesh have bright chance to retain the gold medals as Indian professional golfers were unlikely to take part in the Games because there was no prize money allocated for SA Games.
Siddik already represented Bangladesh in last Olympic Games in Brazil's Rio de Janeiro in 2016.
The BOA was hoping to start the training camp for the 13th edition of SA Games soon provided it got financial assurance from the government.
The BOA high-ups met the officials of Youth and Sports Ministry on Thursday to seek fund to start the training at the earliest possible time.
'We told them that Bangladesh won 18 gold medals in Dhaka after nearly two years training.
It came down to four medal in last edition when our athletes had a training for just four months,' he said, adding that they sought Tk 39-crore for
the meet, which included Tk 24-crore for training and Tk 15-crore for participation.
'The ministry told us that they have no fund at the moment but promised us try to allocate Tk 10-crore initially after discussing the matter with the sports minister.'
The BOA spent Tk eight-crore for the training before 12nd SA Games in Guwahati and Shillong.