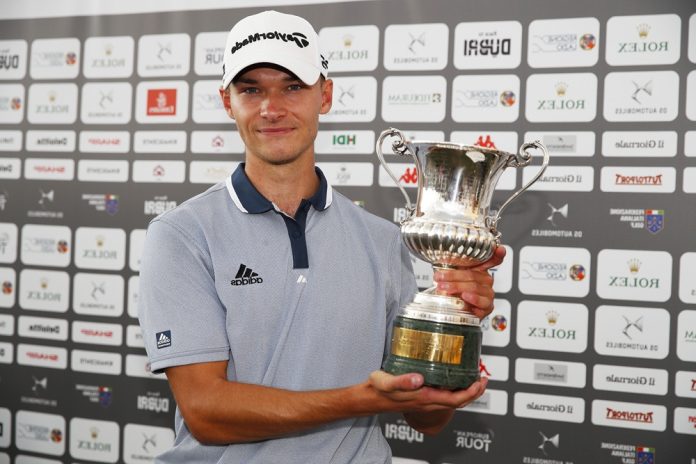 Final Report
Nicolai Højgaard held off a stellar chasing pack to claim his maiden European Tour title with a one shot victory at the DS Automobiles Italian Open which saw him create history alongside his twin brother Rasmus.
The Danish 20-year-olds become the first brothers to win back-to-back events on the European Tour after Rasmus Højgaard won last week's Omega European Masters in Switzerland.
Nicolai Højgaard came into the final round with a one shot lead and had found himself two clear on the back nine before back to back bogeys at the 14th and 15th wiped out his advantage and left him level with Tommy Fleetwood and Adrian Meronk going down the last.
He arrived at the 18th tee knowing he needed a closing birdie to win, and he did just that – holing from three feet to finish the tournament on 13 under par and clinch his maiden victory at this level, with Rasmus joining him on the green to celebrate.
Meronk and Fleetwood finished in a share of second place on 12 under just one shot behind Højgaard after posting rounds of 66 and 71 respectively, with Ryder Cup star Fleetwood also converting a must make birdie putt on the 18th green to tie Meronk's clubhouse lead before Højgaard had finished his round.
Home favourite Francesco Laporta was alone in fourth on 11 under after closing the tournament with a 68 to finish as the leading Italian, one stroke ahead of Edoardo Molinari.
Player Quotes
Nicolai Højgaard: "It means a lot. I've been grinding for a long time and seeing Rasmus win three times made me want to do it even more. And to finally get it done is very special and it's been a great week here so I'm just very happy to get it done.
"It's hard actually to make birdies when you're in front but you just have to grind. Everyone's going to struggle at some point. You've just got to keep grinding – that's what my caddie Christian told me.
"That's what we talked about all day – keep going, we know the birdies will come. There weren't many birdies but one came at the last and it was very important, so I'm really pleased for that.
"I'm very happy that Rasmus, his girlfriend and my girlfriend were around watching. I really appreciate it because I haven't been (able) with any of his wins to see him. I could only see him in the crowd. It really means a lot to me and it's just a very special day."
"It's crazy to think of (being last man in). I had a bad foot before coming here and to get it done, it's quite a good story. I didn't see the back nine before the first round, so it's been a crazy week."
Tommy Fleetwood: "I hit a couple of bad shots at the wrong time but overall felt like I played well today. Especially on the front nine I felt as comfortable as I'd felt all week, long game wise, and just didn't putt like I had done throughout the first three days. I eventually got that going.
"It's always great coming down the stretch in contention. I took shots on, hit a couple of bad shots – especially like 16. And yeah, there are things that I'd like to put right but at the end of the day I haven't been around much this year, I haven't been in contention a lot.
"I played a lot better this week and again I take a lot of heart from those two shots on the 18th – the wedge in and holing the putt.
"Fair play to Nicolai – there's obviously something very special happening with those brothers and that's going to be exciting in the future. But for me, I would have loved to have been one or two better. I tried my hardest and that's all you can do."
Adrian Meronk: "It was really solid. A lot of quality shots. I'm very happy with my performance. Obviously a little bit gutted that I didn't hole that putt on 18 but still a great result.
"I've been close a couple of times already. It's been the same story on the Challenge Tour when I played there – I was knocking quite a bit and finally got my win.
"So I believe I can do it. I'll just keep doing my job, keep believing and hopefully it will happen."
Final Scores
271 N H?JGAARD (DEN) 66 69 65 71,
272 A MERONK (POL) 70 69 67 66, T FLEETWOOD (ENG) 66 68 67 71,
273 F LAPORTA (ITA) 66 70 69 68,\
274 M KAWAMURA (JPN) 67 70 71 66, R BLAND (ENG) 70 69 68 67, E MOLINARI (ITA) 65 70 70 69,
275 P LARRAZ?BAL (ESP) 70 70 70 65, S JAMIESON (SCO) 70 67 71 67, J VEERMAN (USA) 67 67 72 69, M KORHONEN (FIN) 68 66 68 73,
276 S SHARMA (IND) 75 66 69 66, A ARNAUS (ESP) 66 68 72 70, M LEE (AUS) 64 68 71 73,
277 S HORSFIELD (ENG) 69 73 69 66, M JORDAN (ENG) 71 67 72 67, H STENSON (SWE) 64 71 73 69,
278 R H?JGAARD (DEN) 72 70 68 68, T PIETERS (BEL) 70 69 69 70, J LUITEN (NED) 71 66 70 71, S CROCKER (USA) 72 67 68 71, O FARR (WAL) 69 68 67 74, V PEREZ (FRA) 70 67 67 74,
279 J CATLIN (USA) 72 70 70 67, A CHESTERS (ENG) 70 70 72 67, G GREEN (MAS) 69 69 70 71,
280 F ZANOTTI (PAR) 72 69 70 69, M KIEFFER (GER) 69 70 72 69, V DUBUISSON (FRA) 70 68 71 71, T PULKKANEN (FIN) 72 70 66 72, D HORSEY (ENG) 69 71 67 73, G COETZEE (RSA) 72 68 67 73, D VAN TONDER (RSA) 70 65 66 79,
281 G FORREST (SCO) 72 70 73 66, C HILL (SCO) 75 65 75 66, M SOUTHGATE (ENG) 70 70 72 69, M SIEM (GER) 72 69 70 70, D BURMESTER (RSA) 70 71 70 70, A OTAEGUI (ESP) 71 71 68 71, J QUESNE (FRA) 70 72 67 72, G MIGLIOZZI (ITA) 72 69 68 72, R FISHER (ENG) 67 71 67 76, A LEVY (FRA) 69 66 69 77,
282 A SADDIER (FRA) 67 75 70 70, J GUERRIER (FRA) 69 73 70 70,
283 S V?LIM?KI (FIN) 70 71 74 68, C SHINKWIN (ENG) 69 71 74 69, D COUPLAND (ENG) 70 69 72 72, B WIESBERGER (AUT) 69 70 72 72, E PEPPERELL (ENG) 65 71 74 73, J SURI (USA) 68 73 69 73,
284 W BESSELING (NED) 73 66 74 71, A ROZNER (FRA) 71 69 72 72, D FICHARDT (RSA) 72 69 70 73, F MOLINARI (ITA) 69 69 71 75, S HEND (AUS) 65 74 70 75,
285 B HEBERT (FRA) 67 74 71 73, J CALDWELL (NIR) 71 68 72 74, S BROWN (ENG) 67 71 71 76,
286 J GONNET (FRA) 71 71 76 68, K SAMOOJA (FIN) 64 74 77 71,
287 P WARING (ENG) 70 72 70 75,
288 R ROUSSEL (FRA) 68 73 77 70, J LAGERGREN (SWE) 71 69 75 73,
291 D WHITNELL (ENG) 69 70 78 74,
**
143 W ORMSBY (AUS) 72 71, O WILSON (ENG) 73 70, J SJ?HOLM (SWE) 75 68, J WALTERS (RSA) 72 71, A ROMANO (AM) (ITA) 72 71, A BJ?RK (SWE) 73 70, W NIENABER (RSA) 69 74, J CAMPILLO (ESP) 69 74, M ARMITAGE (ENG) 70 73, R LANGASQUE (FRA) 72 71, G HIGGO (RSA) 70 73, D DRYSDALE (SCO) 71 72,
144 D GAVINS (ENG) 71 73, S GALLACHER (SCO) 73 71, J HANSEN (DEN) 72 72, J DONALDSON (WAL) 72 72, M KINHULT (SWE) 73 71, T OLESEN (DEN) 72 72, G FDEZ-CASTA?O (ESP) 71 73, B STONE (RSA) 68 76, M LORENZO-VERA (FRA) 69 75,
145 N COLSAERTS (BEL) 77 68, M FITZPATRICK (ENG) 72 73, M KAYMER (GER) 75 70, G HAVRET (FRA) 74 71, L BJERREGAARD (DEN) 73 72, S KJELDSEN (DEN) 73 72, D VAN DRIEL (NED) 73 72, A JOHNSTON (ENG) 72 73, R MCGOWAN (ENG) 75 70, F CELLI (AM) (ITA) 70 75,
146 M PAVON (FRA) 71 75, S GARCIA RODRIGUEZ (ESP) 72 74, J HARDING (RSA) 73 73, C WOOD (ENG) 72 74, M WALLACE (ENG) 73 73, J WINTHER (DEN) 76 70, R RAMSAY (SCO) 75 71, S SODERBERG (SWE) 73 73, N ELVIRA (ESP) 69 77, L DONALD (ENG) 74 72,
147 L CANTER (ENG) 72 75, R KARLBERG (SWE) 71 76, S KIM (USA) 76 71, A SULLIVAN (ENG) 70 77, R PARATORE (ITA) 71 76, T DETRY (BEL) 72 75, O FISHER (ENG) 75 72, D LAW (SCO) 75 72,
148 A COCKERILL (CAN) 76 72, J SMITH (ENG) 73 75, C PAISLEY (ENG) 75 73, A QUIROS (ESP) 72 76, R SANTOS (POR) 76 72, J VECCHI FOSSA (ITA) 70 78,
149 Z LOMBARD (RSA) 73 76, R ROCK (ENG) 76 73, P BOVARI (AM) (ITA) 74 75, R MCEVOY (ENG) 75 74, S HEISELE (GER) 76 73, G STORM (ENG) 77 72, N BERTASIO (ITA) 75 74, S MAZZOLI (ITA) 77 72,
150 C SHARVIN (NIR) 78 72, A ZEMMER (ITA) 78 72, H PORTEOUS (RSA) 70 80, J SENIOR (ENG) 77 73, D BUCHI (AM) (ITA) 75 75, M JIM?NEZ (ESP) 77 73, G PORTEOUS (ENG) 72 78, J STALTER (FRA) 71 79, R FOX (NZL) 76 74,
151 L SCALISE (ITA) 76 75, K MOON (KOR) 74 77, L GAGLI (ITA) 75 76,
152 E DI NITTO (ITA) 77 75, G DE LEO (ITA) 76 76,
153 J MORRISON (ENG) 77 76,
154 F MACCARIO (ITA) 79 75, C SYME (SCO) 77 77, G MANZONI (AM) (ITA) 75 79,
156 R JACQUELIN (FRA) 81 75,
157 L CIANCHETTI (ITA) 77 80,
158 M WARREN (SCO) 86 72,
160 A PAVAN (ITA) 80 80,
161 T PERRINO (ITA) 81 80,