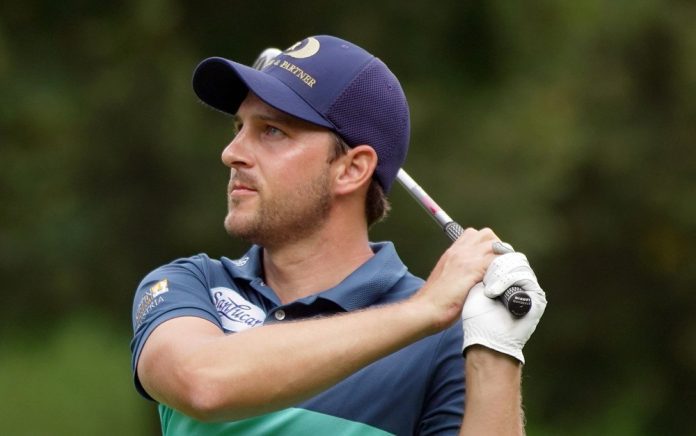 The Austrian started the day with two birdies in his first three holes and managed to battle through the conditions on the back nine to reach ten under par and secure a one-shot lead going into the final day at Wittelsbacher Golfclub, with Spain's Angel Hidalgo his closet challenger on nine under par.
The 32-year-old is enjoying being in Germany with the venue offering similarities to his home country of Austria in terms of the course structure and layout.
"It feels very good," he said. "Germany is next to Austria, it's a neighbour, the fans have been really supportive and it's great to be in the lead after three rounds in Germany.
"It's very similar to home with the layout of the course. It's really, really nice, I feel like I'm at home here and it's cool playing in Germany again."
Nemecz will draw on his experience of taking a lead into the final day at the Italian Challenge earlier this year, where he eventually finished in second place.
"I am confident, obviously it is nice to be in the lead," Nemecz said. "I was in the lead in Italy after the third round and I finished second there and it was a great experience and I'm looking forward to tomorrow.
"It was a bit of a weird round, I was really good off the tee. I hit more or less every fairway and I missed a lot of greens but my short game and putting was really good. It's only one bogey on the card and I'm quite happy with how I stayed in there today.
"On 17 it started pouring down, luckily I got away with two pars and I actually missed a short birdie putt on 17. It was really challenging but I am happy with the way it was."
Three players share third place on eight under par, including B-NL Challenge Trophy winner Alfredo Garcia-Heredia, German Matthias Schmid and Hennie Du Plessis of South Africa. Germany's Max Schmitt and Frenchman Frederic Lacroix share sixth place on seven under par with three players closely following on six under par including four-time European Tour winner Matteo Manassero.
Scores after round three:
203 L NEMECZ (AUT) 67 67 69,
204 A HIDALGO (ESP) 68 68 68,
205 A GARCIA-HEREDIA (ESP) 71 67 67, H DU PLESSIS (RSA) 71 67 67, M SCHMID (GER) 63 71 71,
206 F LACROIX (FRA) 73 65 68, M SCHMITT (GER) 71 67 68,
207 J DANTORP (SWE) 71 68 68, C CANNON (ENG) 70 68 69, M MANASSERO (ITA) 71 67 69,
208 L SCALISE (ITA) 71 72 65, J SANDBORG (SWE) 73 68 67, P MEJOW (GER) 71 69 68, J ARNOY (NOR) 72 66 70, O LIESER (CZE) 66 67 75,
209 M FENASSE (FRA) 73 70 66, G BOYD (ENG) 69 70 70, D HILLIER (NZL) 67 71 71, D RAVETTO (FRA) 67 71 71,
210 H LONG (GER) 72 70 68, F BERGAMASCHI (ITA) 69 72 69, P KATICH (AM) (GER) 71 69 70, A DE BONDT (BEL) 71 69 70, G BRIXI (CZE) 71 67 72, C ROSS (SCO) 69 65 76,
211 V MEYER (GER) 72 70 69, S TARRIO (ESP) 71 71 69, N KRISTENSEN (DEN) 73 69 69, J LANDO CASANOVA (FRA) 71 70 70, J SVENSSON (SWE) 70 71 70,
212 V RIU (FRA) 72 71 69, J SAINZ (ESP) 69 73 70, J BRUN (FRA) 66 76 70, U COUSSAUD (FRA) 72 70 70, J GARCIA (ESP) 68 73 71, E KOFSTAD (NOR) 68 73 71, T ROSENM?LLER (GER) 73 68 71, T BALTL (AUT) 68 72 72, N BACHEM (GER) 72 67 73, R ENOCH (WAL) 68 71 73, J FAHRBRING (SWE) 68 71 73,
213 E BERTHEUSSEN (NOR) 73 70 70, J MURPHY (IRL) 75 68 70, T VAHLENKAMP (GER) 71 71 71, A BJORNSSON (ISL) 71 71 71, J DE BRUYN (GER) 69 70 74, M KEYSER (RSA) 72 67 74,
214 R KAKKO (FIN) 74 69 71, M FORD (ENG) 68 74 72, S GROS (FRA) 69 73 72, J KENNEGARD (SWE) 73 67 74,
215 F PALSON (SWE) 70 73 72,
216 N KIMSEY (ENG) 67 75 74, I CANTERO GUTIERREZ (ESP) 70 71 75, J BLAAUW (RSA) 72 69 75,
217 J LONG (ENG) 72 71 74, J THOMSON (ENG) 71 71 75, B NEIL (SCO) 69 72 76,
218 J RITCHIE (RSA) 71 72 75, G BOURDY (FRA) 71 70 77, H LEON (CHI) 68 72 78, M ROTTLUFF (GER) 68 72 78,
219 M HONKALA (FIN) 73 66 80,
220 K KOIVU (FIN) 75 68 77, A KLUIBENSCH?DL (AUT) 69 73 78, M ITEN (SUI) 72 70 78,
**
144 B STABEN (GER) 75 69, B RITTHAMMER (GER) 71 73, F SCHOTT (GER) 68 76, A JOHN (GER) 74 70, M HIRMER (GER) 65 79, M OELFKE (GER) 76 68, T GOUVEIA (POR) 71 73, C BRAEUNIG (GER) 76 68, A KNAPPE (GER) 68 76, N VON DELLINGSHAUSEN (GER) 72 72, S DEL VAL (ESP) 73 71, S FERNANDEZ (ESP) 75 69, M HAMMER (GER) 70 74,
145 A PLANT (ENG) 77 68, D BORDA (ESP) 73 72, A ZEMMER (ITA) 74 71, H ARKENAU (GER) 70 75, B RUSCH (SUI) 70 75, M LUNDBERG (SWE) 74 71, A PAOLUCCI (USA) 71 74,
146 A ARIZABALETA (COL) 75 71, B HENSON (USA) 75 71, B HELLGREN (SWE) 71 75, C HANNA (USA) 75 71, M GRADECKI (POL) 75 71, M ORRIN (ENG) 74 72, M ELVIRA (ESP) 72 74, T BESSA (POR) 75 71, P LENCART (POR) 77 69, D HUIZING (NED) 75 71, Y PAUL (GER) 72 74, J GEARY (NZL) 74 72, R PETERSSON (SWE) 73 73,
147 ? ZACH (CZE) 73 74, D PAPADATOS (AUS) 75 72, E CUARTERO BLANCO (ESP) 74 73, M SCHNEIDER (GER) 71 76,
148 A EDWARDS-HILL (AM) (ENG) 77 71, M WIEGELE (AUT) 72 76, J GIRRBACH (SUI) 73 75, S FORSSTR?M (SWE) 73 75, O HUNDEB?LL (DEN) 72 76, C HOWIE (SCO) 76 72, O GILLBERG (SWE) 70 78, P MCBRIDE (IRL) 73 75, G HURLEY (IRL) 72 76, M EGGENBERGER (SUI) 73 75, P L?NGFORS (SWE) 73 75,
149 M LINDBERG (SWE) 75 74, M ROHWER (RSA) 73 76, E DI NITTO (ITA) 73 76, N LONGLEY (ENG) 76 73, I SAULO (FIN) 74 75, D KEMMER (USA) 75 74, R VAN WEST (NED) 72 77, G STAL (FRA) 74 75,
150 O BEKKER (RSA) 75 75, N REGNER (AUT) 73 77, J K?LBING (GER) 74 76, M SIMONSEN (DEN) 71 79, C SAHLSTROM (SWE) 72 78, K KOUWENAAR (NED) 74 76, J FREIBURGHAUS (SUI) 73 77, J SUGRUE (IRL) 75 75, A KORINEK (CZE) 77 73,
151 H FOLEY (AM) (IRL) 73 78, P NYHOLM (SWE) 84 67, E FERGUSON (SCO) 76 75, F MORY (FRA) 74 77, M LAMPERT (GER) 78 73, L RUUSKA (FIN) 76 75,
152 B PETURSSON (ISL) 81 71, Y VAN DOREN (BEL) 74 78, D FOOS (GER) 76 76, J KUNZENBACHER (GER) 76 76,
153 C BERARDO (FRA) 73 80, J YATES (IRL) 76 77,
154 H BERGMAN (SWE) 75 79,
155 G PROIETTI (ITA) 77 78, B VIRTO (ESP) 76 79, E ISOMETSA (FIN) 78 77, F FLEER (GER) 81 74,
156 F MACCARIO (ITA) 81 75,
158 G KRISTJANSSON (ISL) 78 80, A KOPP (AUT) 83 75,
159 J SALE (AM) (FRA) 82 77, E LIPPARELLI (ITA) 83 76,