Young Mohammad Nadim wanted to become a golfer. He was all on his own when he started his journey, yet he has now come to so far as to get himself into the national team and beyond. While he started things on his own, he has found support from many people during this journey, which makes him hope of turning pro within a year or so and take Bangladesh golf one step forward. Here Nadid discusses his story with TheGolfHouse.
Q: When did you start playing golf?
A: My uncle used to work as a caddie at the Kurmitola Golf Club. One day he talked about Siddikur Rahman and how he won a title. So I got interested to come to the game. I was in class IV at that time and it was in 2006. So I started trying from 2008. I went to the Army Golf Club, where Habibur Rahman was the caddie master. I asked him to make me a ball boy. Then I started working there. I used to work there from 7-11:45am. Then after school I worked with a stick that my uncle gave me. Group captain Badrul Amin sir helped me a lot. I continued at Army Golf Club till 2011 before I applied for a ball boy's position in Kumriola. After three months of practice, I got there. In 2013 I got chance under the R&A and then I got chance in the golf academy in 2015. I'm trying my best now.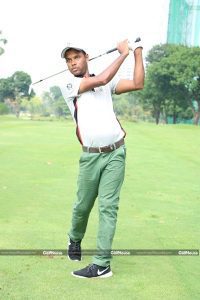 Q: You're playing for the national team now. So what is your target?
A: I got selected for the junior team in 2013. I became champion in Faldo U-18 group and went to China for the main event. I played in Thailand in Junior World Cup, played in Bhutan last year. So I definitely hope to do well in the future. Whatever the teachers are teaching at the academy, I'm trying to consume those.
Q: Which level do you want to see yourself in?
A: Obviously I want to be a golfer like Siddik bhai and represent the country the way he does.
Q: Are you still studying? How do you make time for golf?
A: I'm doing my undergrads. I get quite a lot of leisure time which I didn't used to get when I was studying for my SSC or HSC exams.
Q: When do you think you can turn pro?
A: I hope to at least play one more year as an amateur and complete the lessons that I'm taking. Then I can think about turning pro.
Q: You found your own way into golf. What would be your message to those who want to take golf as a profession?
A: I would suggest them to go to the Bangladesh Golf Academy. They can learn the art of the game with proper grammar of it from the academy. Even if you want to get into the national team, you will have to know the proper grammar of the game.