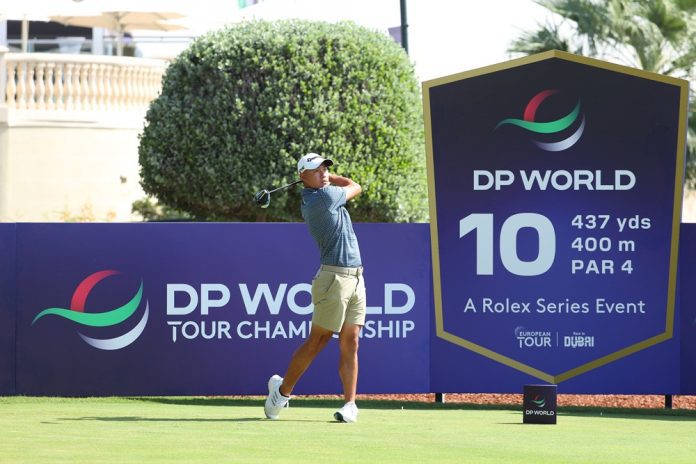 Morikawa will tee it off in the season-ending Rolex Series event, the DP World Tour Championship, Dubai, with a 236 point advantage over compatriot Billy Horschel, his playing partner for Thursday's first round.
Horschel, along with Tyrrell Hatton, Min Woo Lee, Matt Fitzpatrick and Paul Casey, could potentially dislodge Morikawa from the top spot, but of that quintet, all but BMW PGA Championship winner Horschel require victory in the US$9million event to stand any chance of finishing the year as the European Tour's Number One.
Last year, another American, Patrick Reed, was the front runner in the Race to Dubai heading into the final round of the 2020 season, but was ultimately edged into third place in the final rankings by Englishman Lee Westwood, with tournament winner Fitzpatrick finishing runner up.
Like Horschel, Hatton and Lee are already Rolex Series winners this season, Englishman Hatton having won the first event of the year, the Abu Dhabi HSBC Championship in January, while Lee claimed the abrdn Scottish Open in July.
With a first prize of US$3million on offer at Jumeirah Golf Estates, the stage is set for another fascinating finale to the European Tour's season, ahead of it celebrating its 50th anniversary and becoming the DP World Tour in 2022.
Player Quotes
Collin Morikawa: "I was here last year, and had a shot at trying to win the Race to Dubai. I didn't come through, but it's comforting to come back to a course I've played at before. Nothing has really changed. My game feels really good right now, the past month and a half since the Ryder Cup has progressed.
"It's exciting. When your game feels good, when you head into a week like this, even with a lot of travel, you do as much prep as you can by Thursday, and you just get ready to play some great golf.
"I'm not taking this week lightly. I've put a lot of work in the last week, the past couple days to be ready and to come out here and play as best as I can.
"Yes, we're at the end of the season, we're at the tail end of the season. And I made that mistake with how the PGA TOUR and the FedExCup went, injuring myself and getting a little unfortunate the way the playoffs worked, and I worked so hard through the regular season to put myself in a good spot that I don't want to let this go.
"I think I said this last year, you don't know how many chances you're going to get to win a Race to Dubai, and I've been very lucky to play well this year in a major and the WGC to get me in that position. But I want to come out here and win. If I win, it takes care of everything."
Billy Horschel: "It's my first time to Dubai. It's a cool place. Obviously I've watched this event and Dubai Desert Classic and a few other events over here and seen on TV. But to be here and experience this amazing place is pretty cool.
"And to be here at this event, the last one on the European Tour calendar, to have a chance to win the DP World Tour Championship is something as a kid I didn't dream about or even imagine, but over the last year it changed with playing well in the WGCs and everything, and it's great to be here.
"I tried the last couple months to sit back and picture the whole thing, try and decompress and understand everything that is in front of me.
"And I think this point in my career, this is probably the best year I've had of my career. I know I won the FedExCup, but that year I didn't play great until the very end, and this year I've been pretty consistent.
"But to win two big tournaments in WGC Match Play, BMW PGA Championship, those are two massive events to win, especially when you sit back on your career résumé and you say these are the events I won. And then to add possibly the Race to Dubai, be the first American to win the Order of Merit, obviously by far would be the best of my career."
Tyrrell Hatton: "I'm in a great position obviously going into the final event. It would be very special to win the trophy at the end of the week. Certainly it would be a massive moment in my career.
"It's one of those things that comes with playing good golf, and I do try to go out there every week and do that.
Min Woo Lee: "Looking back on the season, I played one major and missed the cut and didn't get to play any of the majors. Other than that I've played amazing and hopefully I can finish on top. But if not, I'm going to tap myself on the shoulder and say I've had a really good season.
"It would be amazing to win the Race to Dubai. At the end of the year you want that prize, and it doesn't come that often where you have such a good season like this all the time. Hopefully I can take the opportunity and take the trophy, but if not, like I said, it's been a good year."
Paul Casey: "I think it's all about playing good golf this week, isn't it, getting off to a good start. Look, I'd love to win it. I try not to project too far ahead, simple as that. To me the focus is on Thursday, and after that it's Friday and try to put myself in a position to win it come Sunday.
"It's consistent, solid play all season. I enjoy the fact that it's not done and dusted until we get here. Nobody can run away with it. You've got to perform right up to the final week, the final putt. You know, I've had a solid, consistent season. It's not maybe been as spectacular as some of the guys who are here and the guys who are leading the Race to Dubai, but I still need to do something spectacular. I have to win this week, which is I think why it makes this format so exciting."