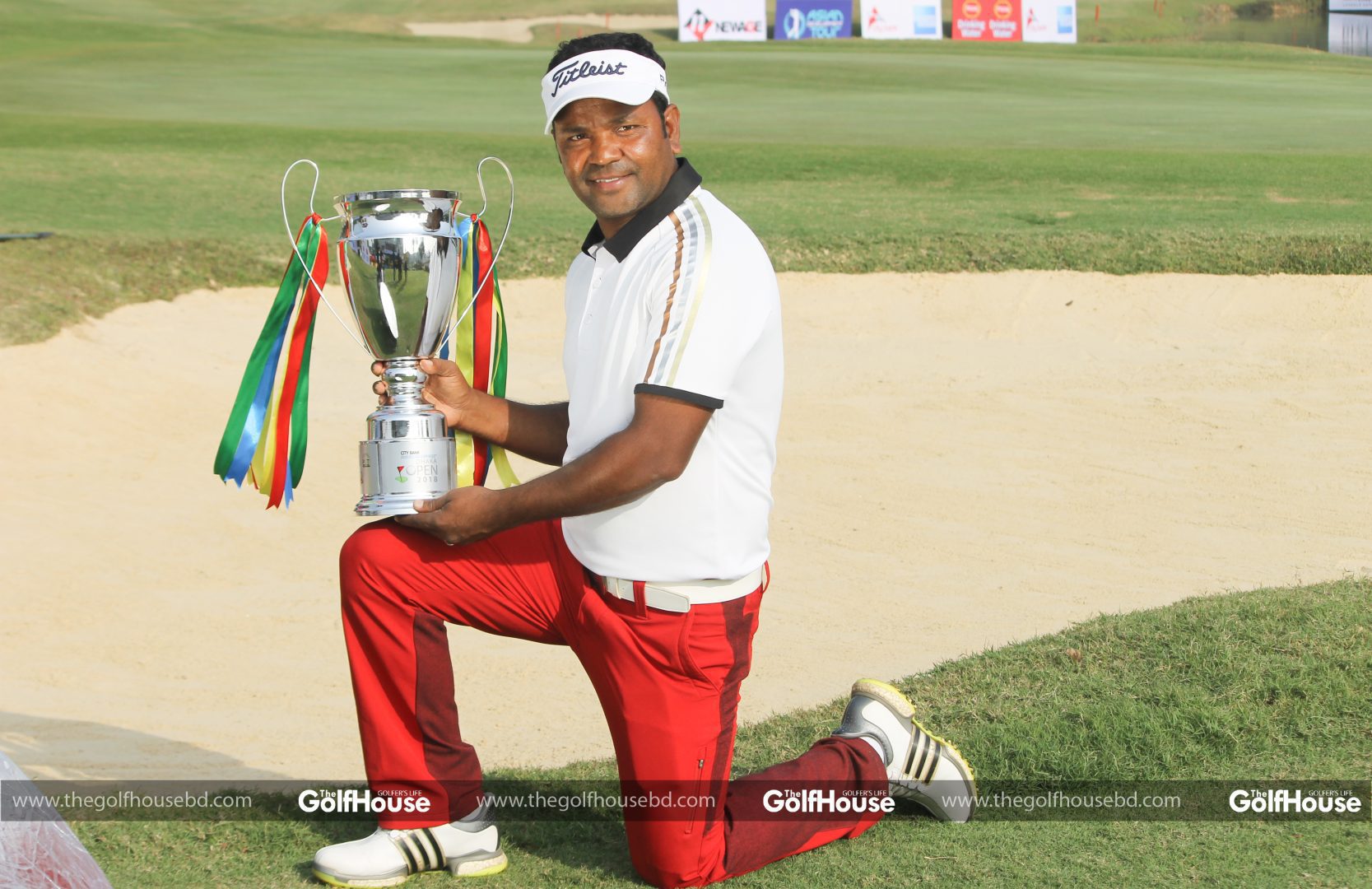 Bangladesh's premier golfer Siddikur Rahman once again proved why he is by far the best golfer in the country and a revered name in the region. The 33-year-old golfer romped to a four-stroke victory in the inaugural City Bank American Express Dhaka Open, pocketing a paychque of 10,500 dollars, in the last week of January. After the opening round, the two-time Asian Tour winner hardly faced any challenge from the rest of the field, which featured some of the big names from Asian Development Tour and the Proffesional Golf Tour of India as well as the local golfers. It was his first international title since the Chittagong Open in 2017 and it will hopefully mark a successful year on the international tour for the two-time Asian Tour winner. The ace golfer talked to reporters after winning the title where he spoke about his excitement of winning the title, his satisfaction at hearing his wife becoming the country's first pro female golfer and his frustration at not seeing a full Asian Tour event taking place at home. Here are the excerpts from that interview.
Q: How do you feel winning the first title of the calendar year, and that too at home?
A: I'm really excited with the victory. I have played well throughout the event. This will motivate me further in the upcoming tournaments.
Q: Do you think there was less competition?
A: I won't say competition was less. I feel every tournament is competitive. I take the challenge upon myself. The competition was appropriate for an ADT tournament. Furthermore there were some of the best players from the Indian tour and from Bangladesh as well.
Q: How much are you satisfied with the final score?
A: I am really satisfied with my score (14-under-par). The course was pretty challenging this time. The green has turned very hard so that the ball rolls faster. It was a challenge for everyone. Apart from the top two or three, the score was not that great from the others. So it was pretty challenging.
Q: Last year you won in Chittagong; the year before you won in Dhaka. Now this one too. Do you think you are the best on home soil?
A: Home advantage and experience — these two things count. Since I play a lot of tournaments abroad, I have more experience. And the Indians don't play here that much. So the home advantage definitely counts as well.
Q: How much do you miss an Asian Tour event on home soil?
A: I sorely miss that event. If I won that tournament today, I would have gone in the winner's category and got full exemption. I would have earned World Ranking points as well.
Q: Young golfers such as Akbar Hossain have made it into the top ten. Do you think it is a sign of progress of us?
A: We already have progressed a lot. Around 30 golfers have made the cut out of 59 here. They will be inspired too by this result. So I believe it's a big achievement for our golfers.
Q: What is your target for the rest of the season?
A: I'm going to Malaysia for the CIMB Malaysian Open tomorrow. However, I will be playing a limited number of tournaments this year. My first target would be to keep myself fit. Second target is to go to higher tours such as Japan Tour, European Tour and PGA Tour.
Q: Another reason for you to get delighted is that your wife Samaun Anjum Auroni has officially been recognised as the first female professional from Bangladesh. Say something about it.
A: This is a very good news. I'm the top player in Bangladesh and my wife is the first professional from the country. So it sounds really great.
Q: It sounds great, but the reality is we don't have any ladies' professional tournament here. How do you see that?
A: If I'm not wrong, Bangladesh had their first professional player in 1964. There was only one back then. See how much we have progressed. So we will have to start from somewhere.  Hopefully we will have ladies' professional tournaments here as well.
Q: Are we going to see her in the Indian women's tour soon?
A: I don't know. It all depends on her. She likes travelling with me. So the decision is entirely hers.