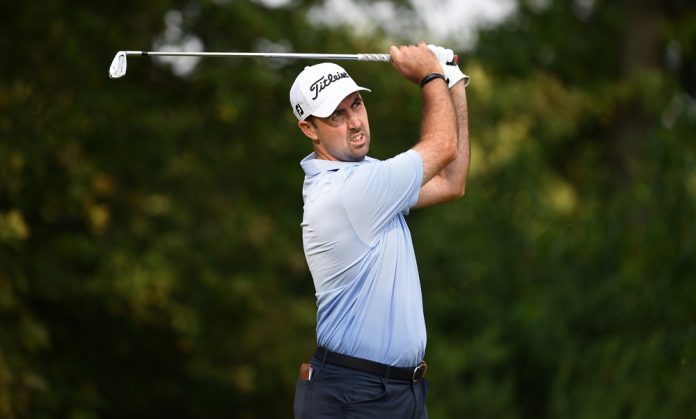 The Irishman took a three week break after finishing in the top 30 at the D+D Real Czech Masters but showed no signs of rust as a bogey free 65 moved him to seven under at Bernardus Golf.
German Maximilian Kieffer and Dane Martin Simonsen were then at six under, with a group of nine players two shots off the lead.
Kearney does not have full playing privileges on the European Tour but has been making his mark, recording his first two top tens and carding a 61 en route to one of them at the Canary Islands Championship.
He also led the way into the weekend at the BMW International Open and is feeling confident in his surroundings as he battles to earn a card over the closing weeks of the season from 128th in the Race to Dubai Rankings in partnership with Rolex.
Belgian Thomas Detry came home in 30 to sit in the group at five under alongside Canada's Aaron Cockerill, Welshman Rhys Enoch, England's Ben Evans and Sam Horsfield, Dane Marcus Helligkilde, Spaniard Santiago Tarrio and Scot Euan Walker.
Player Quotes
Niall Kearney: "This year has been positive for me. I have had a lot of good finishes and put myself in the right spaces and I have grown in confidence from it. I am starting to feel a bit more comfortable which is great."
"I found it really enjoyable, it's got a real links feel to it. I play links golf at home, so I felt right at home, and I have been at home the past three weeks, so I feel rested somewhat and really enjoyed it.
"I had a chip-in midway through the back nine, that was a bit of help and finished well, a couple under the last three holes so nice to finish that way and holed that one from 30 feet on 18."
Maximilian Kieffer: "I played very well except for one hole. I wasn't really fighting for par and hit great shots all day, even on 18 when I made bogey, I made some putts, so everything worked well today.
"I like the course a lot. I f you play bad shots you will get in trouble but if you hit good shots you get plenty of chances, and that is how a course should play. If the wind picks up it is definitely going to be a bit trickier but it is great, especially the back nine, it's nice for the eye as well.
"I have my eye on the top 50 to get to Dubai. I am inside that now but I have to play good golf over the next couple of weeks, so that is definitely the goal."
Martin Simonsen: "It was really nice. It has been a while since I have shot 66 in the opening round, usually I get off to a poor start and I am having to scramble, so happy with a good start. I played well all day and drove the ball really well.
"Last year I was in contention quite a bit going into the weekend and then on Sunday I wasn't finishing it off. It is way too early to talk about now, there is so much golf left to be played, but it would be nice to play four good days in a row, and that is what we are all trying to do out here."
Round One Scores
65 N KEARNEY (IRL),
66 M KIEFFER (GER), M SIMONSEN (DEN),
67 M HELLIGKILDE (DEN), E WALKER (SCO), T DETRY (BEL), S TARRIO (ESP), R ENOCH (WAL), S HORSFIELD (ENG), A COCKERILL (CAN), R SANTOS (POR), B EVANS (ENG),
68 P PETERSON (USA), M SIEM (GER), W NIENABER (RSA), B STONE (RSA), A CA?IZARES (ESP), K BROBERG (SWE), D HORSEY (ENG), M SCHMID (GER), J HARDING (RSA), O LIESER (CZE), S MAURITS (NED),
69 D BURMESTER (RSA), A SANDHU (IND), T PIETERS (BEL), B HENSON (USA), G COETZEE (RSA), R LANGASQUE (FRA), L DE JAGER (RSA), M SCHMITT (GER), A KARLSSON (SWE), C WOOD (ENG), J GONNET (FRA), P BOOTSMA (NED),
70 R ROUSSEL (FRA), G STAL (FRA), F SCHOTT (GER), R SABBATINI (SVK), C HANNA (USA), A SADDIER (FRA), N VON DELLINGSHAUSEN (GER), M FORD (ENG), M TOOROP (NED), J FAHRBRING (SWE), R GOUVEIA (POR), S BROWN (ENG), C SORDET (FRA), S TILEY (ENG), A JOHNSTON (ENG), J MCLEOD (AUS), J VEERMAN (USA), J WRISDALE (ENG), S SHARMA (IND), P HANSON (SWE),
71 D YOUNG (SCO), D HUIZING (NED), G MCDOWELL (NIR), A FLANAGAN (ENG), J HANSEN (DEN), A KNAPPE (GER), J JANEWATTANANOND (THA), B STOW (ENG), J KRUYSWIJK (RSA), R CARON (NED), R MANSELL (ENG), J GUERRIER (FRA), L SLATTERY (ENG), J STALTER (FRA), J GEARY (NZL), O FARR (WAL), N VAN TILBURG (AM) (NED),
72 G PORTEOUS (ENG), D LAW (SCO), D DRYSDALE (SCO), R PARATORE (ITA), R KARLBERG (SWE), G MOYNIHAN (IRL), R FOX (NZL), R MILLER (NED), R SCIOT-SIEGRIST (FRA), C HOWIE (SCO), A GARCIA-HEREDIA (ESP), D VAN DRIEL (NED), J LUITEN (NED), B GRACE (RSA), S YONGCHAROENCHAI (THA), J SJ?HOLM (SWE), D ANTONISSE (AM) (NED), B POKE (DEN), T TREE (ENG), D COUPLAND (ENG),
73 J SENIOR (ENG), A CHESTERS (ENG), O FISHER (ENG), D VAN TONDER (RSA), E CUARTERO BLANCO (ESP), M ANTCLIFF (AUS), N LEMKE (SWE), L GAGLI (ITA), K REITAN (NOR), C SHARVIN (NIR), P FIGUEIREDO (POR), S GARCIA RODRIGUEZ (ESP), L BJERREGAARD (DEN), L VAN MEIJEL (NED), J LAGERGREN (SWE), K KOUWENAAR (NED),
74 Z LOMBARD (RSA), W BESSELING (NED), D PORSIUS (NED), J SUGRUE (IRL), T GANDY (IMN), R WATTEL (FRA), M BALDWIN (ENG), D LAWSON (AUS),
75 T KOIVISTO (USA), J SANDBORG (SWE), C PIGEM (ESP), B EASTON (RSA), S CHAWRASIA (IND), M LAFEBER (NED), J KASKE (FIN), P ANGLES (ESP), E DE LA RIVA (ESP), D PERRIER (FRA),
76 P DUNNE (IRL), W DE VRIES (NED), J CAMPILLO (ESP), S KRAAI (NED), F VAN DIJK (AM) (NED), L VAN DER VIGHT (AM) (NED), P ERIKSSON (SWE), R JACQUELIN (FRA),
77 M ALBERTUS (NED), E SMYLIE (AUS), R PETERSSON (SWE), A ZEMMER (ITA),
78 L JOHNSTON (SCO), G FDEZ-CASTA?O (ESP), K VAN DER WEELE (AM) (NED),
79 H PORTEOUS (RSA), L KEUNEN (NED),
85 G GREEN (MAS),