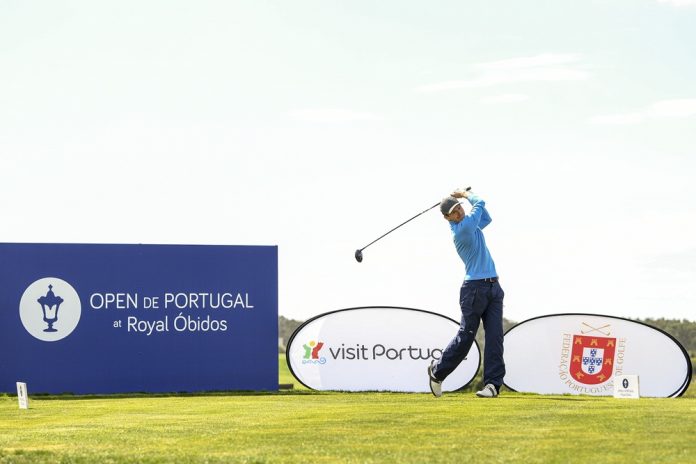 The Dutchman carded nine birdies in a blemish-free opening effort at Royal Óbidos Spa and Golf Resort to move three clear of Scotland's Ewen Ferguson and Denmark's Martin Simonsen, who set the pace at six under par earlier in the day.
The 30-year-old, who won his third European Challenge Tour title at the Irish Challenge earlier this year, took advantage of what he believes to be a scoreable course on a day where everything fell into place.
"You never really see it coming, that's the funny thing with these kind of rounds," he said. "I felt good all day, I felt good coming off the Dutch Open last week, although it didn't really show on the scorecard, I played some really good golf there so that adds to the confidence a little bit.
"It's not a hard course; it's pretty wide open and the pins weren't that tough so if you get through the difficult holes then there are a couple of par threes that are tough, like 15 is probably the toughest hole, but if you get through those well then you can create so many birdie chances.
"My wedges are strong, I've worked on those a lot, and I created some good chances with that. You've got to hole the putts and they kept going in, which is nice. It was just a really good and strong round from start to finish, so I'm looking to continue that tomorrow."
Huizing currently sits 15th on the Road to Mallorca Rankings and is keen to secure his 2022 European Tour card as soon as possible, with the top 20 after the Rolex Challenge Tour Grand Final Supported by The R&A earning their playing rights for next season.
"You think about securing your card a lot," he said. "We talk about it and of course you want to get it done as soon as possible. At the same time, when you're out there, you can't think about it. You've got to just focus on your own stuff, this shot right here, and that's a challenge but I managed to do that well.
"I tried to keep the mindset of focussing on this shot and just try to do everything as well as I can and not make it any bigger than that. If you can stay in that frame of mind then you're going to be alright."
Norway's Kristian Krogh Johannessen, Austrian Lukas Nemecz and Switzerland's Benjamin Rusch share fourth place on five under par, with a group of eight players, including last week's winner Alfie Plant, a shot further back in a tie for seventh place on four under par.
Scores after round one
63 D HUIZING (NED),
66 E FERGUSON (SCO), M SIMONSEN (DEN),
67 K JOHANNESSEN (NOR), L NEMECZ (AUT), B RUSCH (SUI),
68 A PLANT (ENG), H DU PLESSIS (RSA), F LACROIX (FRA), M SCHNEIDER (GER), N KRISTENSEN (DEN), H LONG (GER), J KRUYSWIJK (RSA), N M?LLER (DEN),
69 D HILLIER (NZL), D RAVETTO (FRA), C BLOMSTRAND (SWE), J FAHRBRING (SWE), J GEARY (NZL), N KIMSEY (ENG), A GARCIA-HEREDIA (ESP), B HELLGREN (SWE), G BOURDY (FRA),
70 M GASPAR (POR), N REGNER (AUT), T CLEMENTS (ENG), J KENNEGARD (SWE), J BRUN (FRA), P EDBERG (SWE), M FENASSE (FRA), P FIGUEIREDO (POR), H MAGNUS (ISL), G KRISTJANSSON (ISL), C ROSS (SCO), J DE BRUYN (GER), G TADIOTTO (BEL), J SVENSSON (SWE), H ARKENAU (GER), C WORSDALL (ENG),
71 M HELLIGKILDE (DEN), P ERIKSSON (SWE), B EASTON (RSA), J DANTORP (SWE), U COUSSAUD (FRA), M ELVIRA (ESP), C MIVIS (BEL), L ROBINSON (ENG), E BERTHEUSSEN (NOR), M HOEY (NIR), T BESSA (POR), B NEIL (SCO), D BOOTE (WAL), L SCALISE (ITA), F MACCARIO (ITA), A ZEMMER (ITA), J K?LBING (GER), J FREIBURGHAUS (SUI), J SANDBORG (SWE),
72 T BALTL (AUT), L VACARISAS (ESP), V LOPES (POR), L LIPOLD (AUT), R GOUVEIA (POR), D FOOS (GER), L DE JAGER (RSA), A KNAPPE (GER), J RITCHIE (RSA), F MORY (FRA), A DEL REY (ESP), G STAL (FRA), B MOORE (ENG), E WALKER (SCO), D PERRIER (FRA), D BORDA (ESP), R KAKKO (FIN), A HIDALGO (ESP), S MANLEY (WAL), K ULENAERS (BEL), V ALVES (AM) (POR),
73 M LAMPERT (GER), A JOHN (GER), T GANDY (IMN), A KARLSSON (SWE), M LINDBERG (SWE), E CUARTERO BLANCO (ESP), J GIRRBACH (SUI), B WINDRED (AUS), M MANASSERO (ITA), R PETERSSON (SWE), L RENOLDS (CAN), T CRUZ (POR), J GIRAO (AM) (POR),
74 J LANDO CASANOVA (FRA), M ROTTLUFF (GER), J WRISDALE (ENG), M BALDWIN (ENG), O FARRELL (ENG), A WILSON (ENG), R VAN WEST (NED), S FERREIRA (POR), S FERNANDEZ (ESP), E DI NITTO (ITA), F BERGAMASCHI (ITA), J BLAAUW (RSA), R DE SOUSA (SUI),
75 C BERARDO (FRA), P ALMEIDA (POR), D PAPADATOS (AUS), T GOUVEIA (POR), H LEON (CHI), E LIPPARELLI (ITA), K KOIVU (FIN), M HAMMER (GER), M WIEGELE (AUT), I CANTERO GUTIERREZ (ESP), M LUNDBERG (SWE), L NORTHWOOD (ENG),
76 D LAWSON (AUS), H SANTOS (POR), J THOMSON (ENG), T SANTOS SILVA (POR),
77 G BRIXI (CZE), V PASTOR (ESP), J KO (FRA), J LONG (ENG), T KOIVISTO (USA), P LENCART (POR),
79 C SAHLSTROM (SWE), H STUREHED (SWE), A KLUIBENSCH?DL (AUT),
83 A KOPP (AUT),
84 A ABREU (POR),