As land becomes more precious and populations become more dense the proliferation of apartment towers is becoming more evident throughout the cities of the world. Also evident is the loss of open space, fortunately many governments are regulating the developments and ensuring some open space is left.  But what the developer does with the open space can sometimes be a quandary as open space does have a maintenance cost. Some developers are using this space to create small golf courses that are;
Suitable open spaces
Great recreation facilities
Can have multi-uses
Provide income
Improve real estate value
One such example of the is the Blue Ridge Development in Pune, India.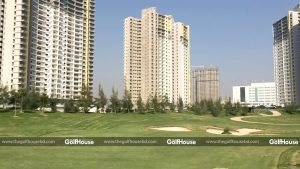 The Blue Ridge Apartment project (Developer / Paranjape Schemes) at Hinjewadi has its 9 hole / Par 3 golf course and golf academy completed and it opened for play in March 2014. The golf course is surrounded by eight 30 level Apartment towers and sits on about 2 metres of rock rubble / fill excavated as a part of the Apartment towers.. The golf academy also acts as a function lawn which brings in enough income in its own right to pay for the golf course maintenance each year.
The Club has two restaurants, members facilities, sports shop, function rooms, gym, tennis and a day spa.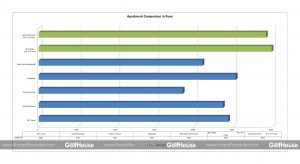 The Golf Course is what course architect, Pacific Coast Design, has termed a "Community Golf Course" which primarily means that at certain times (early morning & evening) the golf course is opened up for joggers, walkers or families just wishing to sit on the grass. The golf cart path around the layout also has bollard lighting (on non-golf side of path) for residents at night. The entire golf course is monitored by CCTV so as to ensure proper conduct during both golf and non-golf usage.
There are many advantages to this vertical lifestyle in that the common facilities like resident clubs, mutual sporting facilities and open space are often a positive catalyst to a community atmosphere which in turn creates a more secure environment for family living.
Often the new residential towers are centred around a regional shopping mall or commercial / Industrial district which provides the employment opportunities for nearby residents of all socio-economic levels.
It is always difficult when researching which apartment to purchase and area, floor level, infrastructure, amenities and outlook all play a part in that investment decision. Another stress is that the urban workforce is far more mobile now with many families needing to move within a city or even intercity for new job opportunities, gone are the days that had children living in the same house as their parents did and often working in the same job their entire career.
However apart from those factors already discussed, the major consideration when hunting for an apartment is always the investment size, how much do we pay and what issues affect our potential investment return if we sell.
Over the past two years some Developers have enticed buyers of apartments with a different sort of view which is also proving to be a smart investment return, once the view was only obtained by buying a villa on an exclusive estate but now……. apartments with a golf course.
Yes, the initial apartment price per square foot is usually more expensive but with such a view the golf fronting apartments are appreciating at a far greater rate than their non-view competitors of a similar standard (apartment size & amenities). The best returns are of course on those apartments that are bought early in the Developer's project release as these appreciate quickly once the actual golf course is built. This in turn means that like all other projects you may invest in, the reputation of the Developer is just as important, you have to know that they will build a good product (both apartment and golf), on time and with the other infrastructure and amenities that were promised.
Just because a Developer says they have a golf course, this does not guarantee quality or investment return, like all investments in life the buyer still has to do their homework to ensure (as much as possible) that their investment is secure.
With space being at a premium within residential apartment developments the golf course is usually a 9 hole or Par 3 golf course but the views are still golf and the courses are a great place for beginners to learn or the expert to hone their all important, short game skills.
The introduction of golf into an apartment project does raise issues of both safety and access. To address this Developers are urged to adopt Community Golf Management guidelines which address such issues and should be part of any package associated with purchase of an apartment.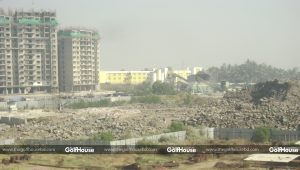 The guidelines will allow community access to the golf zone at approved times and often the cart paths will have bollard lighting for night use, basically as long as the community respects the use of the golf zone and the rules of access, there is no reason that they cannot have such access safely for general exercise or pure enjoyment.
Traditional golfers who may feel that this will destroy the golf course but in today's urban / apartment golf courses there needs to be such involvement of the community. If the golf course is constructed properly and people stay out of bunkers, lakes and off the greens then there is little damage that can be done.
Such community (residents only) access to the golf is normally done early morning (for the walkers) and evening (for exercise and pure enjoyment) but there can also be times during the day when the golf is closed, again dependant on demand / situations.
Golfers will be paying green fees for playing of golf and such will contribute to the upkeep of the golf course that gives residents their wonderful view and enhanced investment return. Maintenance on a golf course is usually far more intense than any normal landscape, this level of presentation gives the community regular ongoing returns from the enhanced visual amenity, improved environmental benefits and protection of resale prices. It's a win, win scenario for all.