Mike Sanabria started his golfing career as a ball boy. Born in Wisconsin to a family of golfers, he had the passion for golf in him. While he studied psychology, the passion for golf never took him away from the golf course, so he returned in a different role, working as trainer and instructor for various academies in USA before landing a job at the Leadbetter Academy. Here he worked closely with David Leadbetter for a year before formulating the Kids' Schooling Program. The 28-year-old trainer was in Dhaka recently to inaugurate Leadbetter Academy's School Kids' program, which is one of the first three such schools in the world.
The Wisconsin native, in a detailed interview with TheGolfHouse, spoke of his philosophy behind devising the school curriculum, its tools and techniques and his overall idea about spreading the game among the juniors in a way that they became champions of the future.
Q: Tell us about your work and how you got to this position?
A: It started when I was 4/5 years old. My dad played golf, my grandpa played golf, so I wanted to be with them. One day my dad cut down one of his clubs for me. On weekends I used to go around the cart with him and play a couple of shots. It started like that. Slowly I started playing golf at junior level, playing at a lot of junior tournaments. At 18, I chose to take an academic degree. Then after passing out from my college, I joined an academy as a ball boy. I've worked at the Leadbetter academy for three years now. My career was like a lot of the Bangladeshi golfers. I started as a ball boy at the academy. Then I worked in customer service for about six months. They saw I had the passion and sent me for certification courses. I wanted to update a little bit. I redesigned the global teaching program and then I assisted David for about a year. Then I took some teachers' training in China. I started from the bottom and worked all the way up and, the best thing is, I'm only 28.
Q: What do you think about the future of golf in Bangladesh?
A: Working with juniors, I always wanted to give something to the next generation hoping that the next generation will be better than us. That thing brought me to Bangladesh finally. I'm really excited to have the Leabetter kids' program here which is one of the first three countries in the world to have this program. I hope that this program creates a massive interest about golf in Bangladesh. I hope the golf clubs rally around that and be more accepting of the program.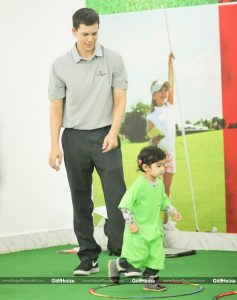 Q: Do you subscribe to any particular teaching method?
A: We have our own Leadbetter teaching philosophy. I've assisted David for a year and a lot of the teachings that David does goes into this program. The main thing that he wants from coaches is being passionate and loving work with the kids. There are two things: Safety is very important, and the other important thing is having fun. If the coaches and the students have fun, then learning gets easier for children.
Q: What tools and technologies will be used at the school?
A: Our idea is to keep it simple and fun. Using equipments that are nice and colourful and make nice sounds attract the kids. In the end it's about creating a fun environment where they can learn the game as well as have a good fitness and education system. It's about building a kid who is a very good golfer and also a very good individual by his own right whichever sector he goes into.
Q: Do you play competitive golf yourself?
A: Unfortunately I'm too busy to be playing competitive golf, but I did as a kid. As a result I can relate to a lot of the things that the kids go through. I know what it feels like to have fun in the game and not to have fun in the game.
Q: What are the goals of Leadbetter School?
A: There are three primary goals: To create a long-term athletic development for golf, to help create outstanding citizens through life skills including confidence, honesty, sportsmanship and integrity, and to develop fitness.
Q: What are the special features of this school?
A: We're trying to create long-term golf athletic development model. In other sports like cricket, for example, kids start at a young age and get more and more advanced through training and become champions. We're trying to do in golf where it's not just about hitting golf balls but a whole lot more. Then there will be assessments and tests as they grow up. So it all starts with fun at the age of 4/5 and by the age of 13/14, they really become skilled professionals. The coaches in the academy are some of the best in the world and have the experience of working around the world.
Q: Shed some light on the curriculum.
A: It's a four-level program, each level being six months and twenty weeks. The program will start with snag balls in level one. In level two the kids will get to real club and real ball. In third and fourth level we will get the kids into the course.
Q: What are the plans of the academy with these kids?
A: The goal is to get them to golf from 4/5 years of age up to 8 years of age and see if they have a passion for golf. The overall exposure to a program like this will encourage more kids to come to golf.
Q: What do you expect to see the Leadbetter kids in future?
A: I would really love to be here maybe 10 years from now when some of these kids will hopefully make it to the national team or excel in other areas. If we have 100-150 kids in the program, then out of that you will get at least five kids who will be champions. It will start with 5/6 year olds running around hitting snag balls and in the end of that you will get some elite champions. Golf has been an elite game, but hopefully will allow it to move from that a bit.
Q: Golf is not much popular compared to other sports like cricket. What could be done to make the game more popular?
A: Golf is an individual sport. So when they come to play golf, children don't feel that community feeling like they do in a game like cricket. This academy provides them with that feeling of being in a community with the other kids. In the future we want to create junior golf competitions because at the moment there are not a lot of junior tournaments around.
Q: Do you have any suggestions to those who want to start playing golf?
A: I would hope that the parents give the kids a chance at golf and see the outcome. The schools and the clubs could be more accepting too and welcome the kids with open arms.