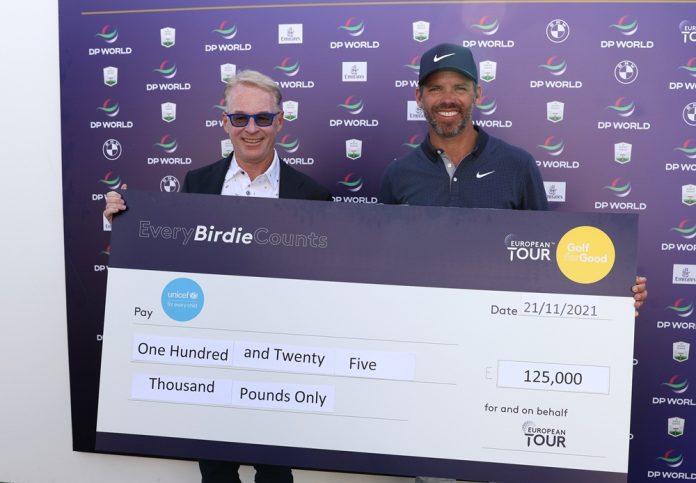 The European Tour group's Golf for Good raised a total of £125,000 for UNICEF through its season-long 'Every Birdie Counts' campaign. The campaign, supporting UNICEF's work as part of the COVAX Facility, raised sufficient funds to help the children's charity deliver 50,000 vaccines to some of the world's most vulnerable and hardest-to-reach nations.
'Every Birdie Counts' – an integral part of the European Tour group's overarching CSR Programme 'Golf for Good' during the 2021 season –  raised a minimum of €1 for UNICEF for every single birdie made during the campaign, with €10 donated for every eagle and €1,000 for every albatross.
Those numbers were given a significant 'Birdie Boost' at the season-ending DP World Tour Championship in Dubai, when the European Tour group's Golf for Good pledged €75 for every birdie made at the final Rolex Series event of the season, to mark UNICEF's milestone 75th anniversary as well as World Children's Day, which coincided with day three of the prestigious tournament.
A total of €77,451 was raised prior to the finale at Jumeirah Golf Estates, thanks to 57,641 birdies, 1,681 eagles and three albatrosses across a season which began with January's Abu Dhabi HSBC Championship.
The DP World Tour Championship, meanwhile, yielded 862 birdies and 19 eagles, raising a total of €66,550 in a week which saw Collin Morikawa claim the title in a dramatic fashion, becoming the first American golfer in the history of the DP World Tour to top the season-long rankings.
The European Tour group's Golf for Good rounded up the total from approximately £121,250 to £125,000, which will support UNICEF's work as part of the COVAX Facility, and its aim of delivering three billion vaccines globally.
UNICEF is leading the end-to-end supply of vaccines, as well as providing tests and treatments, in low-and middle-income countries – with the aim to deliver three billion doses of vaccines in 2021 for frontline health workers, social workers, teachers and those at highest risk.
Paul Casey, a 15-time DP World Tour winner and UNICEF USA Supporter, said: "It's unbelievable what the European Tour group and Golf for Good have done. So much is talked about what we do on the golf course, but I don't think enough is mentioned about what goes on for every community and country we visit.
"In this case, it's the global reach – partnering with UNICEF and £125,000 will go so far in assisting UNICEF's work as part of the COVAX Facility, rolling out COVID-19 vaccines around the world and I couldn't be more proud. Things like this make me proud of being part of the DP World Tour.
"As a father, children are my primary focus when it comes to charity. It was World Children's Day on Saturday during the final tournament, so I think this is very timely. You have a right as a human being to have access to certain things and children are always the most vulnerable. I tip my cap to all of those involved in getting this off the ground."
Keith Pelley, Chief Executive of the European Tour group, said: "We are proud and honoured to have partnered with UNICEF in their 75th anniversary year, by supporting their work as part of the COVAX Facility though our 'Every Birdie Counts' campaign.
"As a global tour we are committed to supporting communities and worthy causes around the world so, to that end, this donation is a fitting end to our 2021 Golf for Good campaign as it will provide enough funding to help deliver 50,000 vaccinations to some of the most vulnerable and hardest-to-reach nations on earth.
"It was also fitting that the 'Every Birdie Counts' campaign should finish with such a flourish at an event sponsored by our new tour title partners DP World, as they have been supporting UNICEF in the logistics and delivery of the vaccine globally. Our sincerest thanks to UNICEF, DP World and of course all of our players who, through their wonderful golf all season, helped make this happen."
Steven Waugh, Interim Executive Director of the UK Committee for UNICEF said: "If we have learned anything from the coronavirus crisis, it is that our lives are interconnected. COVID-19 does not respect borders. At UNICEF, we know that if we only protect high-income countries, life will not return to normal – if COVID-19 is spreading anywhere, it's a risk to people everywhere.
"As part of COVAX, UNICEF is leading the biggest health and logistics operation in history to procure and deliver 3 billion vaccines around the world by the end of 2021. In order to achieve this historic mission, we need the help of our supporters and partners.
"I would like to share my sincere thanks to everyone at the European Tour group, who have helped raised an incredible amount for UNICEF's work around the world. Your support means that we can help deliver 50,000 vaccinations in low- and middle- income countries around the world."