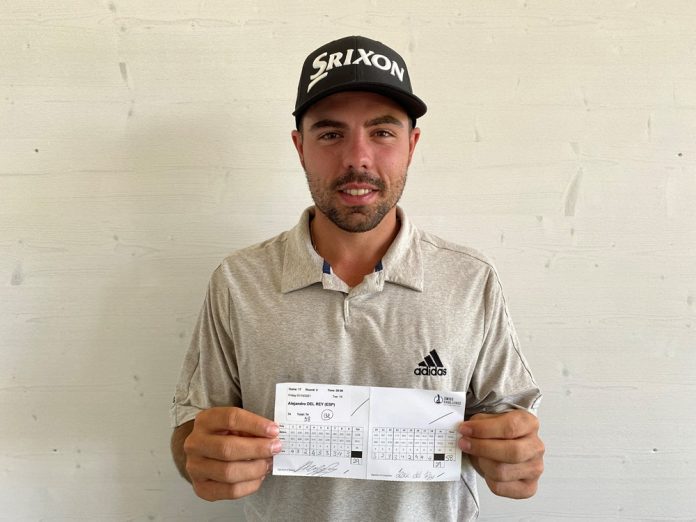 In the European Challenge Tour's 32-year history just two rounds of 59 had been carded, with Adrien Mörk and Nicolò Ravano reaching the magic number in 2006 and 2016 respectively, while on the European Tour, a score of 59 has been achieved just once – by Oliver Fisher in 2018 at the Portugal Masters.
The Spaniard was 16 strokes better than his first round, starting the day two over par at Golf Saint Apollinaire.
Beginning his round on the tenth hole, the 23-year-old made a fast start to the day with a birdie and back-to-back eagles on his first three holes, making the turn in 29. After five birdies on his first six holes on the front nine a 59 was in sight, but he went one better with an eagle on the par five ninth hole, signing for an historic 58.
"I really enjoyed it, it suits my game pretty well," he said. "I think the key for me is trying to stay patient out there, I am going to have a lot of putts for birdie, I let myself go a little bit yesterday and missed a lot of them. I just did pretty well today when I dropped the first couple ones and I stayed pretty patient when I missed a couple again and then I just went back at it.
"It was just great golf all round and for a round like that you need a couple of good bounces which I got today. I definitely managed to drop some putts out there but I think the key was that my driving was just great today. I hit every fairway super deep and every hole I managed to hit wedges in and managed to hit some chips, it was just a great all round golf performance.
"The same guys we travel with all year, the Spanish guys like Angel (Hidalgo), I have shared my whole amateur career with him, and we have played since we were super young together and we have known each other since we were about ten, so it was great to see a couple of Spanish guys supporting.
"I should take a nap because I need it, but I don't know if I am going to be able to take a nap right now because I'm pretty pumped.