The three-day Daffodil Captain Cup Golf Tournament concluded at Kurmitola Golf Club on October 12-14, 2017.
Major General Rezanur Rahman Khan won the title of the tournament, Brigadier General Mohammad Siddiqul Alam Sikder grabbed the Runner-up title and Mrs Shaheen Mahbuba Haque won the title of Ladies Winner.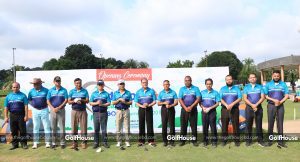 Lieutenant General Chowdhury Hasan Sarwardy, Commandant, National Defence College distributed the prizes among the winners as the Chief Guest of the ceremony at the Banquet Hall of Kurmitola Golf Club. Major General A K M Abdullahil Baquee, Commandant, Defence Services Command & amp; Staff College and Vice President, Kurmitola Golf Club, Brigadier General Abidur Reza Khan (Retd), Chairman, Tournament Committee, Kurmitola Golf Club, Brigadier General Mohd Obaidul Haque (Retd), Chief Executive Officer, Kurmitola Golf Club, Lieutenant Colonel Salahuddin Mohammad Reza (Retd), General Manager, Club Affairs, Kurmitola Golf Club and Dr. Md Sabur Khan, Chairman, Daffodil Family were also present.
A large numbers of participants, other members of the Daffodil Family and high civil and military officials with their spouses attended the function.