Bangladesh: A hidden gem for golf-tourism
Tanweer Hasan
Golfing? Bangladesh?? A hidden gem for golfing??? Yes, I am talking about golfing and believe Bangladesh is, indeed, a hidden gem for golf-tourism!
I have had the privilege and luck of golfing in many courses across Asia, Australia and New Zealand, Africa, Europe, North and South America. I usually do web searches about the golf courses and the locations I am travelling to and often check out group golf-packages when planning a trip. When I do web searches about golf courses in Bangladesh, very little shows up. Also, when one thinks about exotic and panoramic golf courses, Bangladesh is unlikely to pop up in one's mind. But in reality, Bangladesh is a hidden gem for golf-tourism. Unfortunately, even local golfers are not fully aware of all the golfing facilities Bangladesh has to offer, let alone expatriates and foreign golf-tourists.
Bangladesh has a number of beautiful 18-hole and 9-hole golf courses, and some of these courses compare very well with the featured courses in some of the heavily promoted golf-tourist markets. I have seen loads of golf-tourists pouring into countries with significantly fewer courses than Bangladesh with similar quality (e.g., Botswana, Kenya, Nepal, (parts of) New Zealand, (parts of) South Africa, Sri Lanka, Turkey, etc.). Why not, then, Bangladesh? It may be a good time now to focus on the potentials of golf-tourism sector in Bangladesh and, simultaneously, make a commitment to raise future golfers from among the local youths in different towns and regions where these courses are located. If a selected number of golf courses are packaged, priced and marketed properly, a new dimension to the tourism in Bangladesh, golf-tourism, can be initiated which has the potentials to become a very profitable sought-after niche.
A total of nineteen golf courses are spread around Bangladesh with some concentration in the 'greater Dhaka' area and the 'greater Chattogram' area. Five are 18-hole courses and fourteen are nine-hole courses. The five clubs with 18-hole courses are (1) Kurmitola Golf Club (KGC) in Dhaka, (2) Savar Golf Club (SGC) in Savar, (3) Mainamati Golf & Country Club in Cumilla (MGCC), (4) Bhatiary Golf & Country Club (BGCC) in Chattogram and (5) KEPZ Golf Course in (KEGC) Anowara/Chattogram. Only KEGC course has entry restrictions, located in the Korean Export Processing Zone Anowara. KGC, in Dhaka, is the best maintained course in the country and a must-play course in Bangladesh. I recommend going during the off-peak time between 9:00am and 2:30pm on week-days to all courses in Bangladesh. BGCC, in Chattogram, is perhaps the most panoramic course in Bangladesh and best in terms of overall golfing experience. The best panoramic "tee-box view" among all the courses in the country can be found in Hole # 14 at BGCC. I will compare my golfing experience at BGCC with the Nuwara Eliya Golf Course (NEGC) in Nuwara Eliya, Sri Lanka and to some extent, with the Himalayan Golf Course (HGC) in Pokhara, Nepal. Any global golf-enthusiast can take away the implication of this comparison between BGCC and NEGC/HGC, in-terms of the exotic aspect of the landscape.
The location of KEGC is inviting with a challenging terrain that may be more appealing to relatively younger golfers. Please check with the appropriate officials before making golfing plans in KEGC. MGCC has some beautiful views with remains of old Buddhist archaeological sites along some fairways and boasts the toughest putting green in the country, Hole #13 green, slanting downwards. High elevation of tee-boxes is a trademark at MGCC with dramatic sudden fall to fairways and reminds me of similar courses in the sun-belt region of Australia. SGC, in Savar, is not too far away from Dhaka and can be a pleasant hide-away place for a satisfying round of golf in a serene environment.
There are fourteen 9-hole courses in Bangladesh — (1) Army Golf Course (AGC) in Dhaka, (2) Ghatail Golf Course (GGC) in Ghatail, (3) Shaheen Golf & Country Club (SGCC) in Patenga, (4) Chengi Golf Course (CGC) in Khagrachari, (5) Rangpur Golf Course (RGC) in Rangpur, (6) Bogra Golf Course (BGC) in Bogra, (7) Jashore Garrison Golf & Country Club (JGCC) in Jashore, (8) Bangladesh Ordinance Factory Golf Course (BOFGC) in Gazipur, (9) Shamsher Nagar Golf Club (SNGC) in Moulvibazar, (10) Golf Paharika course (GPC) in Srimongol Grand Sultan Resort, (11) Arunima Resort Golf Course (ARGC) in Narail, (12) Naval Academy Golf Course (NAGC) in Patenga, (13) Jahanabad Golf Course (JGC) in Khulna and (14) a privately-held executive-style course in Jirabo, Savar.
The best maintained nine-hole course in the country is AGC in Dhaka and perhaps the busiest in Bangladesh, in terms of number of golfers served per day. The Chengi golf course (CGC) in Khagrachari seems to have an enticing terrain for golfers of all levels – just be ready to lose some balls irrespective of your handicap. The first tee-box of the NAGC is eye-catching and jaw-dropping. You feel like you are standing on a tee box in NSW GC in Sydney or Pebble Beach in CA but, unfortunately, the NAGC has not developed enough yet to be listed as a full-fledged nine-hole course. ARGC and GPC, being part of holiday resorts, I would assume to be more like executive-type short nine-holes. I will put the nine-hole courses in Bangladesh into following four categories and I would recommend any course listed in Categories 1 and 2 to any golf-tourist.
Category 1: AGC in Dhaka, GGC in Ghatail, JGCC in Jessore and CGC in Khagrachari.
Category 2: BGC in Bogra, SGCC in Patenga, RGC in Rangpur.
Category 3: BOFGC in Gazipur, SNGC in Moulvibazar, ARGC in Narail and GPC in Srimongol.
Category 4: NAGC in Patenga, JGC in Khulna and a privately-held course in Jirabo.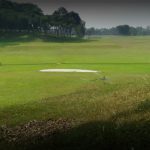 In Dhaka and Chattogram visiting golfers can just show up and pay their way in for a round unless there is a tournament or maintenance work going on. The green fee in Bangladesh is very moderate and ranges from as low as US 9 dollars to highest 45 dollars, depending on which course you are playing and the day of the week. Green fee normally includes the cost of caddy. Ball boys can be hired for a small additional amount. The caddies, on the average, are inexpensive, experienced and nice across the country. Of all the courses I played in in Bangladesh, honesty of the caddies became an issue only at AGC in Dhaka. A golfer does not need be worried about losing clubs and/or balls – things that take the golfer's focus away from the game. However, I am very pleased to see that this situation has been mitigated over the years through appropriate intervention of the club officials. The clubs in Bangladesh can be very fussy about dress codes while the rest of the world, on the average, is getting more relaxed about it. For visitors golfing in Bangladesh remember to follow the appropriate dress code on and off (eating areas and bars, where available) the course. In Dhaka/Savar and Chattogram, you can just show up and pay your way in for a round unless there is a tournament or maintenance related restriction. Make prior arrangements if you are golfing outside of Dhaka and Chattogram. Clubs in the Dhaka and Chattogram area (e.g., KGC, BGCC, SGC & AGC) have excellent shower facilities, change-rooms and on-site restaurants. If you are golfing in other courses please plan ahead to ensure accessibility to the course, availability of a caddy and other logistics, specifically if overnight stay is involved.
The SGCC in Chattogram has now started golfing after dark. Golfers can enjoy playing the first few holes after dark under floodlight! It is heartening to know that the AGC in Dhaka will be the home for the proposed Golf Academy of Bangladesh, fashioned after BKSP. There are more golf courses in the making in Bangladesh. In a few places like Natore, few holes are already in place to keep an itching golfer going until time permits them to go to their nearest full-fledged course. There have been discussions of building an 18-hole course in Cox's Bazar. As the new ninth infantry division of the Bangladesh Army is being raised in Ramu, I hope that there is a plan in place to build an 18-hole golf course there, too.
The geographic terrain of the Ramu area and great ocean view of Cox's Bazar are sure to lend themselves to spectacular and panoramic courses. Once these two courses are built, this southern golfing-belt of Bangladesh can be packaged as a premium golfing destination in the marketplace with specific focus on Japanese, Korean and Chinese golf-tourists. The existing frequent air link between Dhaka, Chattogram and Cox's Bazar would allow the entrepreneurs to make the golf-packages more efficient for the golf-tourists — from a time, scheduling and security point of view.
As the network of golf courses is now spread across the country, each club has to take up the mission of finding local talents from the region they are located. Structured programs and objective time-bound benchmarks should be in place for each club to reach out to local youth in their respective regions. Only in this way can we ensure a steady, continuous inflow of Bangladeshi young players in the national and international golf scene in the coming years.