Dr. Andrew Argus works for Impact Elite Golf Academy in Malaysia, one of the best golf academies in Asia. The Australian is a pretty familiar figure for Bangladeshi golfers as he has helped rectify and improve the game of a lot of our professional golfers over the last few years. Here, the esteemed golf mentor talks about his early days in golf, his philosophy of the game and the techniques he follows in teaching his students.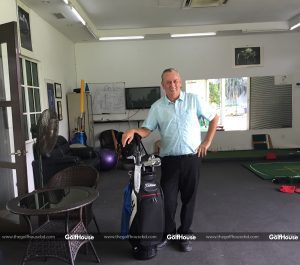 Q: Who were the people that steered you towards golf back in your early days?
 A: As a junior I played all sorts of sports: Tennis, football, and cricket — you name it, I was playing it. One day I found an old set of wooden shared clubs in my aunt's garage. I went over to the local football field and hit some balls. I was hooked! I was 8 years old at that time.
Q: How about when you got older?
 A: By 15, I was a Victorian school boys' champion. When I returned from an event, a local professional took me into his pro-shop and asked me to pick whatever set of clubs I wanted as a surprise gift for winning that junior event.
After him, a line of great coaches passed knowledge onto me. One in particular (Paul Hart) gave me great invites to teaching the game.
Q: As a father/teacher of younger kids, how much do you encourage their interest in golf?
 A: Juniors are the future of the game. Clubs need to realize that they are their next crop of members and encourage them rather than putting restrictions.
At my academy, a TPI junior program is in place training juniors from beginners to advanced level. This includes fitness, diet, golf and motor skills. Since starting the program we have had 11 juniors secure college scholarships to USA.
Q: If a parent asks you how they should get their kids started in golf, what do you tell them?
 A: In Malaysia, I have employed TPI certified coach who is an expert in junior development. I pass them straight to him. There are several classes of varying levels so kids can learn with children of similar ages and skill levels.
 Q: Did you go to college on a golf scholarship?
 A: No I didn't go to a college. Back in those days the learning path in Australia was through the PGA.
Trainees were required to be 17 years or older, hcp 1 or less. They were then required to work under a AAA professional for 3 years.
During this time they had to study pro shop operations, basic accounting, club repairs, teaching as well as keeping their own games in shape. Every year we had exams. If you fail 1 test you were kicked out of the program. You could re-apply 1 time only. Very few made it through (less than 10%) this, which made the professionals that passed very accomplished professionals.
After completing the programs professionals have a AA rating. To achieve a AAA rating professionals must continue to upgrade their skills by attending seminars over a 4 year period collecting points for each one attended. 200 points are required in the 4 years. There are 4×4 year cycles which are required after you turn professional to retain your ranking. After this I continued my study to obtain eventually my doctorate in golf swing mechanics. This took a further 9 years.
As you can see the top coaches NEVER stop studying, learning and trying to improve.
Q: Who or what inspired you to become a golf coach? Was there an "aha moment" when you realized this is the career you would pursue?
 A: Every year at Australian international golf schools, we would bring out a world class teacher to do seminars and pick their brains. These seminars were eye opening because they provided new ways to teach and learn.
Q: Teaching golf is something you felt inspired to do. Were you confident that you'd be any good at it?
A: Because of the training I was lucky enough to get, I was confident of being successful.
After all "knowledge is power," right?
Q: What is one thing every golfer can do starting tomorrow that will make the game more fun and enjoyable?
 A: Get their basics right. Grip, stance, aim the fundamentals.
Q: If the average golfer had one hour per week to practice, how would you suggest they spend that time?
 A: No question the fastest way to improve is spending time on the short game.
 Q: Bangladeshi pros love your teaching method.  Why do you think it is so?
 A: I think the art of teaching is to take complicated actions and communicate this to students in simple terms they can understand. Also every golfer is different there is no 1 way to play each player has his/her strengths and weaknesses. Addressing each player individually to develop their game is our strength.
Q: What would be the dream foursome for Andrew Argus?
A: Greg Norman, Seve Ballesteros, Tiger Woods and myself.
Q: What's your favorite golf course and why?
A: Royal Melbourne in Melbourne's sand belt is a magical course with lightning fast greens.
Q: Your top bucket list item in golf?
 A: I went to watch the US masters in 1998 which was pretty special. However, I think to teach a player to reach the world's top 10 would be even better.
Q: If you had your pick of any player — past or present — on the Asian Tour, PGA Tour, LPGA Tour, etc., to coach, who would it be and why?
 A: Don't really have a favorite to teach. I enjoy working with all my elite players and seeing them improve.
I would also dearly love to teach the teaching professionals and pass my knowledge onto them so the next batch of golfers can be taught the right way.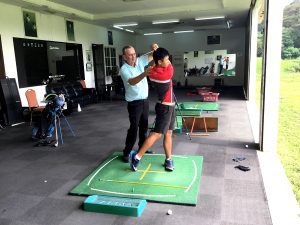 Q: If you could spend an hour on the lesson tee with any coach, who it would be and why?
 A: I think Brian Manzella from US. Not many people have heard of him but we have similar teaching styles. And he is a top 100 teacher in the US.
Q: Statistics show that the average golfer hits about five greens per round. How can they start hitting two or three more per round on a consistent basis?
 A: Learn to hit up on their driver this will give them more distance, shorter clubs into the green and improve their percentages.
Q: What's the greatest thing about doing what you do?
 A: I get to meet many nice people from all over the world. I have made many friends from Bangladesh.
Q: What is your favorite golf instruction book?
 A: My doctorate is in the Golfing Machine by Homer Kelley. Based on geometry and physics, all my teaching is based on this book because it's based on facts not someone's ideas. Precision in, precision out, garbage in, garbage out.
Q: What has been your approach to clubfitting, especially with less experienced golfers?
 A: Clubfitting is essential at all levels, especially beginners. Teaching the correct way is next to impossible if the clubs don't fit because you don't know if it's the club or the student causing the mistakes.