Zamal Hossain Mollah won the 6th Paragon Professional Golf Tournament, which was held at the Army Golf Club in Dhaka recently.
Zamal, trailing by two shots against Badal Hossain heading into the final round, charged ahead with five birdies to claim his victory with an aggregate score of eight-under-par. Badal had to settle for second position after an even-par final round for an aggregate of six-under-par.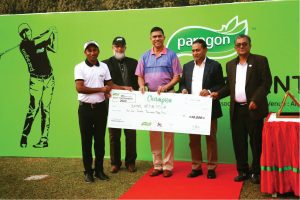 Siddikur Rahman had a good start in the final round with three early birdies but came short in the closing holes and finished third in the tournament with four-under-par.
Mohammad Sumon emerged champion in amateur group.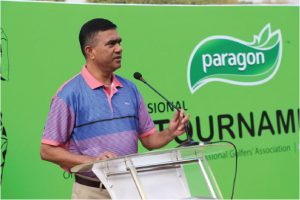 A total of 84 professional and 15 amateur golfers took part in the event, sponsored for the sixth time by Paragon Group.
Major General Sheikh Pasha Habibuddin, sgp,bams,afwc,psc, SDS, Army-1, National Defence College handed over trophies and cheque to the winners as the chief guest at the prize giving ceremony. Mr. Moshiur Rahman, Managing Director of Paragon Group was present as the special guest of the ceremony.

Lt Col Khandaker Abdul Wahed (retd), President, Bangladesh Professional Golfers Association thanked the sponsors of the event. Brig Gen Ahsanul Huq Miah (retd), Secretary General, BPGA along with Maj Md Mahmudur Rahman Chowdhury (retd), Joint Secretary, BPGA were present at the event.