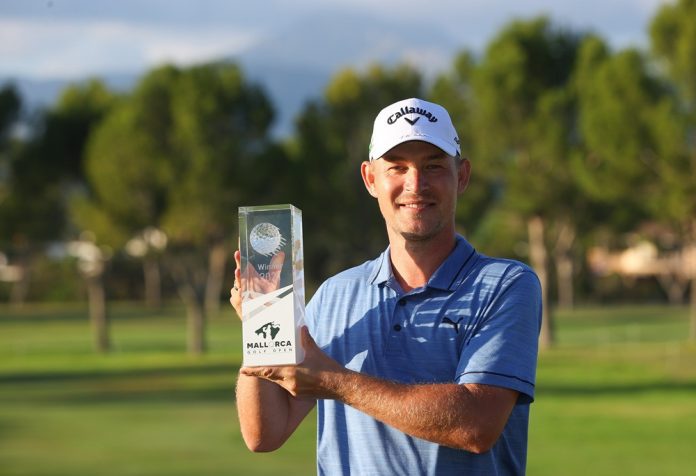 The 33-year-old recorded a closing 70 to stay at 15 under and win by one shot from home favourites Pep Angles and Jorge Campillo and Swede Sebastian Soderberg – who finished second for the second week in a row.
Winther had his family with him in the Balearic Islands, and six year old daughter Nora hand a hand in the victory – coming to the rescue when he got locked in the bathroom for almost an hour on Sunday morning.
A 2015 European Challenge Tour graduate who came through the Qualifying School in 2016, 2017 and 2018, he has been inside the top 100 on the Race to Dubai Rankings in Partnership with Rolex the past two seasons and will now rise to 37th, as well as into the top 200 on the Official World Golf Ranking for the first time.
Player Quotes
Jeff Winther
It's unbelievable, it's not sinking in. I couldn't have a better week. I'm overwhelmed. I'm very pleased to see both my kids here and my friends, it's fantastic. We've got a flight home tomorrow at ten but tonight is going to be great I think.
I think Stretch (caddie Ian Moore) was actually doing a great job making me think of all other stuff than golf so many thanks to Stretch.
After breakfast I went to have a shower and my wife came in to use the bathroom as well. The door closed, and there's no lock, but we locked ourselves in. There's no lock on the door, but the handle didn't work. Our little girl Nora, six years old, had to go and find guys at reception to break down the door.
We were in there for 45 minutes I think. I thought, jeez not today, not Sunday, you're leading the freaking event. Might not get there for your tee time. What a morning.
I saw that Seb's putt on the 18th broke a lot but I didn't think it was that much. Basically stared the putt and it missed left. I knew I had two to make it, so I wasn't nervous, not about making three at least.
Fantastic, that sounds pretty awesome (playing in the DP World Tour Championship, Dubai. I'm looking forward to that.
Round Four Scores
265 J WINTHER (DEN) 62 71 62 70,
266 P ANGLES (ESP) 65 70 64 67, S SODERBERG (SWE) 66 68 64 68, J CAMPILLO (ESP) 64 69 64 69,
268 L CANTER (ENG) 68 66 70 64, S GARCIA RODRIGUEZ (ESP) 66 67 67 68,
270 A JOHNSTON (ENG) 66 71 67 66, N LEMKE (SWE) 63 71 69 67, J SENIOR (ENG) 68 67 66 69, B EASTON (RSA) 63 67 70 70,
271 O WILSON (ENG) 68 71 65 67, J HANSEN (DEN) 67 72 65 67, R PARATORE (ITA) 68 71 64 68, M SCHMID (GER) 64 70 66 71, A QUIROS (ESP) 64 69 65 73,
273 J KRUYSWIJK (RSA) 67 71 69 66, A WU (CHN) 66 69 70 68, T PIETERS (BEL) 68 68 69 68, A CA?IZARES (ESP) 67 71 66 69,
274 S HEND (AUS) 71 68 66 69, N BERTASIO (ITA) 65 73 67 69, J CATLIN (USA) 67 73 69 65, M PAVON (FRA) 66 71 67 70, V DUBUISSON (FRA) 67 70 67 70, J JANEWATTANANOND (THA) 65 70 68 71,
275 A OTAEGUI (ESP) 67 68 71 69, L DE JAGER (RSA) 69 71 68 67, C SYME (SCO) 66 73 70 66, J GONNET (FRA) 67 67 70 71, R ROUSSEL (FRA) 68 67 69 71, Z LOMBARD (RSA) 65 72 67 71, P FIGUEIREDO (POR) 71 70 68 66, A COCKERILL (CAN) 66 68 68 73,
276 J LUITEN (NED) 70 70 68 68, M KAYMER (GER) 68 68 69 71, R LANGASQUE (FRA) 67 70 72 67, G PORTEOUS (ENG) 69 71 69 67, O FARR (WAL) 68 73 68 67, Z BAI (CHN) 66 75 69 66,
277 D PERRIER (FRA) 70 68 69 70, R MANSELL (ENG) 70 64 71 72, E PEPPERELL (ENG) 66 73 70 68, J GEARY (NZL) 67 71 71 68, R KARLBERG (SWE) 67 73 70 67,
278 L BJERREGAARD (DEN) 67 73 67 71, S CROCKER (USA) 67 72 69 70, C SORDET (FRA) 73 66 67 72, O LIESER (CZE) 70 71 69 68,
279 J WRISDALE (ENG) 68 73 66 72, N ELVIRA (ESP) 67 70 72 70, J PASTOR (ESP) 66 71 72 70, D WHITNELL (ENG) 68 73 68 70, S KJELDSEN (DEN) 69 71 70 69,
280 G GREEN (MAS) 68 69 70 73, N VON DELLINGSHAUSEN (GER) 71 70 66 73, A SADDIER (FRA) 66 71 69 74, A ARNAUS (ESP) 71 70 68 71, L VAN MEIJEL (NED) 68 70 72 70, J STALTER (FRA) 70 71 69 70, D HOWELL (ENG) 71 70 70 69,
281 R ENOCH (WAL) 66 73 69 73, C PIGEM (ESP) 67 73 68 73, R MCGOWAN (ENG) 70 71 69 71, C SHARVIN (NIR) 71 70 72 68,
282 S KIM (USA) 70 70 71 71, G FDEZ-CASTA?O (ESP) 65 74 73 70, M SOUTHGATE (ENG) 70 71 72 69,
283 M JORDAN (ENG) 69 70 71 73, G BHULLAR (IND) 72 69 70 72, J SJ?HOLM (SWE) 65 73 74 71,
285 T AIKEN (RSA) 67 72 73 73,
286 J CALDWELL (NIR) 66 71 69 80,