The sights and colors of the Masters are what make the premier golf tournament so distinctive.
The pink of the azaleas, the yellow of the delicate jasmine and the green of the jacket worn by the winners.
Another color that peppers the course over the four days are the white of the jumpsuits sported by caddies during the famous major.
But why do those employed to carry the clubs of the world's best golfers wear those baggy white jumpsuits — adorned with Masters logo — around Augusta National?
Well, they haven't always been a thing.
After the tournament was established in 1934, caddies in the 1930s wore similar clothing to the patrons who lined the holes.
According to the Masters' website, the idea for a uniformed caddie first emerged in a letter sent in 1940 by the major's co-Founder Cliff Roberts.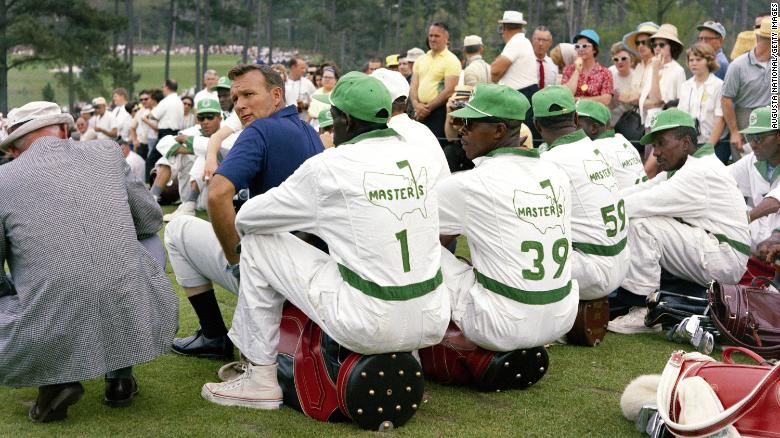 And it still wasn't until the late 1940s that the white jumpsuits began to appear, but they differed greatly from the ones worn now.
While current caddies wear jumpsuits made from a lightweight polyester and cotton blend, back in the day, they were made from a heavy overall material, similar to those worn by painters.
Despite the change in materials, Englishman Billy Foster, a former caddie for former world No. 1 Lee Westwood, admitted it's not the most pleasant of things to wear.
"It can be pretty uncomfortable and pretty hot," Foster told CNN in 2016. "It's thicker than they look on TV, like a painter and decorator's suit. I'd rather wear my own shorts, but it makes Augusta what it is, I suppose."
Each jumpsuit has a Velcro spot to attach the names and numbers of their player.
A caddie looks over his yardage book before the start of the first practice ahead of the 2006 Masters.
Paired with the dark green hats, the caddies cut distinctive figures on the Augusta golf course.
Even during the par-three contest on Wednesday, the family of the player — whether that be wives, girlfriends, brothers, sisters or children — can get their own personalized jumpsuits as they make their way around.
And while a winning player gets the green jacket for a prize, winning caddies can request their jumpsuits be sent to them as a memento of the triumphant effort.