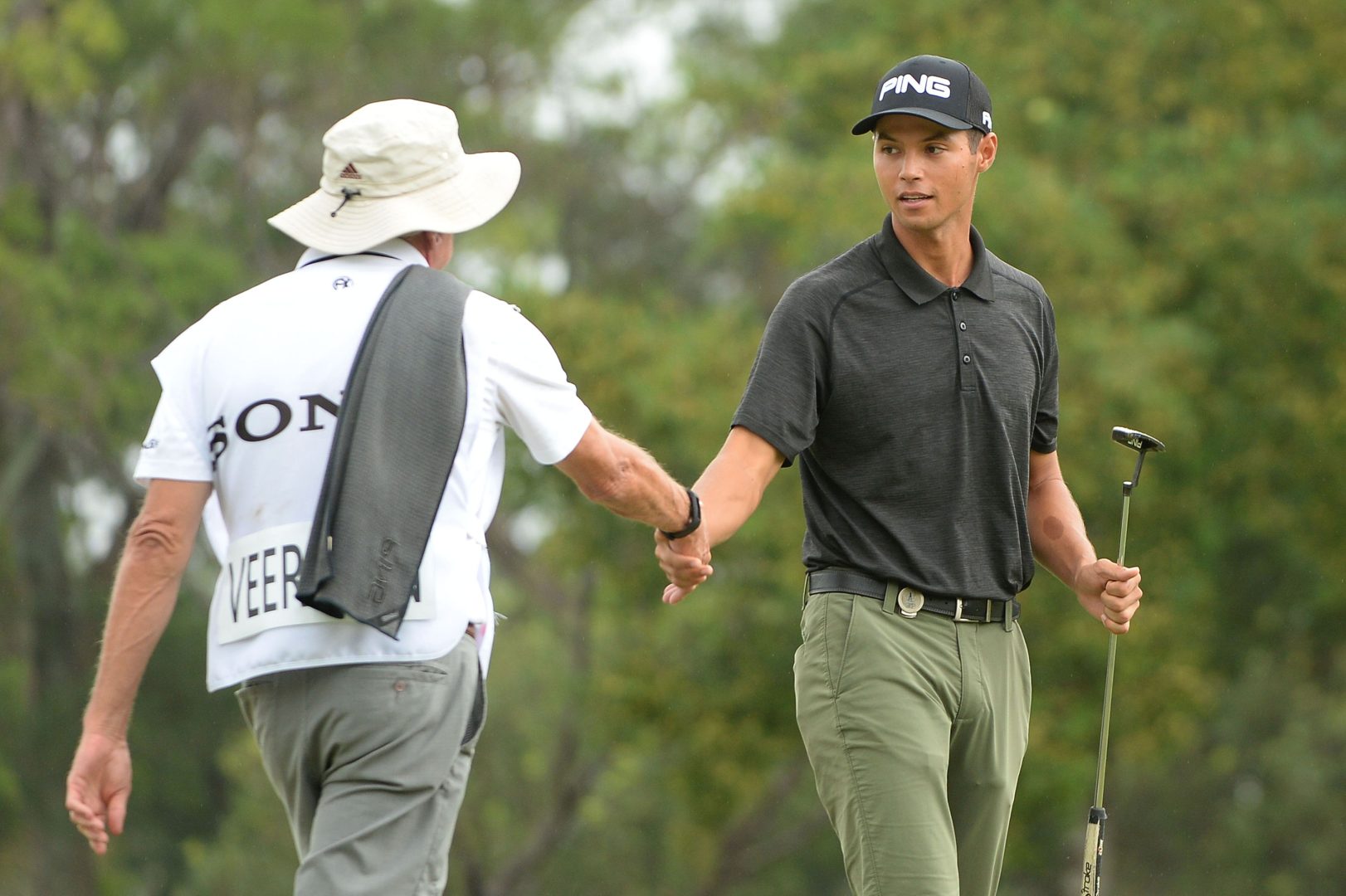 Taipei, October 6: Johannes Veerman stayed in contention for a first Asian Tour win despite dropping late bogeys in the second round of the Yeangder Tournament Players Championship (TPC) on Friday.
The 25-year-old American enjoyed a strong start before dropping three bogeys in his closing four holes to settle for a three-under-par 69 at the US$500,000 Asian Tour event.
Veerman's total of eight-under-par 136 gave him a one-stroke advantage over Lu Wei-chih (68), the 2011 Yeangder TPC champion, Jazz Janewattananond (67) of Thailand, Dodge Kemmer (69) of the United States and Sung Mao-chang (67).
Sattaya Supupramai of Thailand and Ajeetesh Sandhu of India carded a 68 and 69 respectively to trail the leader by two shots at the Linkou International Golf and Country Club.
The co-overnight leader Veerman took advantage of the relatively calm morning conditions and moved to -11 through 14 holes before slipping back with costly bogeys on six, seven and nine.
Lu stayed within striking distance of the leader after trading seven birdies against three bogeys. He is aiming for his fourth Asian Tour title and second victory since recovering from a brain surgery in mid-2012 to remove a non-malignant tumour.
The 22-year-old Jazz bounced back brilliantly from missing the cut last week to stay in the hunt for a second Asian Tour title. He won in Bangladesh in February and has two other runner-up finishes so far this year.
Did you know?
Veerman was the only player to reach double digits before he bogeyed holes six, seven and nine. After 36 holes, he has accumulated 12 birdies against four bogeys.
This is the first time Veerman has a solo lead on the Asian Tour. Last year he was in a five-way tie in the opening round of the Resorts World Manila Masters. He was also the co-leader after the halfway stage of the Indonesia Open.
Veerman won his first Asian Development Tour (ADT) title in Chinese Taipei last year. The victory helped him lift the ADT Order of Merit.
Veerman's father, Johan, is on his bag this week. He said he feels comfortable with his father as his caddy as he doesn't talk much on the course.
He has some Asian heritage as his mother is from Indonesia.
Jazz is currently ranked eighth on the Asian Tour Order of Merit. He missed the cut last week which was a blessing in disguise as he took a much needed break. This is fifth week in a row.
He won his first Asian Tour title in Bangladesh earlier this year. The win turned his career around as he lost his Asian Tour card after a poor season in 2016.
Lu and Sung are the highest ranked local players in the field. Lu won the Yeangder TPC in 2011 while Sung is still searching for a first Asian Tour win.
Kemmer hit his tee shot out-of-bounds on the challenging 16th hole. He bogeyed that hole but said it felt like a birdie.
After 36 holes, Kemmer has made 14 birdies, seven in each round, against seven bogeys.
Player Interviews:
 Johannes Veerman (USA) – Second Round 69 (-3), Total 136 (-8)
I started off well when I hit a good drive on 10 and made birdie. I got off to another nice start which is good. The wind picked up a little bit more but I was still playing good golf. I dropped a couple of shots later but it was still a good result.
I missed a couple of short putts here and there but everyone's going to miss putts on these tricky greens. I had a bad finish but on a positive note, I'm still in it for the win. I'm in good position for my first Asian Tour victory.
 The conditions yesterday afternoon was really windy but today it was nice and calm. On the 18th hole I missed a short putt and missed three other putts from the same length.
It helps a lot to have my father on my bag. He's always there to keep me comfortable. Sometimes when I have local caddy, they tend to talk a lot. I don't like to talk a lot during my round so it helps that he's an introvert.
Golf is a game where you have good and bad holes, you just got to know that the next hole might be one of the best holes of your life and you have to put one foot ahead of the other.
I feel good to be right in front but it iss only half way, it's a long way to Sunday evening, and yeah it's hard not to feel that way when you are in this position going into the weekend.
Jazz Janewattananond (Tha) – Second Round 67 (-5), Total 138 (-7)
 I started the round shaky because the wind changed direction. I played similar to yesterday's round but I had a bad finish.
Take the wind out, it is already a tough course but with the wind in play, this is a very tough course. I didn't play that great last week so my two-day performance will be a confidence booster.
I've been playing so many weeks and the best thing that could happen to me is to miss the cut last week and have a good rest.  My mind is a lot clearer and I feel fresh. I felt really tired last week.
I practiced for a bit but I think I slept for about 20 hours on Sunday. That's when I noticed how tired I was.
Lu Wei-Chih (Tpe) – Second Round 70 (-4), Total 134 (-7)
I've been struggling with my putting so this week I'm using a new putter which is working for me.
My first nine was very good and I made some birdies. On the back, I got tired and my body was not steady so my tempo was a little off.
My best hole was the 14th hole where I hit my second shot short of the green and chipped it to about five yards past the pin. I had trouble reading the line on that putt but I still managed to make the putt and save par which I am very happy about.
My worst hole is the 17th where I three putted from eight feet. All in all, I still played two good rounds and being tied for second in this tournament is a pleasant surprise.
Dodge Kemmer (Usa) – Second Round 69 (-3), Total 138 (-7)
 I was happy with all the birdies I made, seven again. It is tough to make birdies because it is tough out here. I need to hit more fairways and greens and eliminate those bogeys. I had a great save after hitting it out of bounds. I hit a bad tee shot but hit a good second shot to 10 feet and holed it. It felt like a birdie.
If I can keep making birdies and eliminate the bogeys, I will be okay. I feel good on the greens. I have the speed down really well and making good guesses on the greens.
 Sattaya Supupramai (Tha) – Second Round 68 (-4), Total 138 (-6)
 I feel good because before this week, I wasn't able to play in the tournament but I go in last minute. I have no pressure. I just came to relax with my friends. I played here many times but it is a little bit different this week because it is so windy.
Every day is different so tomorrow I will adjust my game accordingly and stay relaxed. I will treat it like a new day. Everyone wants to win on the Asian Tour including me. I will try not to think about it too much and play my own game.
Scores after round 2 of the Yeangder TPC being played at the par 72, 7108 Yards Linkou GcC course (am – denotes amateur):
 136 – Johannes VEERMAN (USA) 67-69.
137 – Dodge KEMMER (USA) 68-69, LU Wei-chih (TPE) 69-68, Jazz JANEWATTANANOND (THA) 70-67, SUNG Mao-chang (TPE) 70-67.
138 – Sattaya SUPUPRAMAI (THA) 70-68, Ajeetesh SANDHU (IND) 69-69.
139 – Danny CHIA (MAS) 68-71, Prom MEESAWAT (THA) 71-68, Antonio LASCUNA (PHI) 69-70.
140 – Jason NORRIS (AUS) 70-70.
141 – Shubhankar SHARMA (IND) 72-69, Micah Lauren SHIN (USA) 72-69, WANG Tsung-chieh (TPE) 72-69, Chikkarangappa S. (IND) 74-67, LIU Yan-wei (CHN) 71-70, KU Po-yun (TPE) 70-71, Suradit YONGCHAROENCHAI (THA) 71-70, Anthony KANG (USA) 72-69, KAO Shang-hung (TPE) 70-71.
142 – Arnond VONGVANIJ (THA) 72-70, LIN Wen-ko (TPE) 71-71, Nicholas FUNG (MAS) 75-67, HSIEH Tung-hung (TPE) 71-71, Thaworn WIRATCHANT (THA) 72-70, Peradol PANYATHANASEDH (THA) 67-75.