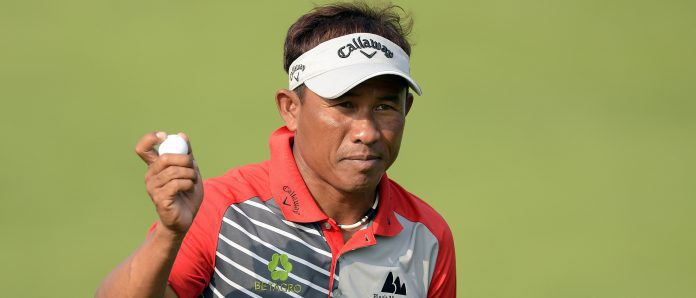 The 47-year-old has teamed up with Pompetch Saraphuthi, who is the former coach of Kiradech Aphibarnrat, and he believes the new partnership will give him an extra edge at the Royal Birkdale Golf Club.
"I've been struggling with my putting since last year so now the main priority is to improve on my short game. If you putt well, you won't feel scared of doing badly," said Thongchai, the only player to win three Order of Merit crowns.
"He (Pompetch) is the best to look at my putting. Hopefully in the future it will be better. I started working with him two months ago. Previously it wasn't full time but now we are working together full time. I've got a good relationship with him so I've seen some improvement in my game," he added.
With narrow fairways and deep bunkers guarding the greens, Thongchai, a 13-time Asian Tour winner, said hitting accurate tee shots will be the key to a good score.
 "The golf course is very interesting and it will be very important to keep the ball in play because the fairways are very narrow. If you hit a bad drive, you will get into trouble if your ball lands in the big bunkers," said Thongchai.
He is feeling good vibes ahead of the year's third Major tournament and is determined to better his best result at The Open in 2009 where he finished in a share of 13th place.  After playing in 10 previous editions, Thongchai is also familiar with the unpredictable weather.
"I've played in many tournaments in Europe so I'm quite used to the weather and this is my 11th time playing at The Open so I know what to expect. I really enjoy playing in a Major so I'm just glad to be here.
"My best memory is obviously in 2009 so hopefully I can rediscover my game again and enjoy another good result this week. You can't expect to play well when you putt badly but I'm feeling good this week so I'll try to get my confidence back," said Thongchai.
He will play in the opening two rounds alongside Paul Broadhurst of England and Roberto Castro of the United States.