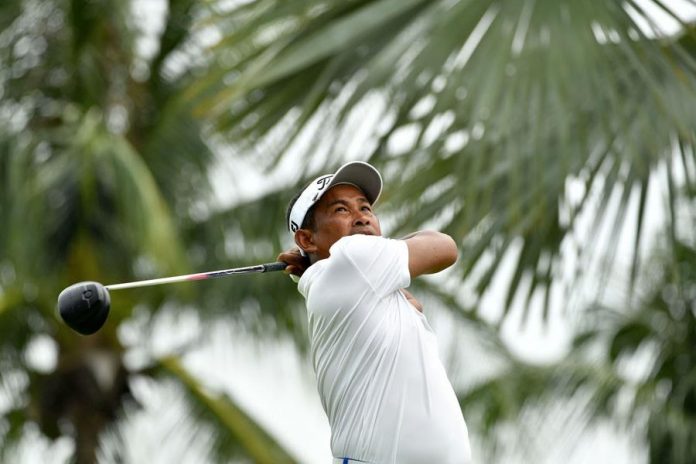 Thaworn Wiratchant of Thailand
*The image must be credited to the Asian Tour and used in conjunction with this release only.
Click on the image to download the hi-res version.
Tamsui, Chinese Taipei, October 2: Thailand's Thaworn Wiratchant returns for his first event on the Asian Tour this season, ever ready to show he can still rule the fairways when the Mercuries Taiwan Masters begins on Thursday.
At 52, the Thai veteran holds the distinction of having the most number of Asian Tour victories with a total of 18 wins.
While he plays predominately on the Senior Tour in Japan and Europe nowadays, Thaworn knows he can still give his younger rivals a run for their money especially with his vast experience and mental toughness.
Chinese Taipei's Lu Wei-chih, who has won the Mercuries Taiwan Masters three times in 2015, 2011 and 2016, is confident of emerging victorious again at the Taiwan Golf and Country Club.
Lu showed glimpses of his best form when he finished tied-eighth in Japan earlier this year and is pleased to have his career back on track again after undergoing a brain surgery in 2012.
American Berry Henson is also back and hoping to make up for the disappointment of last year when he finished just one shot back of eventual champion Adilson Da Silva of Brazil.
Did you know?
Thaworn came close to winning the Mercuries Taiwan Masters twice in 2008 and 2011 when he finished second on both occasions.
The 52-year-old holds the record for the most number of Asian Tour victories with a 18 total wins.
Thaworn is a two-time winner on the Japan Senior Tour with his latest victory coming in September at the Komatsu Open.
Thaworn's last win on the Asian Tour came in 2014 when he won the King's Cup on home soil.
In 2012, Lu underwent brain surgery to remove a non-malignant tumour which put him out of action for close to a year.
All of Lu's four victories on the Asian Tour have come from home soil in Chinese Taipei.
Lu won the Mercuries Taiwan Masters in 2004, 2011 and 2016. Lu Wen-teh is the only player to win the event on four occasions in 1994, 1996, 2007 and 2008.
Berry Henson is a one-time winner on both the Asian Tour and the Asian Development Tour (ADT) in 2011.
The American has notched two top-10s in Bangladesh and Korea this year.
He finished tied-second together with Chinese Taipei's Lin Wen-tang, one shot back of Adilson Da Silva at last year's Mercuries Taiwan Masters.
Players' Quotes 
Thaworn Wiratchant (Tha)
My good friend Lu Wen-teh was asking me to come back here and play. And I thought to myself, why not? It has been some time since I last played an Asian Tour event and it'll be nice to come back and show all my friends, both young and old that I still got the game to compete and even win! Never write off an old man. I enjoy playing on this golf course and I feel it suits my playing style as it's also not that long, which obviously gives me a chance. I've been away playing mostly on the Senior Tour in Japan and Europe. Golf is my life and it's something which I enjoy. I'll not give it up for anything else.
Lu Wei-chih (Tpe)
I'm really looking forward to play at home this week. This is a course which I've won before and I know I can do well if I play true to form. I'm comfortable here and have lots of support. My fitness has improved over the years and so has my mental strength. I just need to work on my putting which has not been very good lately. But having said that, I will take it as just another tournament for me. No targets, no expectations. I am taking one week and one tournament at a time right now and not thinking too far ahead.
Berry Henson (Usa)
This is the sort of week where you expect yourself to play well. It's a fun venue and the layouts are actually quite good. You just have to play a different style of golf here to compete and
last year, I figured it out and hopefully this year, I can continue that. I think I've probably over traveled a little bit and I've got a little tired. I've a bit of a cold now. I feel like I've managed my year pretty well until the last month and a half where I was going back and forth to Europe a couple times. So, the travel was taking a bit of toll on me. But I've played in some good tournaments and I had a nice summer break at home. I'll have another nice break after this week to finish off the year and I feel like I'm close to winning. It's just making sure I'm 100% physically ready to go every week and that has been a little bit difficult for me