Rattanon Wannasrichan (Tha) – Final round 67 (-4), Total 263 (-21)
I am very happy to win my first Asian Tour title at my own National Open! I played solid again today and just focused shot by shot. Nothing different from the last three rounds. I waited five years (since turning professional in 2012) for this win. I am really proud of myself. I finally proved that I can do it.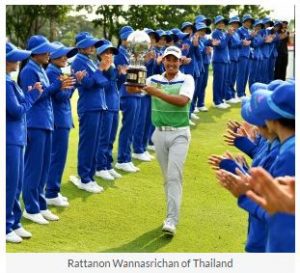 I was just trying to hit as many fairways as I can. I managed to keep my composure out there and not let any pressure get to me. I had a perfect game today. I putted really good as well. I just want to concentrate on my game and have fun out there. I told my caddy, Ken, the same too. We were just trying to enjoy ourselves out there.
My target was to get to 22-under-par total as I think that would be safe to secure the win. I unfortunately bogeyed the last to settle for 21-under-par but thankfully I still manage to win. I saw the leaderboard on the 15th hole and I knew Shiv (Kapur) was making a charge. I told myself I have to par the remaining holes and not make any mistakes.
I managed to birdie the 17 and that gave me some relief heading into the last. This win gives me a lot of confidence in my game now and I will try to get as many wins as I can in the future. I can't wait to celebrate with my friends and family tonight! My parents are here today and they walked with me on course.
I think putting was the key to my victory this week. I really putted very well. I just keep smiling out there. I felt very happy. I guess that helped lightened my mood and I was able to avoid thinking about the pressure of winning.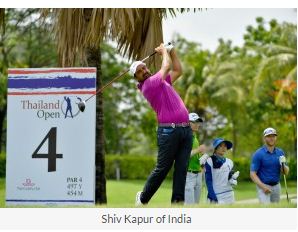 Shiv Kapur (Ind) – Final round 63 (-8), Total 265 (-19)
It was disappointing to miss the birdie to get to 20-under but I am not complaining with a closing 63. I played a great round of golf. If you told me I would shoot a 63 at the start of the day, I would have taken it.
The putter wasn't working too well for me on the first three days but it got hot today. I made a lot of putts except for the last hole but it's golf. I made a lot of putts coming in especially so I can't complain. Hats off to Rattanon for being a better player this week!
I drove the ball well in the first three rounds to put myself in a good position into the final round. My putter was what pushed me to a tied-second place finish today. I made a few long putts as well.
I was actually telling my caddy coming down the 18th fairway that I birdied the 18th hole with a similar pin position when I won my first Asian Tour title here in 2005. We were hoping to make an even better shot this time but unfortunately I wasn't able to make the putt. It was still some good memories out there.
You can't be winning every week so if I am able to put myself in contention every week, I will be very happy. The turning point for me was on the birdie on 14. I dropped a shot earlier on 13 and thought I needed to gain back in the last few holes. I managed to make four in a row from 14 which was great. I went from being in tied-ninth to threatening for the lead!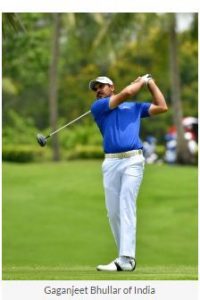 Gaganjeet Bhullar (Ind) – Final round 67 (-4), Total 265 (-19)
It was a great finish with two consecutive birdies to grab a share of second place. I played so well and I thought at the end of the day, I will either win or finish inside top-five. I am very happy with the way I played. It's been very special.
I hit the ball well and it was a great week all over. I had two chip-ins today, including one from 35 yards on the last. It was a great moment. The other chip-in was on the par-three third. I missed the green on the right and chipped it in from the fringe. It was a difficult chip. I gained a lot of momentum from there. Short game was the key for me throughout the week.
Scott Hend (Aus) – Final round 64 (-7), Total 269 (-15)
I played really good. I missed a lot of really short putts but still shot seven-under. It's a lot of confidence for me as I prepare for the BMW PGA Championship in Wentworth next week. Hopefully I can continue to play well in the next few weeks in Europe.
It was really hot out there. It's probably the hardest conditions that I have played in a while. I was absolutely exhausted. I had a great birdie on my last hole ninth. I hit the driver to the middle of the fairways and made a good putt. That got me into top-10 and I am happy to finish the round with a birdie.
I rushed here to play as soon as the tournament was confirmed. It's nice to sneak into the top-10 this week. It's nice to get some world ranking points and hopefully try to break into top-50 in the world.
It's always great to be playing here in Thailand. The more tournaments we have here, the more it will benefit the local professionals. I enjoy playing here than the other hottest conditions that I have played in other parts of the world.