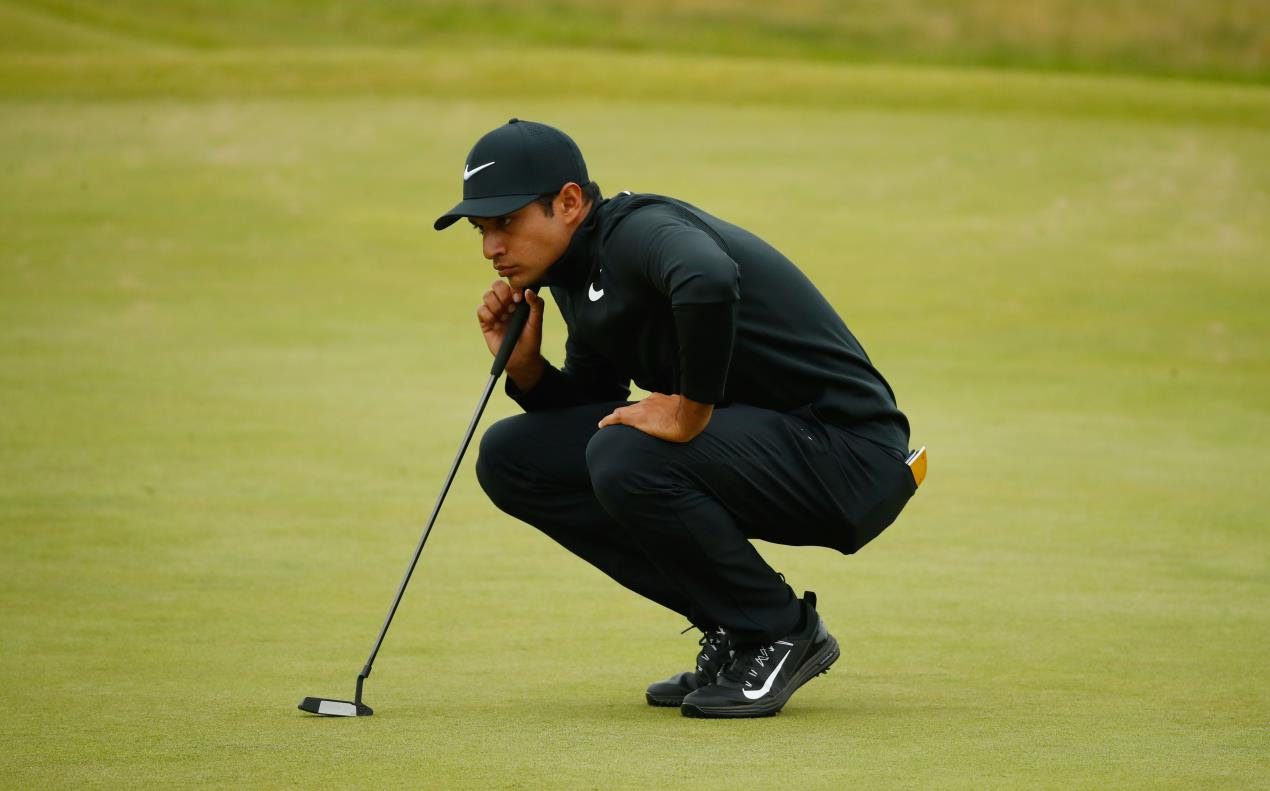 A birdie blitz on the back nine saw Julian Suri join Richard McEvoy at the top of the leaderboard as the first round of the Porsche European Open reached its conclusion.
Afternoon starter Suri, who is currently second in the Road to Oman Rankings on the Challenge Tour, took advantage of all four of the par fives on the back nine at Green Eagle Golf Courses as he fired five birdies in his last eight holes to get to six under par and grab a share of the lead in Hamburg.
McEvoy, who recently won the SSE Scottish Hydro Challenge hosted by Macdonald Hotels & Resorts at the beginning of the month, had held the outright lead for most of the day after posting a flawless 66 on Thursday morning.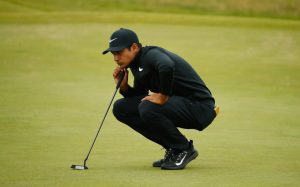 Defending champion Alexander Levy, Charl Schwartzel, Stuart Manley and Chris Paisley sit in a tie for third on five under with opening rounds of 67. Levy, who currently sits in 19th position in the Race to Dubai Rankings presented by Rolex, fired five birdies in the final six holes of his first round to get to five under, while afternoon starter Paisley mixed seven birdies with two bogeys in his first round.
Former Major winner Schwartzel signed for an impressive scorecard with an eagle on the 15th, four birdies and a single bogey to sit just one stroke behind leaders, with Manley finishing the day with five birdies and no bogeys in his 67.
Meanwhile, World Number 26 Patrick Reed sits a further shot back at four under par in the chasing pack.
Player Quotes 
Julian Suri
"I guess it was near perfect on the scorecard, but definitely left a couple out there on the front nine. The back nine I managed to pick a couple up, especially with the par fives coming that, because that kind of suits my game hitting it the way I do.
"I feel like the longer holes play into my hands as I hit it fairly long and drive it pretty good. I had plenty of looks all day and it just worked out my way on the last couple. I feel like I can score well on any hole out here, so I just have to hit the shots.
"So far it's been a culmination of all the work I put in while I was home. This is my 11th event in 12 weeks, so it's been a lot of golf and I feel I've been learning from each week and each round to build going forward."
Richard McEvoy
"At the start of the week it's not really my style of golf course to be honest. It's wet out there and I'm not the longest of hitters, I'm quite average on tour, but I did everything kind of right today. When I got myself in trouble I got out of it well and I took advantage of the holes where I was hitting wedges in, so a very pleasing start.
"They have put a few of the tees forward so they are playing a little bit different today and it has dried out overnight quite a lot, but the par fives are all three shot holes for me, even the last which is one of the shorter par fives, so I just need to keep my wedge game sharp and when I do get my opportunities try and make some birdies.
"This week could be my last week depending on what happens here and I may concentrate the rest of the year on the Challenge Tour. It's kind of a do I or don't I kind of week really, so if I have a great week here then things might change but at the moment I'm going to concentrate on the Challenge Tour for the rest of the year being in such a strong position."
Alexander Levy
"It was a really nice day for me, I play some good golf and I'm really pleased with what I did. I didn't play the course the first three days, I didn't know how you need to play this golf course and it was not easy golf course, it was really tough. You need to keep the ball on the fairway and after that you can go to the flag."
Charl Schwartzel
"On 18 I hit a fantastic shot and then finishing off today on nine, hit the flag again with two fairway woods and that doesn't happen very often but you know I played well this morning. I felt like early this morning was a bit difficult, and when we made the turn the sun came out, and balls starting going a little further, which you do need, on this golf course. It's a monster.
"I was saying earlier that sometimes you can get in a three ball that everyone is really struggling and no one gets going, but if you keep seeing birdies from guys, you feel like they are out there and it frees you up so you know that if you hit some good shots you are going to make them. But it's not often you get out there and shoot 14 under together on a course like this."
Round One Scores
66 J Suri (USA) , R McEvoy (Eng) ,
67 A Levy (Fra) , C Paisley (Eng) , S Manley (Wal) , C Schwartzel (RSA) ,
68 K Aphibarnrat (Tha) , J Fahrbring (Swe) , P Reed (USA) , A Chesters (Eng) , S Gallacher (Sco) , C Lee (Sco) , J Lima (Por) , E De La Riva (Esp) , L Canter (Eng) ,
69 T Olesen (Den) , C Koepka (USA) , B Hebert (Fra) , M Kieffer (Ger) , T Lewis (Eng) , S Tiley (Eng) , F Aguilar (Chi) , G Bourdy (Fra) , P Saksansin (Tha) , M Siem (Ger) , R Jacquelin (Fra) , J Donaldson (Wal) , L Slattery (Eng) , P Hanson (Swe) , N Elvira (Esp) , R Karlberg (Swe) , S Crocker (am) (USA) ,
70 B Dredge (Wal) , P Widegren (Swe) , R Ramsay (Sco) , H Arkenau (Ger) , C Hanson (Eng) , R Rock (Eng) , R Sterne (RSA) , S Rahman (Ban) , S Gros (Fra) , T Fisher Jnr (RSA) , R McCarthy (Aus) , M Wallace (Eng) , M Carlsson (Swe) , Z Lombard (RSA) , J Smith (Eng) , P McBride (am) (Irl) , W Zalatoris (am) (USA) ,
71 T Chuayprakong (Tha) , W Ashun (Chn) , P Maddy (Eng) , S Henry (Sco) , J Edfors (Swe) , T Detry (Bel) , A Björk (Swe) , L Cianchetti (Ita) , O Fisher (Eng) , S Dyson (Eng) , A Hall (Aus) , P Khongwatmai (Tha) , P Angles (Esp) , D Papadatos (Aus) , A Otaegui (Esp) , M Kramer (Ger) , J Dantorp (Swe) , M Nixon (Eng) , M Manassero (Ita) , J Ahlers (RSA) , S Khan (Eng) , D Boonma (Tha) , J Kruger (RSA) ,
72 M Foster (Eng) , J Luiten (Ned) , A Connelly (Can) , R Kakko (Fin) , S Heisele (Ger) , L Yan-Wei (Chn) , K Broberg (Swe) , M Warren (Sco) , A Halvorsen (Nor) , G Stal (Fra) , J Morrison (Eng) , F Fritsch (Ger) , P Meesawat (Tha) , M Jonzon (Swe) , S Webster (Eng) , J Parry (Eng) , S Walker (Eng) , N Bertasio (Ita) , P Peterson (USA) , N Fasth (Swe) , J Walker (USA) , M Ilonen (Fin) , D Fox (Aus) , J Hicks (USA) ,
73 D Brooks (Eng) , B Staben (Ger) , R Gouveia (Por) , J Walters (RSA) , M Armitage (Eng) , T Pilkadaris (Aus) , R Gonzalez (Arg) , H Otto (RSA) , J Campillo (Esp) , R Finch (Eng) , L Jensen (Den) , G King (Eng) ,
74 R Echenique (Arg) , J Stalter (Fra) , M Orrin (Eng) , O Bekker (RSA) , R Wattel (Fra) , R Langasque (Fra) , T Bjørn (Den) , D Lipsky (USA) , E Pepperell (Eng) , A Knappe (Ger) , B Etchart (Esp) , P Dedek (Cze) , J Winther (Den) , P Dunne (Irl) ,
75 C Selfridge (Nri) , G Storm (Eng) , C Shih-Chang (Tpe) , B Evans (Eng) , B Ritthammer (Ger) , J Rutherford (Eng) ,
76 K Horne (RSA) , A Karlsson (Swe) , S Soderberg (Swe) , N Johansson (Swe) , G Havret (Fra) , C Pigem (Esp) , N Kimsey (Eng) , P Perez (USA) , R Johnson (Swe) , S Jamieson (Sco) , J Quesne (Fra) ,
77 D Perrier (Fra) , L Bjerregaard (Den) , D Howell (Eng) , B Matthews (USA) , J Roos (RSA) , N Holman (Aus) , A Maestroni (Ita) , A Da Silva (Bra) , N Adank (Ger) ,
78 P Tangkamolprasert (Tha) , D Stewart (Sco) , R Green (Aus) ,
79 M Hoey (Nir) , P Swangarunporn (Tha) ,
80 Z Scotland (Eng) ,
84 A Quiros (Esp) ,
** A Wall (Eng) ,