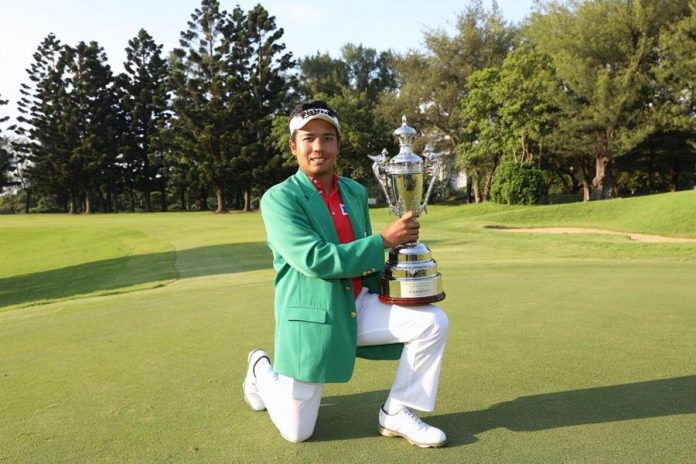 Suradit Yongcharoenchai of Thailand
 Thailand's Suradit Yongcharoenchai pocketed his career's biggest prize cheque and win when he held on for a one-shot victory after his closest rivals failed to mount a challenge at the Mercuries Taiwan Masters on Sunday. 
Suradit, who started his final round at the Taiwan Golf and Country Club one shot back of overnight leaders, Ajeetesh Sandhu of India and Philippines' Miguel Tabuena, closed with a two-under-par 70 to clinch his breakthrough on the Asian Tour where he made his debut as a 17-year-old in 2015.
Suradit started well with a birdie on his third hole but gave two shots back with a double-bogey six on the next hole. The Thai was quick to make amends when he charged to the turn with three birdies in his next four holes.
But after making another birdie on 13, he dropped a shot on 14 before making four straight pars to sign off with a four-day total of 10-under-par 278.
The Thai was left to wait for close to 30 minutes where he watched the final group in action from the sidelines.
While Sandhu signed off with a birdie, a costly double-bogey on 16 effectively ruined his chances of clinching his second Asian Tour title.
Tabuena had the best chance to force a play-off with Suradit on 18 but his approach landed in the bunker from where he could not get his ball onto the green, resulting in a bogey, which also confirmed Suradit's entry into the winner's circle for the first time.
Ends.
Did you know?
Suradit Yongcharoenchai turned professional at the young age of 17.
Before his breakthrough this week, Suradit's career-best finishes on the Asian Tour came at the Indonesian Masters and TAKE Solution Masters in 2016 and 2018 respectively where he finished tied-second on both occasions.
The Thai enjoyed his best-ever Asian Tour season in 2018, finishing 34th on the Order of Merit with US$134,246 in earnings and four top-10 finishes.
Miguel Tabuena is a two-time Asian Tour winner.
He won his first Asian Tour title on home soil in 2015. He became the first Filipino to win his National Open since 2008 at just 21-years-old.
Tabuena has now recorded two runner-up finishes at the Mercuries Taiwan Masters in 2016 and 2019.
Mardan Mamat recorded his first top-10 in three years with his tied-fifth finish this week. Prior to this week, his eighth place finish in Perth, Australia in 2016 was the last time he finished inside the top-10.
Despite ending the week in a share of 28th place, Australia's Scott Hend has secured his place for the upcoming WGC-HSBC Champions which will be held in Shanghai later this month.
Players' Quotes
Suradit Yongcharoenchai (Tha) Fourth round 70, Total 278 (-10)
I played without any pressure today. I was very sharp with my short game and I guess that helped. But I'm proud with how I played today because it's not easy especially against a quality field. I did not start off well as I double bogeyed the fourth hole but luckily I managed to make three birdies after that on my front nine. I birdied 13 but bogeyed the next hole. At that point, I was not really looking at the leaderboard but I was just telling myself to play my own game and whatever happens will happen. Miguel had a good chance to win but unfortunately, he bogeyed his last two holes. I'm an Asian Tour winner now and it feels really good to know that. I've been working hard all these years and I'm glad I've been finally rewarded with this win today. I know today's victory will lead to more opportunities and better things to come for me.
Miguel Tabuena (Phi) Fourth round 72 (Even) Total 279 (-9)
I gave a good fight today but I really struggled with the greens. It was a bit too slow but that's not an excuse. I played solid and managed to hole some putts whenever I had the chance. But it's a good confidence-booster week which will make me an even better player in my next event.
Ajeetesh Sandhu (Ind) Fourth round 72 (Even) Total 279 (-9)
It was a tough day so it was really nice to end it with that birdie on 18. I left a few shots out there and that really cost me the tournament. I made two wrong decisions on 16 and that led to a double bogey and you cannot afford to do that especially when you're trying to close out the tournament. But I'm happy with how I played and where my game is heading and I can only look forward to the rest of season.
Adilson Da Silva (Bra) Fourth round 68 (-4), Total 279 (-9)
I sort of was in two minds today. I was really quite focused. I really wanted to go low today because I knew that was what I had to do. And yeah, I had a number in my mind and was just trying to achieve that and forget the rest and you know just concentrate what I was doing. I was a little bit cheeky with my number in my head. But I yeah, I was happy with myself, only made one bogey on 14. I was basically solid, I hit the ball well, I made some nice putts and missed a couple. But yeah, overall, I was happy with myself. It has been an absolutely great week. I really love coming to Taiwan, you know, people here are just amazing. George is such an amazing person man, he takes his time to come and watch us play and he mixes with the guys and it's just incredible to see that. You don't see that just about anywhere else. So we were very lucky to have him on our side.
Mardan Mamat (Sgp) Fourth round 69 (-3), Total 284 (-4)
It has been a struggle the last couple of years but I'm still enjoying the game. I'm going to turn 52 at the end of this month but I still love to compete. I've been putting very well especially the last two days and if you can putt well, you can have a good score. Physically, I think not as fit as last time but mentally, I'm still very strong and I can manage myself well under pressure.
Scott Hend (Aus) Fourth round 71 (-1), Total 291 (+3)
I came here for a reason and that was to complete a full field event for my qualification for the WGC-HSBC Champions. This week has shown me what I need to work on for my game and hopefully, I can improve on that and bring back my game to Italy next week. I'm looking forward to playing in another WGC event in Shanghai at the end of the month. Sheshan is a great golf course and I look forward to playing well there. As for the Order of Merit, Jazz is playing great golf at the moment and I'm not. So, I'm just trying to work on getting better and we'll see how it goes, come the end of the season.
Leading Scores after round 4 of the Mercuries Taiwan Masters being played at the par 72, 6923 Yards Tamsui Course course (am – denotes amateur):
278 – Suradit Yongcharoenchai (THA) 71-69-68-70.
279 – Adilson Da Silva (BRA) 72-71-68-68, Ajeetesh Sandhu (IND) 68-69-70-72, Miguel Tabuena (PHI) 67-72-68-72.
284 – Rashid Khan (IND) 72-71-74-67, Mardan Mamat (SIN) 73-73-69-69, Lin Wen-tang (TPE) 71-71-70-72, Siddikur Rahman (BAN) 70-71-68-75.
285 – Keith Horne (RSA) 67-74-76-68, Nicholas Fung (MAS) 67-76-68-74, Viraj Madappa (IND) 72-72-65-76.
286 – Danthai Boonma (THA) 69-74-72-71, Andrew Dodt (AUS) 75-70-70-71, Yikeun Chang (KOR) 74-68-72-72, Lu Wei-chih (TPE) 74-72-68-72.
287 – Prom Meesawat (THA) 71-70-77-69.
288 – Lu Wen-teh (TPE) 71-71-77-69, Chan Shih-chang (TPE) 74-72-70-72.