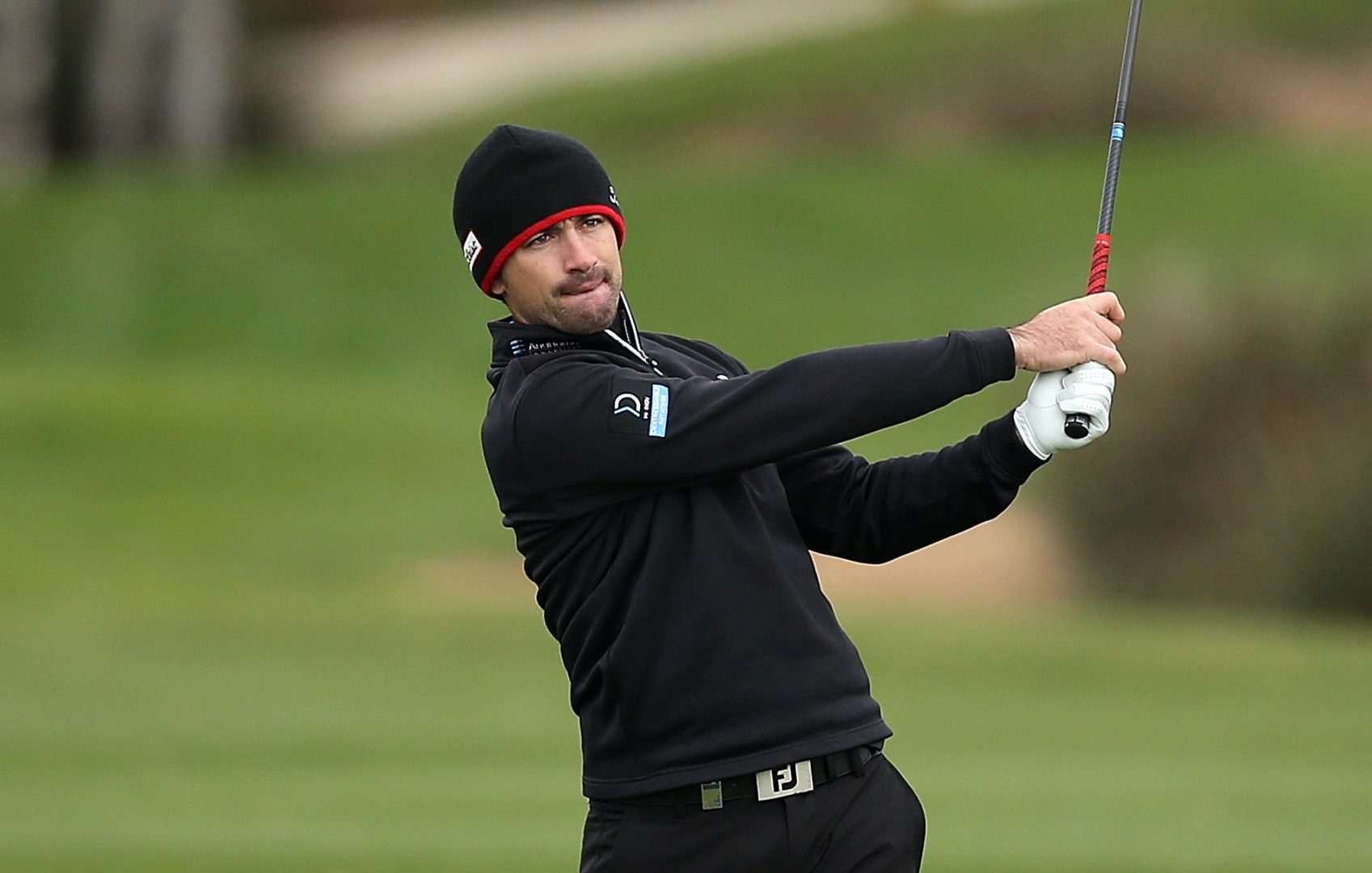 Gary Stal soared to the top of the leaderboard after carding a bogey-free seven under par round of 64 during Day One of European Tour Qualifying School Final Stage.
The Frenchman, who held of challenges from Martin Kaymer and Rory McIlroy to triumph at the Abu Dhabi HSBC Golf Championship in 2015, bagged five birdies and an eagle during an exceptional opening round at Lumine Golf Club.
Starting on the par four tenth, the 25 year old began with six consecutive pars before making his first gain of the day at the testing par five 16th – then showed his short game prowess by chipping in for eagle at the 18th.
Stal, who last progressed from Qualifying School in 2013, continued to impress over the front nine, his back nine, by carding four further birdies to sit one shot ahead of Italy's Andrea Pavan after 18 holes.
Although content with his opening day display, Stal knows that there is still a long way to go in Tarragona – but believes he has the game to regain his European Tour card after five more rounds.
"I am very happy with my start," said Stal, who competed at Lumine's Lakes Course today – and will play the Hills Course tomorrow.
"It is a very long tournament with there being six rounds but my game is good and we will see what happens.
"I drove the ball really well today – very straight. I was also very accurate with my long irons and I managed to hole a few putts so all in all it was a great opening day.
"I played really solid, I holed everything between five and six feet, and my best moment of the day came at the 18th where I chipped in from the edge of the green.
"It was my first time playing here and it is a really good course. It was not easy in the windy conditions today so I am very happy with my score.
"Tomorrow should be more difficult as the Hills Course is a lot more exposed, but I feel very confident after my performance today."
Also impressing during the first round in Spain was Pavan, who arrived in Tarragona in fine form having won at Second Stage in Panoramica just six days ago.
After a 65 on the Lakes Course the 28 year old sits in solo second, with former Ryder Cup player Oliver Wilson one of four competitors who sit one shot further back in tied third place.
Scores after Round One:
64 G Stal (Fra) ;
65 A Pavan (Ita) ;
67 M Foster (Eng) ; J Winther (Den) ; N Geyger (Chi) ; J Vecchi Fossa (Ita) ; J Thomson (Eng) ; H Sturehed (Swe) ; R Macintyre (Sco) ; O Wilson (Eng) ; J Huldahl (Den) ;
68 Ó Serna (Mex) ; M Lafeber (Ned) ; D Law (Sco) ; N Kimsey (Eng) ; E Johansen (Nor) ; C Lloyd (Eng) ; M Schneider (Ger) ;
69 P Widegren (Swe) ; S Webster (Eng) ; A Knappe (Ger) ; J Quesne (Fra) ; B Evans (Eng) ; J Munro (Aus) ; R Kakko (Fin) ; C Bezuidenhout (RSA) ; B Easton (RSA) ; A Rozner (Fra) ; S Horsfield (Eng) ; P Mejow (Ger) ; J Dean (Eng) ; S Manley (Wal) ; J Van Der Vaart (Ned) ; G Moynihan (Irl) ;
70 J Stalter (Fra) ; L Nemecz (Aut) ; K Broberg (Swe) ; C Braeunig (Ger) ; S Gros (Fra) ; J Arnoy (Nor) ; T Murray (Eng) ; M Nixon (Eng) ; H Otto (RSA) ; J Edfors (Swe) ; J Parry (Eng) ; A Arnaus (Esp) ; P Pittayarat (Tha) ; R McEvoy (Eng) ; K Koivu (am) (Fin) ;
71 M Armitage (Eng) ; L Gagli (Ita) ; D Brown (Eng) ; J Sjöholm (Swe) ; J Kruyswijk (RSA) ; L Canter (Eng) ; M Schwab (Aut) ; S Soderberg (Swe) ; M Baldwin (Eng) ; J Veerman (USA) ; D Papadatos (Aus) ; K Johannessen (Nor) ; M Salminen (Fin) ; R Gonzalez (Arg) ; Å Nilsson (Swe) ; A Blyth (Aus) ; A Hansen (Den) ;
72 C Blomstrand (Swe) ; D Foos (Ger) ; S Tiley (Eng) ; A Rosaye (Fra) ; R McGowan (Eng) ; S Vincent (Zim) ; J Heath (Eng) ; T Tree (Eng) ; J Hansen (Den) ; M Jonzon (Swe) ; C Syme (Sco) ; J Geary (Nzl) ; J Rutherford (Eng) ; R McGee (Irl) ; S Heisele (Ger) ; S Khan (Eng) ; N Fasth (Swe) ; J Brun (Fra) ; E Park (Kor) ; R Sciot-Siegrist (Fra) ; F Dreier (Den) ; G Fernandez – Castaño (Esp) ; M Orrin (Eng) ;
73 S Gregory (Eng) ; E De La Riva (Esp) ; A Hall (Aus) ; C Doak (Sco) ; N Cullen (Aus) ; B Hafthorsson (Isl) ; R Petersson (Swe) ; A Michael (RSA) ; F Aguilar (Chi) ; J Erkenbeck (USA) ; R Dinwiddie (Eng) ; M Trappel (Aut) ; O Lindell (Fin) ; C Ford (Eng) ; H Leon (Chi) ; P Angles (Esp) ; M Lampert (Ger) ; G Forrest (Sco) ; A Cañizares (Esp) ; K Samooja (Fin) ; D Huizing (Ned) ; P Howard (Eng) ; M Fenasse (Fra) ; O Gillberg (am) (Swe) ;
74 M Ford (Eng) ; M Millar (Aus) ; M Lundberg (Swe) ; S Hutsby (Eng) ; J Janewattananond (Tha) ; D McElroy (Nir) ; M Iten (Sui) ; A Haig (RSA) ; J Lima (Por) ; T Cocha (Arg) ; R Enoch (Wal) ; E Ferguson (Sco) ; R Green (Aus) ; T Sinnott (Aus) ; C Sharvin (Nir) ;
75 F Fritsch (Ger) ; J Walters (RSA) ; J Girrbach (Sui) ; S Sharma (Ind) ; T Lewis (Eng) ;
76 R Echenique (Arg) ; M Giles (Aus) ; A Garcia-Heredia (Esp) ; J Carlsson (Swe) ; J Jeong (Kor) ; M Kim (Kor) ; E Di Nitto (Ita) ;
77 S Dyson (Eng) ; R Kellett (Sco) ; C Nilsson (Swe) ; L Vaisanen (Fin) ; P Maddy (Eng) ; M Madsen (Den) ;
78 J Fernandez-Valdes (Arg) ; N Holman (Aus) ; S Henry (Sco) ; G Porteous (Eng) ; C Del Moral (Esp) ; D Stewart (Sco) ; J Fahrbring (Swe) ;
79 A Meronk (Pol) ;
81 N Von Dellingshausen (Ger) ;
82 B Ritthammer (Ger)