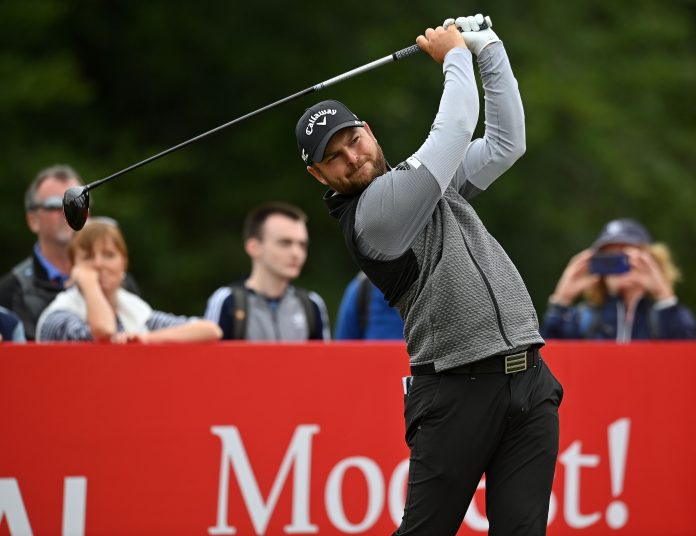 Day Three Report
Jordan Smith carded a five under third round 65 to earn a one-stroke advantage over David Horsey heading into the final day of the ISPS HANDA World Invitational presented by Modest! Golf Management.
The English duo will battle it out in the final group on Sunday, both hoping to bridge sizeable gaps since their last respective European Tour victories. It is almost four years to the day since Smith claimed his maiden title at the Porsche European Open, while Horsey's fourth and most recent win came at the 2015 Made in Denmark.
Galgorm has certainly been a happy hunting ground for Smith, who opened his week with an eight under 62 at the 2020 Dubai Duty Free Irish Open host venue. His bogey-free 65 on day three means he is 13 under par across his two rounds at Galgorm, with his 15 under total moving him one clear at the top.
Horsey, meanwhile, has improved his score day-by-day, starting the week with a 67 at Galgorm, following that up with a 65 at Massereene Golf Club before a six under 64 on day three at Galgorm – which included his first bogey of the week at the sixth – moved him to outright second place on 14 under par.
The pair will face off in the final round of the men's event at Galgorm alongside their playing partner, second round leader Daniel Hillier, who is the closest challenger on 11 under par. Japan's Masahiro Kawamura and Darius Van Driel of the Netherlands are a shot further back on 10 under.
The women's event is also set for a thrilling finale as three players share the lead heading into the final round at Galgorm. Pajaree Annanarukarn of Thailand was joined on 13 under by American duo Jennifer Kupcho and Emma Talley and they will tee it up together in the final group, all chasing their maiden LPGA Tour victories.
Player Quotes
Jordan Smith: "I'm just loving the course. Today we didn't really do so much at all; the putter saved me quite a few times, so hopefully it can do that tomorrow if needed to.
"I'm really pleased. I made some changes at the end of last year. There's been a lot of work, a lot of getting used to it and stuff, so it's nice to see it paying off finally.
"I've done it before so I can do it again, I guess. That's one way of looking at it. I mean, I've been playing well around here for the two days that we've been here, and I'm feeling good, swing is feeling good, so yeah, we'll see how it goes."
David Horsey: "I didn't play great, to be honest. Didn't hit it in the fairway enough on the back nine but holed some nice putts, and that's what you've got to do. At the end of the day it's all about scoring and I managed to post a good one today.
"I didn't think about it to start, to be honest, but when I made that bogey I did think, oh, yeah, that is my first one.
"But put it to the back in my mind and birdied the next, and just sort of cracked on. Sometimes those things are nice to get out of the way, if you like, and you can just get on without any distractions.
"I get on well with Smithy, and it was nice to sort of see both of us really making plenty of birdies, which is nice. This golf course is quite tricky. There was a bit of breeze out there today, but there's plenty of birdies out there, so hopefully we can continue it tomorrow. This is the place to be if you like, and to have a chance to win come Sunday is always nice. Go and play golf tomorrow, see what happens, and hopefully can do enough."
Daniel Hillier: "It felt obviously pretty good after yesterday's performance, and I obviously had a pretty slow morning this morning. I think when I got here I was a little bit half asleep really and took me a while to get going, but I mean, that hole-out on 11 was nice, sort of the boost I needed, I think, just to keep me going the rest of the day. Managed to roll a nice one in on 16 to give myself half a chance tomorrow.
"It's great to be in the mix even after a pretty tough day today, but obviously I was still able to make up some ground. I'll go out tomorrow, and I've obviously got a game plan for the week and that's been working so far, bar nine holes today, so I've just got to stick to that and hopefully the putter is a little bit hotter tomorrow and we'll see some more birdies."
Day Three Scores:
195 J SMITH (ENG) 62 68 65,
196 D HORSEY (ENG) 67 65 64,
199 D HILLIER (NZL) 67 62 70,
200 M KAWAMURA (JPN) 65 69 66, D VAN DRIEL (NED) 70 65 65,
201 V NORRMAN (SWE) 69 65 67, J HARDING (RSA) 70 64 67,
202 O FARR (WAL) 67 68 67, J CATLIN (USA) 69 66 67, A CA?IZARES (ESP) 66 68 68, D GAVINS (ENG) 71 65 66,
203 M SCHMITT (GER) 66 73 64, G PORTEOUS (ENG) 68 64 71, N ELVIRA (ESP) 66 67 70, B WINDRED (AUS) 69 70 64, D LAW (SCO) 67 69 67,
204 A LEVY (FRA) 69 69 66, R MCEVOY (ENG) 68 69 67, J KRUYSWIJK (RSA) 67 69 68, D WHITNELL (ENG) 67 69 68, P PETERSON (USA) 69 69 66,
205 M SCHMID (GER) 64 69 72, H LEON (CHI) 67 73 65, S TARRIO (ESP) 70 67 68, T MCKIBBIN (NIR) 67 69 69, L BJERREGAARD (DEN) 69 68 68,
206 A CHESTERS (ENG) 68 70 68, R SCIOT-SIEGRIST (FRA) 69 70 67, D DRYSDALE (SCO) 64 70 72, D MCELROY (NIR) 72 66 68, M ANTCLIFF (AUS) 68 70 68, F LAPORTA (ITA) 69 69 68, G BHULLAR (IND) 72 67 67, M ARMITAGE (ENG) 71 67 68, J WRISDALE (ENG) 69 67 70, C SYME (SCO) 72 66 68, E PEPPERELL (ENG) 66 67 73, J SENIOR (ENG) 68 66 72, A SADDIER (FRA) 69 66 71, B EVANS (ENG) 70 66 70, S SHARMA (IND) 70 69 67,
207 T MURRAY (ENG) 70 68 69, E DE LA RIVA (ESP) 67 72 68, S KIM (USA) 68 72 67, J SURI (USA) 73 67 67, B EASTON (RSA) 70 70 67,
208 M WARREN (SCO) 69 68 71, D COUPLAND (ENG) 71 69 68, G FDEZ-CASTA?O (ESP) 69 71 68, A SULLIVAN (ENG) 67 71 70, C PIGEM (ESP) 70 63 75, C HILL (SCO) 66 72 70,
209 N KEARNEY (IRL) 69 71 69, D PAPADATOS (AUS) 69 68 72, P ANGLES (ESP) 71 67 71, R LUMSDEN (SCO) 69 70 70, W BESSELING (NED) 69 67 73,
210 J GONNET (FRA) 71 68 71, S THORNTON (IRL) 70 68 72, T JAIDEE (THA) 67 70 73, A SANDHU (IND) 68 70 72, C SORDET (FRA) 73 67 70, B RITTHAMMER (GER) 71 69 70, B DREDGE (WAL) 68 71 71, J MORRISON (ENG) 67 67 76,
211 N H?JGAARD (DEN) 72 68 71,
212 B POKE (DEN) 68 72 72,
214 B HENSON (USA) 70 68 76,