For a player who admitted he had no confidence in his game at the start of last week, things didn't turn out too shabbily for Ratchanon 'TK' Chantananuwat.
Instead of lamenting a lack of practice due to the pressures of school work, the 15-year-old Thai simply relied on his prodigious talent … and ended the week at Siam Country Club by etching his name into golf's history books.
In winning the Trust Golf Asian Mixed Cup, the Shrewsbury International School Bangkok student became the youngest male player to win on one of the game's major Tours. Furthermore, he's just the fifth amateur to win on the Asian Tour and the first since 2009.
At the ripe old age of 15 years and 37 days old, it says much about TK's standing that his triumph did not really register as a huge shock among those who have witnessed at first hand his Asian Tour appearances over the past six months.
During that period he'd made six cuts out of six, mounting legitimate title challenges at the Blue Canyon Phuket Championship (tied 15th), International Series Thailand (tied 11th) and The Singapore International (third).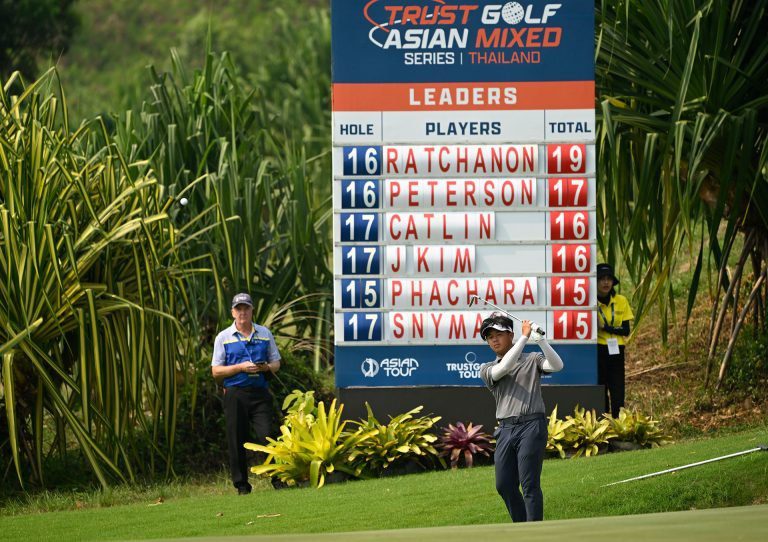 All the time, TK said he believed he could win on the Asian Tour. The few naysayers who took offence and dared to scoff at the arrogance of such a suggestion will now be eating a rather large portion of humble pie.
Not among their number are seasoned pros and Asian Tour members who have played alongside him. At Siam Country Club, Joohyung Kim, the reigning Asian Tour Order of Merit champion, and American left-hander Paul Peterson, a winner on the DP World Tour, both had front row seats.
"TK deserves this. There is no stopping him," acknowledged Korea's Kim, at 19 a veritable veteran compared to TK.
After being paired with TK for the final round at the Trust Golf Asian Mixed Cup, 33-year-old Peterson was equally effusive in his praise of the teenager.
"I got my ass kicked by a kid! But it was fun out there – fun to watch him. He plays with so much maturity. You could see him getting the adrenalin going. He handled himself really well," said Peterson, now in 10th year as a pro and with a host of top-five Asian Tour finishes to his name, including victory in the 2018 Myanmar Open.
TK said his previous brushes with success helped him close the deal at the Trust Golf Asian Mixed Cup, but confessed that nagging self-doubts and insufficient preparation played out in his mind before the first shot was struck in anger.
"I actually had no confidence coming into this week. I wasn't striking the ball well. But now that I've won an Asian Tour event my confidence will grow," he said.
So, too, will his standing in the world game.
With his victory, TK is set to soar to 258th in the Official World Golf Ranking that is compiled based on performances in professional events around the world.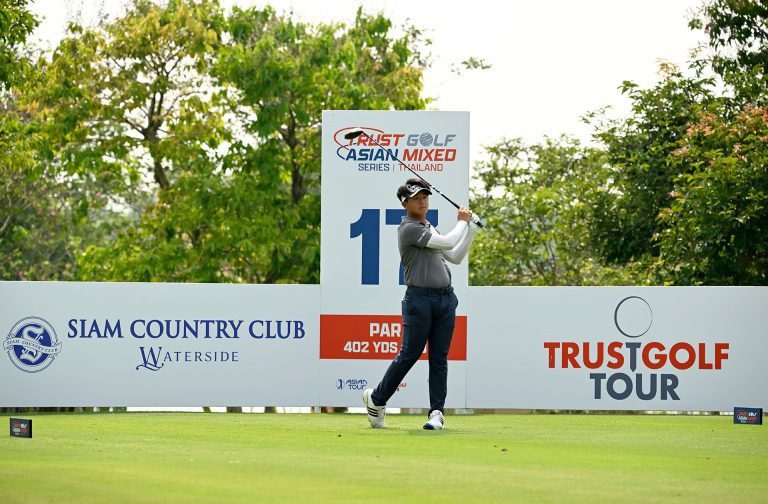 He's also projected to break into the top-20 in the World Amateur Golf Ranking for the first time, leapfrogging China's Ding Wenyi (20) and Jin Bo (24) and moving into second spot among Asians, behind only Japan's Keita Nakajima, the number one in the standings. No wonder TK will be an overwhelming favourite for the individual golfing gold medal at the 31st Southeast Asian (SEA) Games, to be held in Hanoi next month.
As TK was pulling off his heroics in Pattaya, Nakajima was making his debut in the Masters Tournament, reward for his win in the Asia-Pacific Amateur Championship late last year.
While most of the golfing world's attention may have been focused on the 86th edition of the Masters, TK's triumph on Thai soil did not go unnoticed at Augusta National.
Sir Nick Faldo has been monitoring the Thai's spectacular rise since watching him win the 2020 Faldo Series Hua Hin title and participate in the Major Champions Invitational, an event created by the six-time Major champion and World Golf Hall of Fame member 'to provide opportunities to young people through golf and help identify the next generation of champions'.
"Congratulations to TK," said Sir Nick, who was on commentating duties at The Masters. "Throughout the week at Augusta National, I've been following TK's progress in Thailand. He's an outstanding talent and perhaps it won't be too long before we see him here at Augusta in The Masters."
Which inevitably leads to questions about TK's future plans.
Having had to pass up the US$135,000 first prize cheque at Siam Country Club, the knee-jerk reaction would be for TK to relinquish his amateur status and join the ranks of the professionals.
Despite the obvious temptations to cash in on his success while the going's good, TK himself has consistently declared his intention to remain on his current path and continue his studies.
"Nothing's going to change," he insisted in the immediate wake of his Asian Tour breakthrough. "I'm going to stay in school, go to college, practice more. That's been my plan all along."
That's also the advice he's been given by numerous Asian Tour players he's discussed the issue with. Remaining amateur for a while yet is the right course of action and will not hurt or hinder his prospects of a glittering professional career when he and his family deem the time to be right, is the loud message he's received.
"It seems like he's got a really good family to help him. It seems they just let him be the way he is. If that can continue, the sky's the limit for him," predicted Peterson.